John Fogerty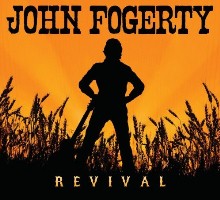 Revival
Fantasy
John Fogerty had to go to court twenty years ago to defend himself against a lawsuit brought by Fantasy Records, for whom he recorded his classic Creedence Clearwater Revival material, claiming that he had plagiarized himself. Because of his anger over that suit and other legal disputes dating back to the early '70s with the record company and its then-president Saul Zaentz, Fogerty refused to perform those rock standards for years.
Ironically, Fantasy became part of the Concord Music Group in 2004, and the record company's new owners immediately made peace with the man who put the label on the map. They also signed him up as a solo artist. The first thing they did together was to assemble a compilation album, The Long Road Home, finally bringing together music from the different stages of the singer's career. Fogerty subsequently hit the road to play stuff he had rarely performed in three decades.
Now he has released his first CD of new material since rejoining the Fantasy stable. Tackling his legacy head on, he calls it Revival, and that's just what it is—a rock-n-roll revival from one of the masters of the genre. With the opening strummed guitar chords of "Don't You Wish It Was True," it is apparent that he has reconnected with the same wellspring of inspiration from which he created the CCR catalog nearly forty years ago. The kickoff track comes straight off of Bayou Country and Green River, recalling "Proud Mary," "Lodi" and "Bad Moon Rising."
"Gunslinger" and "Broken Down Cowboy" conjure up "Have You Ever Seen the Rain," "River is Waiting" is reminiscent of "Wrote a Song for Everyone," "Natural Thing" has Tony Joe White raising a "Commotion." "I Can't Take it No More" puts "Travelin' Band" in the hands of the Sex Pistols. And there's "Creedence Song," a nod to the thousands of cover bands that have cranked out their own versions for lo these many years. If there's a lawsuit coming out of Revival, it may be Jack Bruce and Eric Clapton filing for the riff pinched from "Sunshine of Your Love" on "Summer of Love."
This is one rockin' record that includes lyrics that, like "Fortunate Son" and "Run Through the Jungle" in their time, take on contemporary political issues with righteous anger: "Georgie's in the jungle, knockin' on the door/come to get your children, wants to have a war" ("Long Dark Night"); "I bet you never saw the ol' school yard/I bet you never saw the National Guard/Your daddy wrote a check and there you are" ("I Can't Take It No More").
But while he has not lost his ability to rage at the world, Fogerty also reflects the peace and contentment he has found in his personal life in the flower-powered optimism of "Don't You Wish It Was True" and "Natural Thing."
There is much to recommend Revival besides the obvious fun of figuring out antecedents. But there's no escaping the main appeal of this disc—it's John Fogerty in top form, up to his old tricks, rockin' the house with swampy guitar licks and out-of-this-world vocal howls. For those of us who were there, it's 1970 all over again.
copyright © 2008 Jim Newsom. All Rights Reserved. Used by Permission.