---

PortFolio Weekly
December 14, 2004
CDs to Stuff in Your Stockings
by Jim Newsom
JETHRO TULL
Nothing Is Easy: Live at the Isle of Wight 1970
(Eagle)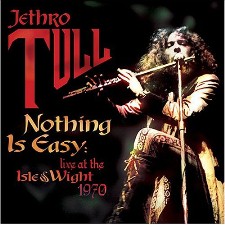 Jethro Tull has been through several permutations over the last 36 years, transforming itself from a blues and jazz aggregation to a hard rock band to British folkies and ultimately into a genre all its own. Arguably the best edition of the group was the band that produced the Benefit album in 1970, the same quartet that produced Stand Up a year earlier augmented by John Evan on piano and organ.
The newly released Nothing Is Easy: Live at the Isle of Wight 1970 captures this assemblage at the peak of its powers, at Britain's version of Woodstock, the Isle of Wight Festival, on Sunday, August 30, 1970. This disc provides a one-hour sampling of the state of the music at that particular time, a couple of years before the corporatization of rock began the inevitable homogenization process that led to the meaningless facelessness that followed.
For those who have Jethro Tull's 25th anniversary box set, Nothing is Easy provides an interesting companion to the live-at-Carnegie-Hall disc of that collection that was recorded two months later, on November 4. The setlists are similar, except that this one begins with "My Sunday Feeling" while the latter show captured on the box set opens with "Nothing is Easy." This one also has a great live version of "Bouree," while the Carnegie Hall show included a medley of "Sossity, You're a Woman" and "Reasons For Waiting," not performed at the Isle of Wight.
Both are fascinating documents for those of us who caught the band in their first Virginia appearance, at the Mosque in Richmond on November 1, 1970, where we first heard "My God," one of the centerpieces of the Aqualung album that came out the following spring. It's the second song in both sets compared here. The live versions pack much more punch than the well-known studio take.
What immediately grabs you about the Isle of Wight show is the magnificent jazz-flavored interplay between pianist Evan and frontman/flutist Ian Anderson on an extended run through "With You There to Help Me." It really was a time when a rock band could try anything, stretching itself while the individual members developed musical ideas drawn from their own influences and inspirations.
As a memento of the glory days of Jethro Tull and the halcyon days of rock music, this CD is essential listening.
__________________________________________
RICHIE HAVENS
Grace of the Sun
(Stormy Forest)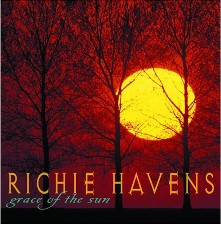 For a brief period at the turn of the 1970s, Richie Havens was a bona fide semi-popstar. He never sold many records and didn't have any hit singles, but his passionate performance captured in the film and soundtrack album of the Woodstock festival brought him a considerable cachet of coolness within the counterculture and on college campuses.
From the opening lines of Havens' new CD, Grace of the Sun, it's clear this troubadour hasn't lost one bit of his distinctively soulful voice. Indian percussionist Badal Roy's tabla blends with the singer's own trademark open-tuned strumming to take the listener back to the days when the music really mattered. After the upbeat second cut, "Way Down Deep," you're pulled into the music, rockin' in rhythm just like Richie himself as he wowed the Woodstock crowd with his improvised riff that became known as "Freedom."
Ironically, track three is Joni Mitchell's "Woodstock." While an appropriate number for this great interpreter to tackle, he approaches the song more like Joni's own somber version than like Crosby, Stills, Nash & Young's rocker, and at six minutes long, it drags. Unfortunately, the disc drags in several other spots along the way, and a certain sameness threatens to take hold as the program progresses. It's not that the tempos are slow, for there is rhythmic variety, but the overall tone of the album feels down, almost mournful.
There are some nice sonic touches within the arrangements, and the instrumental "Dusk" has a delicious world music ambience with electric sitar and Turkish violin. However, the individual components of the acoustic guitar army employed on most cuts get in the way of one another at times.
Havens has always been a master at reinventing Dylan tunes, but choosing the oft-covered "All Along the Watchtower" leaves little room for originality. Better is his original "When," which borrows liberally from the chord structure of "Just Like a Woman," giving a point of reference to a questioning lyric that says, "Our dreams have all been raided/by every type of greed/Our freedoms have been traded/along with everything we need."
"Scarlet Flames" opens like a remake of "Handsome Johnny," then evolves into a call for action to "help your brother, love one another" and "stand up and sing while you do your thing." Now this is more like it!
It's obvious that Richie Havens has not given up the fight, for you can hear the commitment in his music as he stands tall within the Grace of the Sun.
__________________________________________
PETER ROWAN & TONY RICE
You Were There For Me
(Rounder)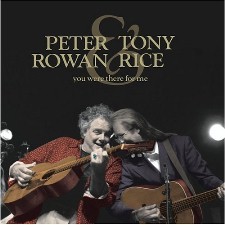 I bought an album in the summer of 1969 called Earth Opera, by a band of the same name from Boston. The record's opener was called "The Red Sox Are Winning," the group's singer and songwriter was Peter Rowan. I didn't know then that a couple of years earlier Rowan had been a member of Bill Monroe's Bluegrass Boys and was, in fact, Monroe's first lead singer who wasn't a native southerner.
After Earth Opera, Rowan joined Seatrain, a Marin County, California, rock band that had one minor electric violin-propelled hit, "13 Questions," before he headed down the path of acoustic, bluegrass-flavored music while writing songs recorded by the likes of George Strait, Ricky Skaggs and New Riders of the Purple Sage.
Tony Rice first came to my attention in 1984 with the new-acoustic/jazz fusion (he called it "spacegrass") album, Backwaters. His 35-year recording career has included straight bluegrass, "newgrass," Gordon Lighfoot-like folk music, and acoustic jazz. He is one of the finest guitar pickers on the planet.
You Were There For Me brings together these two old folkies for a collection of Rowan originals, and it's a great one. Rowan's songwriting is crisp and poignant, his voice filled with the expressiveness of experience, and Rice's playing is tasty and impeccable. This is timeless music, evoking images of gentler times and real life. The title track is a wonderful love song, "Tin Roof Shack" is pure Tennessee country blues, and "Cowboys and Indians" is a short singalong that says much about being grownup through a simple litany of children's games. The arrangements are sparse, two guitars with an acoustic bass and mandolin, leaving plenty of room for the songs to stand on their own.
While most of the material has a non-time-specific feel, "Ahmed the Beggar Boy" is something else, a powerful storysong about an Iraqi child caught as the "the night sky's alive with fire" in Baghdad. I've never heard a song like this one, the first I know of to come from our current military escapade, and the structure is unique as the narrator turns into a young American soldier with "two kids back there in Texas." It'll bring tears to your eyes.
"Miss Liberty (Lay My Lonesome Down)" moves from the "shores of Walden Pond" to a metaphorical chase through history in a personal search for Lady Liberty that works on several different levels. The recording closes with a four song sweep through the west from "Angel Island" to the Spanish guitar figures of "Wild Mustang."
__________________________________________
JOHN FOGERTY
Deja vu All Over Again
(Geffen)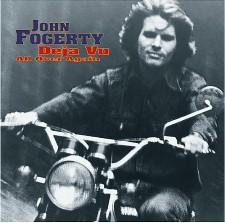 If he never wrote another song or played another lick on his guitar, John Fogerty's place in the history of rock'n'roll would be assured. The distinctive music he produced with Creedence Clearwater Revival between 1968 and 1971 remains an amazing testament to the power of guitar-driven songs built around hot licks and a bluesy voice.
The title track of Fogerty's new album, Déjà vu All Over Again, was obviously inspired by the Bush boys and their foreign misadventures. It's as potent as anything from the old days, and would have fit snugly on Green River or Cosmo's Factory. You'll recognize the familiar trademarks (a bassline quote from "Have You Ever Seen the Rain" and the middle chordal stop from "Who'll Stop the Rain") and that oh-so-cool blend of strumming acoustics and electric accents. I don't know if this has actually been a hit or not, but it sure should've been during the leadup to last month's Presidential election.
Nothing else on this CD packs the punch of the opener, but it's still a mighty fine album. "Sugar-Sugar (In My Life)," "Honey Do" and "Rhubarb Pie" may be slight lyrically, but they're a lot of fun and contain kernels of wisdom within their joyful spirit. I'm assuming "I Will Walk with You" is intended as a commitment to a child, perhaps the daughter walking with John on the back cover of the CD booklet.
The buzz-saw punk-rock of "She's Got Baggage" doesn't show me much, but "Nobody's Here Anymore" is something else. Musically, it's a rewrite of "Sultans of Swing," but since Mark Knopfler's playing guitar on it, I guess that's OK. The lyrics about our modern age are right on target, and the guitar work reminds you of what you liked about Dire Straits in the first place.
Time has rounded out the rough edges of Fogerty's voice, but there's still no mistaking that familiar sound. Considering this is only his fifth album of new music since Creedence dissolved 32 years ago, Déjà vu All Over Again is one to treasure and inhabit, for who knows how long it will be before he sends another our way.
copyright © 2004 Port Folio Weekly. Used by Permission.
---