Richie Havens' most famous song was made up on the spot in front of a half million people gathered together in a field on a farm in upstate New York in August, 1969. He was there to perform at the Woodstock Music and Art Fair.
"We got to the hotel at 5:00 in the morning thinking there was gonna be a lot of traffic," he told me when he called to talk about his performance Thursday night at the Suffolk Center for Cultural Arts. "We were sitting in the hotel waiting for a truck or a bus to come and take the musicians. All the roads were blocked, but that didn't dawn on us. About 3:30, I hear a helicopter landing on the hill next to the hotel right outside my window. There's a knock at my door and it's Michael Lang, the producer of the show, saying, 'Richie, you've got the least instruments and guys. Would you go over now?'
"It was my first helicopter ride, in a glass bubble which a farmer down the road had. We were packed—three guys beside the driver with two conga drums and two guitars. We couldn't even see each other! We get over the crowd and that's when it hit me—I said, 'You know, today in history, we have won.' They had relegated us to the underground as a generation, and here were about 500,000 people sitting in two fields—one on the other side of the ridge who couldn't even see the stage.
"We landed and they were talking on walkie-talkies, and somebody said, 'Get Richie to go on.' And I said, 'Wait a minute—I'm number five on the bill! Going on first, they're gonna kill me because the show is already six hours late!'"
But, after much cajoling, he did become the first performer at the Woodstock festival, and that performance earned him a prominent place in rock history.
"I go up onstage," he continued, "and of course everybody was happy to see anything happening after sitting in the field all day. I sang my 35-40 minutes and I walked off, they go, 'Richie, can you sing four more songs?' 'No problem,' and I sing four more songs, and it's 'Uh, Richie, four more?' By the sixth time I had sung every song I knew. So that long intro you hear is me stalling, trying to figure out what the heck I'm gonna do. I'm not kidding!
'I look over the audience and I think, 'You know, this is the freedom that my entire generation has been seeking, the freedom to express themselves. And the words 'freedom' came out of my mouth. And then 'Motherless Child' came out—I hadn't sung that song in fourteen years! In the middle of it, part of a hymn I sang with my family when I was seventeen came out—that's the 'mother, father, sister, brother' part. And I just let it come out."
After his lengthy performance, Havens was drained, and he really had no idea what he'd done in that final improvised encore. But when the Woodstock movie and soundtrack album were released the following spring, a whole generation knew. His song became an anthem and he became an icon:
"The movie came out about nine months later and I heard they put a song called 'Freedom' up there. I said, 'What's that?' It was the first time I'd ever seen myself on stage and it scared the heck out of me. I had no clue how I looked, what I did, what my foot was doing!"
It wasn't just his madly tapping foot and rich, expressive voice that captured the attention of moviegoers; it was also his unusual thumb-fretted style of guitar playing.
"I'm only playing because I have to play in order to sing the songs," he explained. "Those songs became important to me when I was hearing them played in Greenwich Village by the writers who wrote them. I used to sit in the audience and sing along with them. Freddie Neil comes up to me one day and says, 'Richie, you've been singing my songs for six months from the audience—I hear you. Take this guitar home, learn how to play them your damn self and come back to the stage and sing. So that's how I got my first guitar.
"I came up singing doo-wop. I understood harmony, which is how I could tune the guitar to a chord. It's a D chord: D-A-D-F#-A-D. I used to sit it flat on my lap and put my thumb across it like a dulcimer, and basically got to sing those songs like that. Eventually, my wrist allowed the guitar to sit up correctly so it looked like I really was playing the guitar."
Today, Richie Havens remains the epitome of optimism, full of laughter and good humor, still committed to environmentalism and working with young people. When I saw him play at a festival in Maine last year, he had that same mystical stage presence, richly soulful voice and passionate musical style that first drew our attention so many years ago.
"It's all in the left foot," he laughed. "Because that is doing what it's doing, the right hand works!"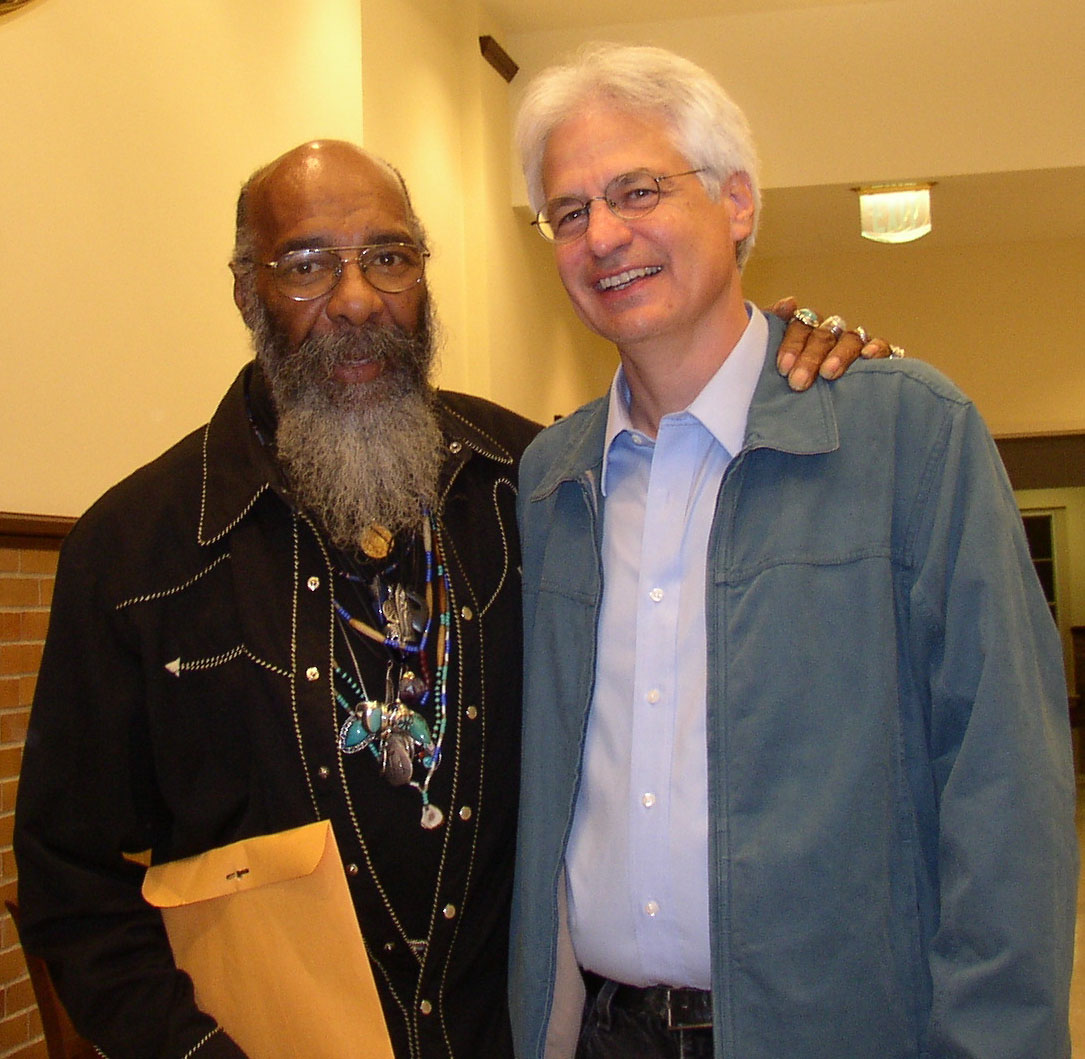 copyright © 2006 Jim Newsom. All Rights Reserved.