The Roper Performing Arts Center will be filled with guitarists, guitar worshippers and guitar wannabes Friday night when Al Di Meola comes to town. Di Meola is one of the genuine giants of guitar, a technician of incomparable facility and a composer who has drawn from a diverse range of influences to create an eclectic and engaging thirty-year discography.
He was just nineteen years old when Chick Corea tapped him to fill the guitar chair in the trailblazing jazz-rock fusion band, Return to Forever, in 1974. Di Meola's three albums with RTF—Where Have I Known You Before, No Mystery and Romantic Warrior—were among the best selling and most rock-oriented of the electric fusion era, quickly establishing him as a guitar god nonpareil. His 1976 solo album debut, Land of the Midnight Sun, continued in the same vein and launched him on an exploratory career trajectory that has enhanced and enlarged his reputation.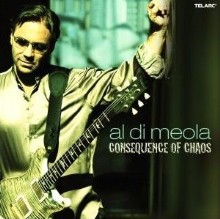 Friday's Roper concert kicks off the American leg of an international tour in support of his upcoming Telarc CD, Consequence of Chaos. The album represents a return to the solid body electric guitar, though not the one he was playing back in the day. Like many six-string slingers, he's traded in his Gibson Les Paul for one of Paul Reed Smith's PRS models.
Chaos is hardly a one dimensional outing. Though it's being pitched as a trip back in time to the fusion era, that's only one of the ingredients the guitarist uses. In fact, the most identifiable passages are those played on acoustic guitar, providing a direct link back through his lower volume '90s world music explorations to RTF's masterful acoustic workout, "No Mystery." Di Meola's unplugged playing remains inspiring in its beauty and awesome in its speed and clean execution.
Sidemen include former cohorts Steve Gadd on drums, Barry Miles on keyboards and John Patitucci on electric and acoustic bass. Corea himself shows up on two cuts—"Red Moon," a blazing blast of electricity decked out in a Latin suit, with a fleet-fingered, fretboard-roaming solo prodding Chick on to a brief virtuosic display of his own; and "Cry For You," a gentle duet that starts off as an atmospheric contemplation before the two old friends begin to play off one another in contrapuntal accord.
Di Meola's regular band anchors much of this recording—percussionist Gumbi Ortiz, bassman Victor Miranda, Argentinean pianist Mario Parmisano and drummer Ernie Adams. The music is decidedly complex, yet lyrical and melodic. There's no noodling here.
With Consequence of Chaos, Di Meola says he has "reconnected to my first love." Many of us first fell in love with his playing on those Return to Forever records and at his concerts here at Chrysler Hall with Corea, Stanley Clarke and Lenny White in the mid '70s. Friday night, we'll get an upclose and personal update on where he's been since, and where his music is taking him now.
copyright © 2006 Jim Newsom. All Rights Reserved.