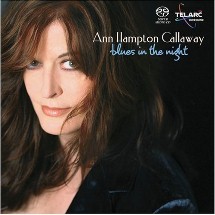 Ann Hampton Callaway
Blues in the Night
Telarc

Ann Hampton Callaway performed here twice last year—at the Ella Fitzgerald Music Festival in April with the CNU big band and at the Granby Theater in November, fronting a piano trio. She knocked the audience out both times, and over the course of the two concerts demonstrated her impressive vocal range and the breadth of her musical influences and interests.

Her new album, Blues in the Night, succeeds in the same manner, mixing big band tracks featuring Diva, the all-woman big band, trio tracks starring longtime accompanist Ted Rosenthal on piano with Christian McBride and Lewis Nash laying down the rhythm, and variations on those two lineups. It's as close to the eclectic setlists Callaway employs in concert as any of her recordings have come. And like those live shows, the CD works very well.

There are three AHC originals among the twelve cuts. The opening "Swingin' Away the Blues" stars the Diva girls blowing hot on a smokin' Tommy Newsom arrangement while Ann lays out her upbeat philosophy of life: "Whatever happens from day to day/Happiness is always just a song away." She further expounds in the same philosophical direction on "Hip to be Happy," a vocalese exercise over spare bass & drum accompaniment, noting, "Pain's not a vocation/Forget the abyss and follow your bliss…It's hip to be happy/To say yes when the world says no."

Her third composition is a sassy and brassy song that brought down both houses here last year, "The I'm-Too-White-to-Sing-the Blues Blues," with the Divas lifting up the diva's "can't get the blues" lament and mouth-instrument solo with bawdy saxophone and screaming trumpets.

Though she is an accomplished songwriter as evidenced by the tuneful triumvirate included here, Callaway told me last fall that she "would never want to do only my own stuff. I want to keep singing these great songs because I believe they are timeless and I connect with them so powerfully."

When she pulls pages from the Great American Songbook, you can hear exactly what she means:

"Willow Weep for Me" is sensuously seductive; "Spring Can Really Hang You Up the Most" is absolutely gorgeous, with Callaway zeroing in on the song's lyrical essence and melodic beauty while a pair of horns augment the basic trio; "The Glory of Love" swings gently through "the story of, the glory of…"

Ann's Broadway-starring sister Liz helps out on a medley of "Stormy Weather/When the Sun Comes Out." The two blend well, juxtaposing Ann's deep, from-the-gut emotional delivery with Liz's lighter, higher-pitched cabaret style. Cole Porter's "Its All Right with Me" is presented as a beautifully laidback ballad, while "Lover Come Back to Me" races through an uptempo Tommy Newsom arrangement.

Singers with Ann Hampton Callaway's natural abilities (she has a three-and-a-half octave range) usually find it hard to resist showing off. It's OK to flaunt your talents in a live concert setting, as long as you know when to pull back, but the histrionics just don't work as well on record. Fortunately, Ann keeps the vocal showboating in check for most of this outing, only taking it too far over the top on "Blue Moon." She's got the goods, but is musically intelligent enough to use her amazing voice in the service of the songs, impressing with the melodies and meanings instead of wailing gratuitously like a Patti Labelle or Whitney Houston.

On Stephen Sondheim's beautiful "No One is Alone," she becomes one with the lyric, proving she knows when less is more. But on "Blues in the Night," she lets out all the stops, milking every ounce of belted-out bluesiness, gospel grit and jazz jive out of this well worn classic, conjuring up memories of the greats who've sung it before while claiming it as her own. It's a powerful climax to a potent recording.

copyright © 2006 Jim Newsom. All Rights Reserved.