When the Ella Fitzgerald Music Festival begins its eighth year on the campus of Christopher Newport University, the first performer in the new digs of the beautiful Ferguson Center for the Arts comes with impeccable Ella-credentials.
"I"ve done tributes to Ella all over the world," singer Ann Hampton Callaway told me from her home in New York, "and I love to pay homage to her. I tell stories about her and it's my great pleasure, especially in her home state not too far from her birthday---she was born April 25th."
This Thursday, Callaway will do that tribute in the town in which Fitzgerald was born, Newport News, with the CNU Jazz Ensembles. Her fourth album was called To Ella With Love, released in 1996, and she's been a fan since she was a young girl.
"Ella was certainly one of the main singers," she replied when asked about her influences. "My father was working for CBS News, and at the end of his nights, instead of coming home to his family, he would frequently go to this wonderful bar in Chicago called Figaro's where they had all these great jazz musicians on the jukebox. So he'd fall in love with all the great music he heard and he brought home the records. He brought home Miles Davis and Ella Fitzgerald and Sarah Vaughan, Billie Holiday, Carmen McRae and Betty Carter. But I also was influenced by Judy Garland, Barbra Streisand, Joni Mitchell, Carole King and Ray Charles. I have a very eclectic background of people who inspired me."
That eclecticism has served her well in a recording career that spans ten CDs and counting, the latest of which is the beautiful Slow, released last year on the Shanachie label. Mixing originals with fresh versions of rock-era classics like "Will You Love Me Tomorrow" and "Moodance," while tossing in a couple by Brazilian composers Antonio Carlos Jobim and Ivan Lins, the disc emphasizes the sultry passion and romanticism of her singing style. She calls it her "make-out album."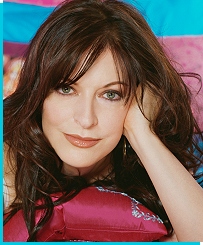 "I didn't want the literal word Slow meaning tempo," she said, "I meant more of a slow sensibility. I'm reading a wonderful book by Carl Honore called In Praise of Slowness, and it is a fascinating, brilliantly written book about how we view time. As it turns out, I was really on to something, responding to the lifestyle that we live in, with so much anxiety and so much sense of there isn't enough time. There's a whole movement of people who are trying to find ways of bringing quality back to life and slowing things down in terms of having more beauty and letting in more emotion to things.
"When I allow myself to really listen to music, it's such a powerful experience. You realize how much time you spend on things that really aren't that important. You're rushing around trying to get those things done and you know what, they don't need to be done. There are things that would make you feel happy and enjoy life that are much more important than those things that take up so much of our time."
Callaway spent most of her childhood in Chicago, but the family lived in New York briefly.
"When I was ten years old, we moved to New York. I just fell madly in love with New York and I knew that was where I belonged. We moved back to Chicago and I had a wonderful high school experience. Then I had a very disappointing college experience. I like to say I served two years at the University of Illinois as an acting major and I had some teachers who were rather cruel, and a lot of very strange disappointments and weird experiences. So I decided that I really wanted to go to New York and create my own education.
"So I saved up enough money to move to New York, and on my third night of living in New York, I got my first singing job. And I've been singing ever since. I had no contacts, I had no prospects, I didn't know a soul in New York, but I just knew that's where I belonged. And I wanted to be with people who would really inspire me and not think such small thoughts about what was possible."
Though you'd never know it by the rich, deep singing voice of her recordings, she was classically trained as an operatic soprano and even considered making that a career.
"I was very fortunate to grow up in a musical household. My mom was certainly an influence, being a very talented singer and pianist. She coached me a little bit here and there. I was basically trained by opera singers.
"There was a little while there where, because I had such a developed soprano voice and because I had such a passionate nature, I explored the idea of becoming an opera singer. But it was just too narrow of a life for me, so it became clear that jazz and traditional pop, and being a songwriter, was going to be a much more fulfilling life for me.
"I think it became very apparent to me the moment that I started singing in nightclubs, who wants to hear a soprano sing these songs? Certainly the soprano voice is a very beguiling instrument. However, I want to communicate with people on a very personal level, and I find the closer to the speaking voice range, the more effective the communication is. I've always had a large range, three octaves plus, but I've definitely worked hard to develop the richness of my lower voice so that I can communicate the way I want to."
And communicate she does, following her own path and crossing musical boundaries at will. Many may know her voice from the theme song to the TV show, The Nanny, which she wrote and sang. She received a Tony nomination in 2000 for her performance in the Broadway musical Swing! and won a Theater World award for Most Outstanding New Performer. She and her sister Liz, a noted Broadway singer-actress in her own right, have performed their original musical, Sibling Revelry, in London and New York, and Ann is also pitching her own variety show to several TV networks.
"I really believe there is so much good quality music that is not getting heard," she said of her TV plans. "When I was a kid growing up, you discovered these great people on the Ed Sullivan Show and that's how you found out about some of these great singers that you couldn't see in everyday life. I really think that is missing in television these days. So I want to do what I can to get that going. That is one of my missions in my future."
But her most immediate mission is paying tribute to Ella Fitzgerald in Newport News Thursday night with the able assistance of the CNU Jazz Ensembles.
"The big band there with the college is going to be performing with me. I will be doing a few songs at the piano, and besides the great Ella standards from her songbook, I am doing a song I wrote to honor the tsunami victims. It's actually been raising several thousand dollars for the rehabilitation of the tsunami victims. Because Ella was kind of an ambassador, I'm sneaking that into the show."
The Ella Fitzgerald Music Festival:
Thursday – Ann Hampton Callaway
Friday – Arturo Sandoval
Saturday – Kevin Eubanks and Jae Sinnett

The Ferguson Center for the Arts
Christopher Newport University
All concerts start at 8:00 pm
copyright © 2005 Jim Newsom. All Rights Reserved.