If there were justice in the music world, Kevin Mahogany would be a household name. His last recording, Pride and Joy, was one of the best of 2002, a truly original jazz take on the songs of Motown that should have brought him to the Diana Krall level of crossover popularity. But the record business is one of those unfathomable mysteries, a place where no-talents with pierced belly buttons sell millions and gifted creative artists languish unheard and unknown.

I asked Mahogany last week what had happened to Pride and Joy.

"The label [Telarc] didn't get behind it," he answered. "Consequently it lived its normal life, which I guess is about eight to eleven weeks, and that's it. We didn't do any touring behind it; nobody helped us put it together for the tour, sponsorship or anything. So that was it, you know?

"I thought it was a good record too. I think it did well for them, but it could have done better. They just didn't do what they said they were going to do."

In the two years since that disillusioning experience, Kevin Mahogany has been very busy. He moved from Boston to Miami and has two new discs ready for release on his own record label. Next Monday, November 8th, he'll be at Old Dominion University for an afternoon master class and an evening concert with the John Toomey Trio in the Chandler Recital Hall of the Diehn Fine and Performing Arts Center.

Though it's his luxurious baritone voice that's opened the doors of the jazz realm, Mahogany actually started out as a youngster on saxophone, piano, clarinet and percussion. But listening to Al Jarreau inspired him to put down his horn and try singing himself. After attending Baker University, he returned to his hometown of Kansas City and concentrated on developing his vocal chops. It was a fortuitous move. While he started out leading his own R&B groups, it was the jazz leanings of Jarreau, Jon Hendricks and Eddie Jefferson that captured his interest and gave him focus.

He began recording in 1993 with Double Rainbow on the Enja label, and his discography now includes four on Enja, two on Warner Brothers and the one on Telarc. His 1998 Warner album, My Romance, mixed songs by James Taylor, Lyle Lovett and Van Morrison with standards like "Stairway to the Stars," "Teach Me Tonight" and "Lush Life." In the midst of that activity, he appeared in Robert Altman's 1996 film, Kansas City, playing a Big Joe Turner-style singer. He also came to Norfolk in '95 to perform at the Town Point Jazz Festival.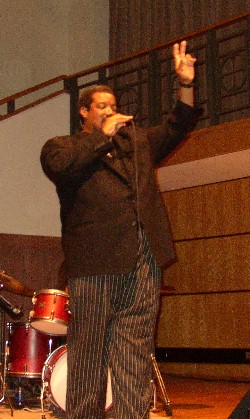 These days he's living in Florida and performing all over the world. When I spoke with him he was in Spartanburg, South Carolina, for a performance with the Carolina Jazz Orchestra. This summer he played at the Joy of Jazz Festival in Johannesburg, South Africa.
"I just wanted to move to a warm state for a while," he told me of his move south. "Me and my wife, we put together a group called the Miami Jazz Party to try and present jazz music in some art galleries down there. There's not a big jazz scene, but there are definitely people that are interested in it."
While he lived in the Boston area, Mahogany taught at the Berklee School of Music. He's now an adjunct faculty member at the University of Miami. But it's the business side of music that has him excited about the future.
"I'm doing my own label now," he said. "After the first of the year, you'll see them in the stores. We actually have a signed distribution deal through WEA. Right now we've got two projects that I've been carting around with me as I go out to play. One is a big band project that's actually a compilation of all the other big band projects I've done. And then we have another one called To Johnny Hartman, a tribute to Johnny Hartman. I think the big band one's coming out first, and then the Hartman one will come out a little later in the year."
Mahogany thinks his experience with the major record labels is not that unusual, and he is not alone in going the independent route to get his music to the public:
"I think the direction it's going to go into definitely is you're going to see a lot more independents popping up. The larger labels don't want to put any money into developing any artists. They want you to come to them already developed. And I guess in some ways we'll be doing that even as an independent. My record label is going to sign other artists as well. But we want to sign artists who are going to be working. We're not going to sign somebody who's doing experimental music in their basement. I think with a smaller label, it'll be a lot easier."
The Johnny Hartman disc should generate interest and attention. His voice is perfectly suited for interpreting and redefining songs associated with the great balladeer, and he's been performing a tribute to Hartman in jazz clubs and at festivals for the past year.
"Some of the tunes are going to be familiar, some won't be as familiar. We did a couple of test pressings to see if it would sell. The first one was like 250 and we got rid of that. The second was another 250 and we just sold the last of those. So within a few months we've done pretty well."
On Monday night, he and Toomey's trio will focus on the standard repertoire. And the intimate confines of the Chandler Recital Hall will offer the opportunity for Hampton Roadsters to hear one of the best male jazz singers of the baby boom generation upclose and personal.
copyright © 2004 Port Folio Weekly. Used by Permission.
---