"Everybody talks about bringing new audiences to jazz, but nobody knows quite how. This is how I've determined to do it. The simplest way is by playing their music."

When jazz singer Kevin Mahogany talks about "their music," he's also talking about his music. He's talking about our music, for those of us in our thirties, forties and fifties. And, he adds, "because we have the oldies stations, young kids know these tunes. Radio commercials and TV commercials---they all know these tunes."

"These tunes" are the classic soul and rock songs of the 1960s and '70s. On Mahogany's new album coming out this week, Pride and Joy (Telarc), they are specifically the great Motown songs that we all know so well.

In a recent interview with me for Portfolio Weekly, Kevin Mahogany put it succinctly: "These are our standards."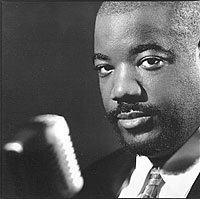 Forty-three year old Kevin Mahogany has been carving his name in the tree of jazz for a while. He started on saxophone as a youngster, subsequently developing instrumental prowess as a teenager on piano, clarinet and percussion. He began singing his senior year in high school and, inspired by Al Jarreau, discovered jazz vocalists like Jon Hendricks and Eddie Jefferson by tracing Jarreau's antecedents. After college, he put down his horn and concentrated on a singing career, performing a variety of music in and around his native Kansas City.
His first recording, Double Rainbow, was released on Enja Records in February, 1993. Over the next couple of years, he recorded two more albums for that label, wrapping his warm baritone voice primarily around the traditional jazz vocal repertoire and its variants. He also appeared as a Big Joe Turner-style singer in Robert Altman's film, Kansas City, and performed in Norfolk at the 1995 Town Point Jazz Festival.
When he switched record labels in 1996, his self-titled Warner Brothers debut included Stevie Wonder's "Never Dreamed You'd Leave in Summer" and Fats Domino's "I'm Walkin'" amidst the jazz. It also contained "I Love You More Than You'll Ever Know," a blues workout written by Al Kooper for the first Blood, Sweat & Tears album, Child is Father to the Man.
The outstanding My Romance, released two years later, continued the mix of old and new, with songs by James Taylor, Lyle Lovett and Van Morrison sandwiched between "Stairway to the Stars," "Lush Life" and the title track. Mahogany was pushing the envelope as far as he could, but his record company didn't want him to push it any farther.
"Most of this music I was singing was written twenty to thirty years before I was born," he explains. "You can draw corollaries to it---I mean, love is love, and you can feel the emotions. But, when it means something to you, you can bring even more to it.
"It's what you call 'bringing something to the table.' I didn't grow up like Joe Williams or the rest of those guys did, and I shouldn't be asked to continue their legacy. I have to bring to the table what I have, which is the soul and R&B flavor that I grew up with."
He knew where he wanted to take his music, but he needed a sympathetic record company partner to allow him to get there. He appears to have found that now at Telarc, and the first fruit of this relationship is the magnificent Pride and Joy.
The opening "Signed, Sealed Delivered (I'm Yours)" is a knockout. Mahogany delivers this Stevie Wonder hit a cappella, accompanied by a vocal quartet that brings to mind the great vocal group, Take 6, but is in fact a pickup group assembled by his friend, vocalist Gregory Clark. Mahogany struts soulfully across their harmonies, delivering the lyrics, then scatting like a jazz master towards the finish line. It's a wonderful beginning, setting the bar high for the rest of the album.
He brings in his regular group of instrumental accompanists plus guest trumpeter Jon Faddis for the title track, turning Marvin Gaye's sixties soul classic into a swinging showcase. Mahogany's scat solo recalls Ella Fitzgerald in her prime, and he and Faddis trade fours like Ella and Louis Armstrong on their quintessential albums together.
Guitarist Dave Stryker does an amazing arranging job on the third track, turning the Temptations' funkfest, "I Can't Get Next to You," into a fine piece of contemporary jazz. Who would have imagined this as jazz? Stryker's arrangement completely transforms the song.
James Weidman's piano intro leads the group into a beautiful balladic version of the Gladys Knight staple, "Neither One of Us (Wants to be the First to Say Goodbye." Mahogany's rich baritone is perfect here, wrenching every ounce of emotion out of the song, mixing the vocal timbre of jazz great Johnny Hartman with the soulful depth of the Tempts' David Ruffin.
Stryker pulls out his acoustic guitar to join Mahogany in a duet that strips Smokey Robinson's "The Tears of a Clown" down to its bare essentials, in the process rendering a definitive "unplugged" version of this Smokey Robinson song.
The singer brings back his vocal buddies to kick off the second half of the CD, with a funky street corner "Reach Out I'll Be There," then empties Holland-Dozier-Holland's "My World is Empty Without You" of all chordal underpinning, singing this Supremes hit accompanied only by bass and percussion.
The whole band returns to put "Never Can Say Goodbye" into a smooth Latin kind of groove, then pulls back for the slow and mellow "She's Out of My Life." "The Hunter Gets Captured by the Game" begins like Weather Report's "Birdland," then kicks into a swinging jazzy smolder.
Mahogany closes Pride and Joy with another duet, this time with pianist Weidman on "Just My Imagination (Running Away With Me)." It's a gorgeous way to bring this superb disc to an end.
I asked Mahogany if he might have become a straight soul singer had he been born ten years earlier and had the opportunity to record for a company like Motown in its heyday.
He laughed, then paused before replying: "That's probably one of the more interesting questions I've had. I think I probably would have been. I can't tell you for sure, but I think I probably would have been a straight soul singer along the lines of Otis Redding or Sam Cooke."
So, what does he think of the current jazz scene, and where does he fit?
"I think, in a lot of ways, jazz was heading in the wrong direction. It was getting to the point where if you wanted to play a Charlie Parker tune, you had to play a Charlie Parker solo too. That's when they were turning it into a museum.
"Jazz never was like that and never was meant to be like that. Miles Davis was the last of these artists who was there from the beginning, and he was always moving forward. I think if Ellington or Basie or Monk or Mingus were alive, they would be doing the same thing. And if I believe that's what they would be doing, then why should I be the one holding it back?
"The constant about the music was always change and growth. I'd much rather continue what they were doing, which was experimenting and finding new sounds. I'm trying to bring something to the music just like those guys did."
I asked him how and where he would get this music heard.
"The radio DJ's who are out there right now who are our age," he replied, "they have a history with this music. They can tell you more about it than they can give you false information about Count Basie. I think that's how you market this project---people recognize their own music, their own youth, and they have experiences they can tell along with the music."
Kevin Mahogany is a man on a musical mission, to create new standards and bring new people to jazz. He's got the talent. He's got the credentials. He's already been called "the finest male vocalist of his generation" by more than one writer, and is a multiple poll winner. He hopes to continue in the direction he's moved on Pride and Joy.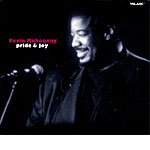 "Obviously, we have tons more. That's the beauty of moving forward with this music. We have so many more great tunes to choose from."
For now, he'll be spreading his message: "I'm hoping to let people know that this is your jazz, this is your time. It's not your grandparents' jazz or your parents' jazz---this is meant for you. Hopefully you'll enjoy it."
I think you will.
copyright © 2002 Port Folio Weekly. Used by Permission.
---