When Kenny Washington comes to town to kick off the Virginia Arts Festival's Attucks Jazz Series on April 20th, it will be a homecoming of sorts for the jazz vocalist.
"I haven't been there since 1987," he told me recently from his home in the San Francisco Bay Area. "I was in the Navy, at the Navy School of Music for six months. This will be fun to see it after so many years."
He has had a rich life in music since those long ago Norfolk navy days. He has developed a solid reputation, especially in the west coast jazz community, as a versatile interpreter of the Great American Songbook with a magnificent vocal range. Not bad for a New Orleans native whose father kept him away from his hometown's trademark partying side.
"I was just singing in church," he remembered. "My daddy wouldn't allow me to go to the French Quarter. I didn't perform until I left home; I was in my 20s by then. I never did a gig, but there were a few talent shows when I was in college at Xavier that paid like a hundred dollars to the first place winner. That was the only time I performed outside of the church. Of course my dad wasn't crazy about it, but when I showed him that hundred dollar prize he was OK with it!
"I began getting into jazz at Xavier. Not so much vocally—I was playing saxophone at the time. I was trying to be a decent horn player. It never took effect, but I tried for years! Singing has always been my first."
He joined the navy hoping to play with one of the military bands. But it took a while for his plans to reach fruition.
"I was on a ship the first two years," he explained, "in Charleston, South Carolina. Out of boot camp I was thinking I was going to get an audition for the band. I went to boot camp in Orlando, Florida. That's where one of our bands was stationed. I asked my company leader if they could set me up with an audition and he said, 'Yeh, we'll do that.'
"Weeks later, at the end of training, I didn't hear anything about an audition. The next thing I know, I'm getting orders for a ship in Charleston. I hated every bit of that except for the friends I made on ship.
"We had a band in Charleston and I was able to audition. They accepted me and I was pretty happy about that. Then I went out on a few more deployments with the ship, came back and packed my little seabag. From then on I was OK."
After his training at the Navy School in Norfolk, he spent the rest of his naval career making music:
"I went in as a horn player, but if you can carry a tune they want you to do as much as you can. They do all sorts of music, not just John Philip Sousa. I was singing and playing. A few years went by and I was singing more than I was playing. A few of the guys who were singing more got transferred to another duty station and there weren't too many guys there who were singing and playing.
"When I was discharged in '95, I came here to Treasure Island, San Francisco, to out-process. So I just stayed here, I had nowhere else to go. I had no plans, I didn't know what I was going to do, but I knew I liked California. I had an aunt and uncle here in Oakland. I went off to do a six-month hotel gig in Guam and came back in '96. I've been here ever since."
He opens this year's jazz series at the Attucks Theatre on Saturday, April 20th. Other featured performers in the series are saxophonist Walt Weiskopf on May 4th; trumpeter Byron Stripling on May 11th; and singing bassist Nicki Parrott on May 18th. Each will perform in a small group setting led by pianist/ODU music department chair John Toomey.
I asked Washington how it works for him to perform with musicians he doesn't know and hasn't played with before.
"I sent the guys a list of tunes so they can have an idea," he replied. "I'm not a chart person so I didn't have a book of charts to send ahead of time. I like playing with rhythm sections and having them come up with their own ideas. I want them to play, to be relaxed. I want my band to be happy, whether I know them or not. It's not gonna work every time, but when it does it's a pretty good feeling."
Listening to Kenny Washington sing gives an audience a "pretty good feeling" too. He's been compared to Al Jarreau and Donny Hathaway, but his smooth, swinging style is particularly reminiscent of his three main influences.
"Ella is definitely my favorite," he said. "And I love Sarah Vaughan and Mel Torme. Those are my top three. They had it all. They could do uptempo stuff, they could do ballads, they could scat. That's the three ingredients of jazz. They set the bar really high and that's the kind of thing I was drawn to when I started listening to vocal jazz."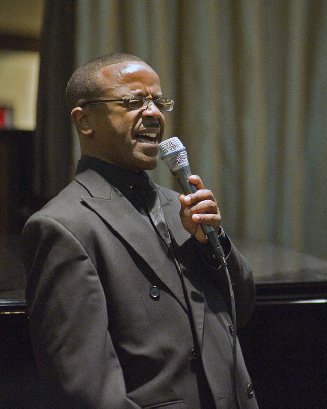 Virginia Arts Festival / Attucks Jazz Series
April 20 – Kenny Washington
May 4 – Walt Weiskopf
May 11 – Byron Stripling
May 18 – Nicki Parrott
copyright © 2013 Jim Newsom. All Rights Reserved.