"Playing right field is easy, you know,
You can be awkward and you can be slow
That's why I'm here in right field,
Just watching the dandelions grow."
---"Right Field" by Willy Welch (recorded by Peter, Paul & Mary)
I'm a PK---a preacher's kid. My dad is a retired Episcopal priest. When I was young, he usually dressed in a black suit, black shirt and white clerical collar.
As a child, my favorite sport was baseball. I wanted to grow up to play first base for the Boston Red Sox. I collected baseball cards beginning at the age of seven, competed in innumerable backyard and sandlot baseball games, played endless imaginary games throwing a rubber baseball against the side of our brick house, spent every Saturday afternoon watching Dizzy Dean and Pee Wee Reese call the TV game of the week.
In the spring of 1962, we lived in Greenville, South Carolina. I had just turned ten years old, and had a new Ted Williams autograph model bat from Sears and a Spalding Roberto Clemente glove. There was an announcement of Little League baseball tryouts for boys aged 10-13. We discovered there was a team forming not too far from our house. I tried out for the team.
Fifteen boys were chosen for the South Carolina Steel team. I was the fifteenth. I was also the only ten-year old selected from the crop of wannabes. All of my teammates were older, and obviously more worldly. They cussed and spit and talked trash about girls. I was a preacher's kid. I didn't cuss or spit or tell tall tales about exploits with girls…yet.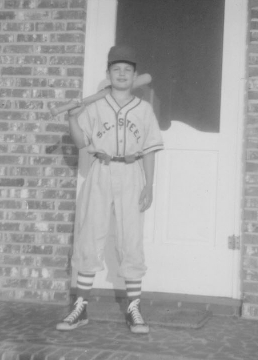 From the beginning, I was the butt of many of the older guys' jokes. I went to a private parochial school, was pretty shy, and had had limited exposure to this kind of macho horseplay. Plus…with his clerical attire, my dad's occupation was obvious. The other guys said the only reason I was on the team was because my dad was a minister, and the coach didn't want to cut a preacher's kid.
Needless to say, I didn't get a whole lot of playing time. I got to pinch hit occasionally, usually either striking out or drawing a walk. In fact, the only times I actually got on base that season were on walks.
Once in a while I got to play right field. You know about right field? That's the place where nobody in Little League ever hits the ball. It's the position where the coach usually puts the worst fielder on the team. I had gone out for the team as a first baseman, my dream position, but all of my playing time in the 1962 season was in right field.
I was used to sitting on the bench for most of the game, but one day I showed up at the park and discovered my name in the starting lineup. I would be the right fielder (of course), but I was actually a starter!
This was both exciting and frightening. I took my position in the field, way out in right, hoping for the chance to make a spectacular catch on a ball hit in my direction but nervously fearing that the worst would happen instead.
The game proceeded for a few innings with no action in my corner of the field. Then, about the fourth inning, as I was standing in my spot trying to pay attention to the play unfolding off in the distance in front of me…the crack of a bat, and a high fly ball headed in my direction. My heart pounded, loud enough to be heard in the stands. I anxiously raced forward to make the catch.
The ball went over my head, way over my head. I was running in one direction, the ball was sailing like a Redstone rocket in the other. It hit the ground many yards behind me, bounced a few times and began rolling. I turned around and ran back as fast as I could, my legs like lead, really wishing I could dig a hole and crawl into it. But there were no holes to be found. And there was no fence to stop the ball. This was a new ballfield and there was no outfield fence, just a long patch of grass that ended at a gravel parking lot.
The ball rolled under a car in the parking lot. I had to crawl under the car to retrieve it. Once I had the ball in my hand, I was far too far away from the infield to make a throw. By this time, the runner and all of his teammates could have circled the bases many times. I ran back towards the game, got close enough to throw the ball back to an infielder, and wished I could become invisible.
I don't remember much about the rest of that game or the season. I had to go away to church camp for a week and missed a couple of games, and I don't think I ever returned to the team after that. I'm sure they got along fine without me.
The good news is, I did get to play first base the next couple of seasons, and actually got a few hits, even batting cleanup at one point in my brief career. But I played my last season of organized baseball in 1964. By that time we had moved to Suffolk, Virginia, a town with an excellent junior tennis program, but not much baseball. I would spend the rest of my summers on the tennis court.
I did end my career on top, though, as my 12-year old team won the Suffolk City Midget League title. Somewhere in my parents' garage is a trophy in testimony to that feat. I was the first baseman.
copyright © 2002 Jim Newsom. All Rights Reserved. Used by Permission.
---