---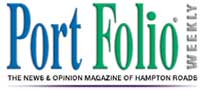 September 10, 2002
From Fitzgerald to Hornsby: Tune Up For the Walk of Fame
by Jim Newsom
On October 9, 2001, Norfolk's City Council passed a resolution establishing the Legends of Music Walk of Fame committee. The Council-appointed committee's charge was open-ended, to "identify and select inductees." Criteria for selection were left up to the appointees.
On Wednesday, September 25th, the first fruits of this group's labors will be unveiled at the Roper Center for the Performing Arts, as the city of Norfolk presents the inaugural Legends of Music Walk of Fame induction ceremony and concert.
The first batch of honorees comes from across the musical spectrum, encompassing a wide geographical spread from the many corners of Hampton Roads. R&B pioneer Ruth Brown and jazz saxophonist/television personality Tommy Newsom are Portsmouth natives. Rock 'n Roller Gary U.S. Bonds and classical soprano Dorothy Maynor grew up in Norfolk. Jazz vocal giants Ella Fitzgerald and Pearl Bailey are both from Newport News. Classically trained jazz guitarist Charlie Byrd grew up in the village of Chuckatuck in what is now Suffolk, and Grammy winning pianist/vocalist/songwriter Bruce Hornsby still lives in his hometown of Williamsburg.
Each of these eight will be honored with a star embedded in the sidewalk on Granby Street, and each will be officially inducted at the ceremony. Newsom, Bonds and Hornsby will perform, with musical tributes planned for the others. Ms. Brown will be in attendance but unable to perform due to a stroke she suffered three years ago. Byrd, Bailey, Fitzgerald and Maynor are being honored posthumously, with family members expected to be on hand to accept their awards.
This illustrious group was culled from a list of more than eighty names the selection committee initially considered. Over several months of deliberations, the concept and the event took shape. The committee members discovered that the Hampton Roads region has been a fertile spawning ground for the musical world.
Portsmouth native Ruth Brown was known as "Miss Rhythm" in the early 1950s. Her string of rhythm & blues hits started with the ballad "So Long" in 1949, and stretched through the following decade. She was one of the inventors of the R&B genre and its rock and roll offspring. Her chart toppers included "(Mama) He Treats Your Daughter Mean", "Teardrops in My Eyes", "5-10-15 Hours" and "Daddy Daddy." She was inducted into the Rock and Roll Hall of Fame in 1993, received a Lifetime Achievement Award from the Blues Foundation and a Pioneer Award from the Rhythm and Blues Foundation, and won a Tony Award for her 1989 Broadway performance in Black and Blue. She was also a Grammy winner for her album, Blues on Broadway.
Tommy Newsom was growing up in Cradock (later annexed by Portsmouth) at the same time Ruth Brown was growing up a couple of miles away. He subsequently established himself as a top arranger, big band saxophonist and studio musician in New York. He played in the band for the Merv Griffin Show and traveled to the Soviet Union and South America with Benny Goodman before landing a star-making gig in the Tonight Show orchestra in 1963. Johnny Carson made Tommy a household name with his good-natured joking about Tommy's supposed lack of personality, labeling him "Mr. Excitement," and working him into jokes, bits and sketches. He moved with the show to L. A. in 1972, and stayed until Carson's retirement in 1992. He's still in demand writing arrangements and performing across the country.
Gary U. S. Bonds (born Gary Anderson) formed his first singing group as a Norfolk teenager in the early '50s. Record store owner and music impresario Frank Guida brought him into the studio in 1960 to record a song Guida had written called "New Orleans," rechristening the young singer with the "U.S. Bonds" moniker for promotional purposes. The record went to number six on the Billboard Hot 100, launching the young Norfolkian on a two-year ride through rock and roll stardom. His biggest hit, 1961's "Quarter to Three," reached number one on the national charts. His other major hits included "School is Out", "School is In" and "Dear Lady Twist." Bonds returned to the national hit parade in 1981 with the Bruce Springsteen-produced album Dedication and single "This Little Girl is Mine."
Dorothy Maynor was born in Norfolk in 1910, the daughter and granddaughter of local clergymen. She began singing in her father's church as a youngster, graduated from Hampton Institute, and moved to New York in 1936. The conductor of the Boston Symphony Orchestra discovered her at the 1939 Berkshire Festival, proclaiming, "Her voice is a miracle, a musical revelation the world must hear." This praise opened the door for her in New York, where the critics agreed with the conductor's assessment. She became one of the top African-American artists of the era.
At the time, few opera companies would hire a black singer. However, she performed with many major American orchestras and became a highly regarded and popular performer in the world of serious concert music. She founded the Harlem School for the Arts in 1963. Although segregation prevented Ms. Maynor from singing at New York's Metropolitan Opera during her heyday, she did become the first African-American to serve on its Board of Directors in 1975. She died in 1996.
Ella Fitzgerald certainly needs no introduction. One of the greatest singers of the 20th century, the Newport News native got her first break in 1934 at the age of seventeen when she won an amateur contest at Harlem's famed Apollo Theatre. Joining Chick Webb's orchestra the next year, she went on to become a huge star of pop and jazz. Her first major hit was "A-Tisket, A-Tasket" in 1938. When Webb died the following year, Ella went solo and continued a remarkable string of recordings and concert appearances that lasted fifty years.
In the 1940s, she began working with Dizzy Gillespie and other bebop pioneers, incorporating the scatsinging vocal solos that would become one of her trademarks. Her series of Songbook albums in the 1950s are among the greatest recordings ever, and her projects with Louis Armstrong and with Duke Ellington are classics. She retained her amazing vocal chops into the 1980s, but her health began to decline towards the end of that decade. She died in 1996.
Newport News also gave birth to another vocalist extraordinaire, Pearl Bailey. One year younger than Ella Fitzgerald, Ms. Bailey was a preacher's kid who began performing as a singer and dancer in her early teens. She worked with Cab Calloway's Orchestra before making her Broadway debut in St. Louis Woman in 1946, winning acclaim as "most promising newcomer" that year. She proceeded to build a career in both recordings and movies, starring in Carmen Jones, St. Louis Blues and Porgy and Bess. She won a Tony award in 1970 for her Broadway performance in the title role of Hello Dolly! Ms. Bailey passed away in 1990.
Charlie Byrd's career crossed paths with longtime friend Tommy Newsom's several times along the way. Born in the small village of Chuckatuck in Nansemond County (now incorporated into the City of Suffolk) in 1925, Byrd got to play with his idol Django Reinhardt while serving in Europe with the 424 A.S.F. band during World War II. He later studied classical guitar with Sophocles Pappas and Andres Segovia in the early 1950s, emerging with a distinct classically influenced jazz style while performing in the Washington, DC, area. His first recording, 1957's Jazz Recital, showcased his classical finger-style technique in a jazz setting, and laid down the parameters under which he would work for the next forty years. It featured Newsom on sax and flute, and included Tommy's original "Chuck-a-Tuck" named for the guitarist's hometown.
A 1961 State Department-sponsored tour of Brazil proved fortuitous for Byrd. Upon his return, he joined with saxophonist Stan Getz to record Jazz Samba, an album that reached number one on the Billboard chart in March, 1963. The album produced a hit single, "Desafinado," that launched the bossa nova craze in the U.S. The mid-sixties found the guitarist issuing a series of Brazilian-influenced albums for Columbia records, including Brazilian Byrd, More Brazilian Byrd, and Hollywood Byrd, all of which featured arrangements by Newsom. Byrd continued to be the master of unamplified jazz guitar, making cool and classy recordings right up until his death from cancer in December, 1999.
Bruce Hornsby is the youngest of this year's Walk of Fame inductees. However, he's already had the kind of career in music that most performers can only dream of. Born in Williamsburg in 1954, Hornsby spent his teenage years playing basketball and listening to the great rock and pop music of the day. After studying music at the University of Miami, he returned home to play in area bars and restaurants. In 1980, he made the move to Los Angeles, where he worked as a songwriter and sideman before signing a record contract with RCA. Hornsby's 1986 debut, The Way It Is, recorded under the band name Bruce Hornsby and the Range, produced three Top Ten hits, with the title track going all the way to number one. The album sold three million copies, and led to Hornsby and his band winning the Best New Artist Grammy Award.
His second album, Scenes From the Southside, also charted in the Top Ten and yielded the number five single, "The Valley Road." Subsequent releases found Hornsby refusing to be typecast, exploring new musical ground while producing excellent recordings. Along the way, he also spent time playing keyboards with the Grateful Dead, recording, performing and writing songs with folks like Bonnie Raitt and Don Henley, and establishing himself as one of the premiere pianists of his generation.
A limited number of free tickets to the Legends of Music Walk of Fame ceremony and concert are available at the Virginia Arts Festival ticket booth in MacArthur Center.
copyright © 2002 Jim Newsom. All Rights Reserved.
---