---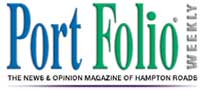 May 7, 2002
Stepping Back in Time
by Jim Newsom
If the hurdy-gurdy frenetic pace of modern life has got you down, you can tune into WHRV-FM (89.5) on any Sunday afternoon at 4:00 pm, and take a one-hour musical trip back in time to a simpler, less amplified era. That's when Riverwalk, Live From the Landing airs locally, with its weekly dose of early 20th century jazz presented by the Jim Cullum Jazz Band and guests.
Next week we Hampton Roadsters have two opportunities to experience this refreshing dip in the pool of unamplified classic jazz in person. The Jim Cullum Jazz Band comes to the Virginia Arts Festival for two performances: Wednesday, May 8th at Willett Hall in Portsmouth, and Friday, May 10th at the College of William & Mary's Phi Beta Kappa Hall in Williamsburg.
The Jim Cullum Jazz Band has been holding forth as house band at the Landing, a jazz club on the Riverwalk in San Antonio, Texas, since it opened in 1963. Taking its style from the pre-World War II "hot" jazz model set by Jelly Roll Morton, Louis Armstrong, Sidney Bechet and Bix Beiderbecke, the band has mined this rich vein to produce its own exciting style.
Jim Cullum's dad was a clarinetist who played with the bands of Jack Teagarden and Jimmy Dorsey before settling down in San Antonio where he worked with a group of young musicians that included his son. Father and son paired up to form the Happy Jazz Band in 1962. The next year, the senior Cullum joined with a group of San Antonio businessmen to open the Landing.
In the forty years since, Jim Cullum has made a name for himself, his band and his club among lovers of traditional jazz. Playing cornet, the close cousin of the trumpet that was the primary brass instrument in the early days of jazz, Cullum leads his septet through a diverse repertoire of Armstrong, Morton, Gershwin, Fats Waller, James P. Johnson, Hoagy Carmichael and more. So devoted is he to the music and style of that golden era that Jim Cullum chooses not to use a computer or correspond via e-mail.
He has been playing cornet since the age of fourteen, when he became absorbed in the recordings of legendary cornetist Bix Beiderbecke. Besides Armstrong and Beiderbecke, he was also heavily influenced by the work of King Oliver, Yank Lawson and Bobby Hackett, and by the ensemble styles of the New Orleans Rhythm Kings and the Original Dixieland Jazz Band. He and his band continue to emphasize ensemble improvisation as practiced by those early bands.
Pianist and arranger John Sheridan has played with Cullum's group since 1979, as has banjo and guitar man Howard Elkins. Sheridan is one of the finest modern purveyors of the "two-handed" stride piano style that developed out of ragtime and flourished in the 1920s. Elkins anchors the rhythm section with his swinging rhythm guitar and banjo.
Joining Elkins in the rhythm section are bassist Don Mopstick and drummer Mike Waskiewicz. With the band for eleven years, Mopstick played with a who's who of jazz greats prior to signing on with Cullum, while youthful drummer Waskiewicz, barely into his twenties, has sparked the band from behind his drum kit for the last two years.
Assisting leader Cullum in the front line are clarinetist Ron Hockett, who joined in 1999, and trombone man Kenny Rupp, who's been around since June, 2000. Hockett played with the "President's Own" U. S. Marine Band in Washington, DC, for thirty years before joining the Cullum band. Rupp had a long career in New York symphonies, chamber ensembles, Broadway pit bands, backing performers like Frank Sinatra, Ella Fitzgerald, Peggy Lee, and working in the big bands of Maynard Ferguson, Woody Herman and Clark Terry.
Since 1988, the Jim Cullum Jazz Band has been heard weekly on Riverwalk, Live From the Landing, celebrating the lives and music of America's greatest jazz musicians. Distributed by Public Radio International, and heard on 200 stations nationwide, this program is an oasis for lovers of classic acoustic jazz.
Following closely on the heels of the Preservation Hall Jazz Band's appearance at the Virginia Arts Festival, the Jim Cullum Jazz Band promises to deliver two evenings of relief from the overamped, overhyped, overbearing noisiness of today's world. It's an opportunity to take a step back, grab a breath of fresh air, and bask in the joyous music of a gentler time.
copyright © 2002 PortFolio Weekly. Used by Permission.
---