---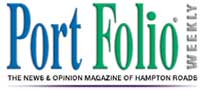 July 2, 2002
A Jazz Scene Grows in Norfolk
by Jim Newsom
Norfolk may not be the center of the jazz universe, but the city is making a bid to at least be included on the map. Two upcoming jazz series offer ample evidence that the life being celebrated daily in the region's core city is increasingly being celebrated to the accompaniment of a jazz soundtrack.
Festevents has announced the lineup for the 2002 edition of Jazz Norfolk, a weeklong musical celebration that culminates with the 20th annual Town Point Jazz Festival. The party kicks off this year with an opening night reception at the Chrysler Museum of Art on Wednesday, August 14th, followed by a "Jazz For Hope" concert to benefit Hope House Foundation featuring New York-based singer Diane Hubka in the Museum's theatre. This Maryland native has three CDs under her belt, including her latest, You Inspire Me on the VSOJazz label, and has been garnering critical and popular acclaim while building her career over the last few years.
Jazz Norfolk continues the next night with another show at the Chrysler Museum, this time starring drummer/composer Jae Sinnett and his Trio. Granby Street's Blues Alley Bistro Café kicks off a "Late Night Jazz" series later that same night, with performances also scheduled Friday and Saturday nights. Chef-owner Calvert Johnson has the regionally popular Russell Scarborough Quartet and my own group, the Jim Newsom Quartet, booked for those late night gigs.
On Friday, August 16th, impresario Blake Cullen kicks off his second "Jazz On Granby" season with the Cyrus Chestnut Trio. A Berklee School of Music graduate and sideman for several jazz legends, Chestnut has built a solid book of recordings and become one of the finest, most accomplished pianists around.
Jazz Norfolk climaxes Saturday night with the 20th Town Point Jazz Festival. The festival has evolved through several permutations since its inception, at times being called the Town Point Jazz and Blues Festival, but continues its tradition of excellence this year with a pair of Latin-flavored headliners, Los Hombres Calientes and Eddie Palmieri.
New Orleans' Los Hombres Calientes (English translation: "The Hot Men") has become one of the preeminent multi-cultural jazz groups over the last three years. Led by percussionist Bill Summers, an original member of Herbie Hancock's Headhunters in the '70s, and young trumpeter Irvin Mayfield, the group puts on an awesome live show. Their music blends the Caribbean sounds and rhythms of Brazil, Jamaica, Cuba and the Dominican Republic with those of the Crescent City to create a vibrant, unique amalgam guaranteed to light up the Town Point Park night.
Latin pianist Eddie Palmieri is a true living legend. Since exploding out of New York's Palladium Ballroom in the early '60s, he has been at the forefront of Afro-Caribbean music for forty years. His latest disc, La Perfecta II, is an incendiary recording that matches the 65-year old master with a virtual who's-who of the genre. The music is hot, whetting the appetite for a fiery performance August 17th.
Jazz Norfolk concludes Sunday night at Ocean View Beach Park with the big band sounds of the Red Coats.
Jazz Norfolk and Jazz on Granby intersect on Friday, August 16th at the Roper Performing Arts Center. The Jazz on Granby series won accolades last year for the high quality of its performances, and the upcoming season promises more of the same.
Series opener Cyrus Chestnut worked with jazz greats Jon Hendricks, Betty Carter and Wynton Marsalis prior to launching his own solo recording career in 1992. Since then, he has blended his gospel roots with blues, be-bop and stride piano to create his own compelling brand of music. His recording credits include classical diva Kathleen Battle, jazz vocal master Freddie Cole, superstar Bette Midler and our own Jae Sinnett. He kicks off this year's Jazz on Granby series with his trio as part of Jazz Norfolk.
On October 25th, young organist extraordinaire Joey DeFrancesco comes to the Roper. Carrying on the family business (his father and older brother are both Hammond B-3 organists), DeFrancesco first entered the public consciousness playing with legendary jazz guitarist John McLaughlin in the mid-'90s. He also played on Miles Davis' Amandla as a teenager in 1989. Hailed by the All Music Guide as "the most important new organist to emerge during the past decade," DeFrancesco has a lot of fun when he plays. On last year's Singin' and Swingin', he took the vocal plunge and showed he was a decent crooner in addition to being a virtuoso on his instrument.
Jazz On Granby's holiday offering will feature the John Toomey Trio in an all-request concert December 6th. The ODU associate professor and his bandmates will put their special improvisational spin on songs requested via the internet.
Trumpet great Jon Faddis kicks off the new year with a concert January 17th. A well-traveled musical journeyman, Faddis has played with Dizzy Gillespie, Charles Mingus, Lionel Hampton, Roy Ayers, George Benson, James Brown, Eric Clapton, Bob James, Paul Simon and Grover Washington, Jr. In recent years he's been the director of the Carnegie Hall Jazz Orchestra.
The Jazz On Granby season concludes March 7th with the return of the Four Freshmen, one of last season's most popular acts. Blending trademark vocal harmonies with multi-instrumental prowess, the Four Freshmen carry on a musical tradition started at Butler University in 1948.
Jazz Norfolk and Jazz on Granby are two concert series bringing nationally known jazz acts to the area. But there's jazz to be heard every weekend in the Hampton Roads region: Blues Alley, The Maxx, the New Belmont and Kincaid's in Norfolk; Brutti's in Portsmouth; Berret's in Williamsburg; Orion's at the Cavalier in Virginia Beach. The number of venues to hear locally based jazz musicians is increasing, and the quality of the music is getting better and better.
Consequently, there is no longer any reason to mutter, "I wish there was someplace to go hear live jazz around here." Nowadays you're more likely to ponder, "Which place shall we choose tonight to hear some great jazz?" It sure is nice to have choices.
---