This summer's Norfolk Waterfront Jazz Festival is being billed as the "32nd Annual," and indeed there has been a jazz festival in Norfolk every year since Town Point Park opened in 1983. However, it has had several names through those years: Town Point Jazz Festival, Jazz Norfolk, Norfolk Jazz Festival. The addition of "Waterfront" to the name is new this year.
The name "Yellowjackets" first appeared on an album in 1981. The band, too, has undergone a number of modifications since that first pre-CD era LP. But two things have remained constant since the beginning: first rate playing and composition, and Russell Ferrante manning the keyboards.
"We've had a few changes," Ferrante told me last month from his home in California, "but Bob Mintzer's now been in the band since 1990 and Will Kennedy returned a few years back. The biggest change was Jimmy leaving a couple of years ago and Felix coming in. That was a more significant transition, losing one of the founding members."
Bassist Jimmy Haslip had been Ferrante's musical soulmate since they first met in 1977, cofounding the Yellowjackets and anchoring the music with his unique style and tremendous musicianship.
"It's similar to other kinds of relationships," Ferrante explained, "where you can sort of see the signs early, maybe some dissatisfaction or unrest. Jim was involved in a lot of other musical activities and I think he felt the time had come to throw himself into that fully, and not have the commitment of being in a band. When you're in a band, it's got to be your first priority and you miss other opportunities. With the Yellowjackets, our schedule is not set a year in advance; things come up and it's always a dance trying to be flexible with our personal work. Both Bob and I teach at a university, so we have to line up subs for our classes when something comes up. It's challenging and I think Jim was ready to not have to do that dance any more.
"Fortunately we still remain friends and work together on other things."
Replacing one of the giants of modern jazz is no easy task. Enter Felix Pastorius, the 32-year old son of the most revered electric bassist of the fusion era, Jaco Pastorius. Jaco made his name as the young gun in that era's greatest band, Weather Report, one of the Yellowjackets' most influential antecedents.
"And there's another connection," Ferrante said. "Bob was playing in Jaco's band and hanging out pretty heavily with him when Felix and his twin brother were born. Bob went to the hospital with Jaco. Felix says that he has a pair of booties that Bob's mom knit for him. So it is really completing the circle that Felix would be working with us.
"He's such a wonderful guy. He's gone through some stuff in his life: Both of his parents are deceased and he had to grow up pretty fast. And playing the same instrument of his legendary father…he handles it so gracefully. He was only five when his father passed. But he had an affinity for the instrument and he worked at it to develop his skills."
Felix Pastorius is in much the same situation with Yellowjackets as his dad was with Weather Report—the young bass-slinger coming into an established ensemble of experienced and highly regarded musicians. What impact has his arrival had?
"Because of the nature of the band being a cooperative endeavor," Ferrante replied, "no one's really calling the shots. So immediately one quarter of the recipe changes and everyone else has to adapt to that too. The things that I played when Jimmy was playing bass may not work in the same way now with Felix. So we've all shifted and adjusted. That's part of the challenge and the fun; it's what keeps it alive.
"He's a more active player and doesn't have the same kind of groove orientation that Jimmy plays. It's a little more fluid and moving around. One thing we realized—coming up playing the kind of music we were playing in our era, we learned to play parts, especially with R&B and funk music so rooted in finding a part where you're a gear in the mechanism. I don't think Felix has had that experience so we sometimes have to say, on this tune find a part for a while that you can lock into. William, Bob and I have played on thousands of sessions and Felix hasn't yet had all those experiences, so he's at a different point in his evolution. But he's aware of a lot of different music that we were not even aware of, and he brings this great energy. It stirs the pot and we're each learning from one another."
Thirty-three years in, does Russell Ferrante think the band will go on forever?
"It'll stop when we stop having fun," he laughed. "It's really crazy but I'm having more fun than ever.
"I was invited to Switzerland to do some teaching and play a concert with Swiss musicians, and they wanted to play some Yellowjackets tunes. So we worked them up and had a fun time. But it was apparent that nobody plays that music like the guys in our band who were there recording it and have lived with it for a long time. So I really value the chance we have to play our music, be a band.
"There's something that happens when you've been a band for a long time: Ways that you play kind of fold into one another, the way you can anticipate and the way you can shape a piece of music. It just happens naturally and intuitively. I think people can sense that, especially live. That's the beauty of being in a band."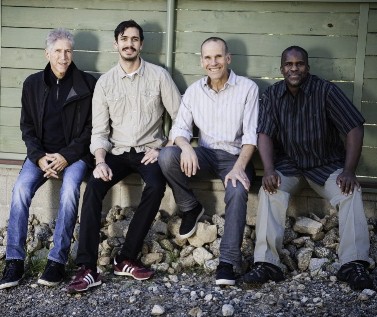 Norfolk Waterfront Jazz Festival
Town Point Park
July 18: Yellowjackets and Jimmy Masters Quartet
July 19: Ramsey Lewis, Ken Navarro, Forte
July 20: Generation Next, Tom Browne, Tyrone Marquis-Smith
Tickets: $20.00 – 69.00
copyright © 2014 Jim Newsom. All Rights Reserved.