Guitarist Robin Trower may be a man of few words in conversation, but when he straps on his Fender Stratocaster, he is transformed into a man of many notes. His latest recording, The Playful Heart, continues the sound and musical direction he began with his first solo albums in the early '70s.
"These are the songs that I had," he told me when he called over Memorial Day weekend, "and that's really what controls how it ends up, how it feels. I can only write the songs I can write. I write stuff that I feel emotionally strong about. I've got to feel a real connection to it as a player as well."
Trower, who brings his band to the Norva on June 25th, first found fame as a member of Procol Harum. He and singer/pianist Gary Brooker had played together as schoolmates in a teenage band called The Paramounts, having a minor British hit with their cover of "Poison Ivy" in 1964. When Brooker hit number one using the Procol moniker with the Bach-inspired "Whiter Shade of Pale" in 1967, he brought Trower in to flesh out the organ-piano mix that gave that song its distinctive sound:
"I gave them a sort of rock-n-roll thing as well as that classical thing."
Trower's hot guitar riffing took center stage when "Whiskey Train" kicked off Procol Harum's 1970 album, Home, but it was "Song for a Dreamer" on the band's next release, Broken Barricades, that foreshadowed his subsequent solo career.
"I wasn't really that influenced by Jimi Hendrix until we decided to do a tribute after his death," he said. "So I went back and listened to all of his records to try and emulate his atmosphere and his vibe for 'Song for a Dreamer.' That's where I picked up quite a lot of influence from him."
When Trower's first solo album, Twice Removed from Yesterday, came out in 1973, the comparisons with Hendrix were instantaneous. It was as though he had intentionally decided to take up where Jimi had left off, trading his Gibson Les Paul for a Fender Stratocaster and choosing the same effects and chordal voicings for his own power trio.
"I don't think it was a conscious thing," he said. "I look back and think, 'yeh, that's where I picked up a lot of influence from him.' But then I just went on writing songs. Procol Harum wasn't really a guitar band, so I needed to have my own band to do my own songs."
With the Hendrix links so obvious in his playing of the last forty years, I asked who had been his earliest inspiration.
"Initially," he replied, "it was Scotty Moore with Elvis. He's the guy that, when I heard him, I wanted to play guitar. Then there were others, like Gene Vincent's guitar player Cliff Gallup. And then I heard B. B. King in the very early '60s, and that changed my whole approach to playing the guitar.
"With B. B. King, you started to think of the guitar, in terms of lead work, as a substitute for the human voice. That's the style he was playing, with bends and vibratos and what have you."
Now 66 years old, Robin Trower is a living legend of rock guitar. And though he's stayed with the same instrumental lineup all this time, he continues to hone his craft.
"I play every day," he said. "I'm usually always working on something—a song, a lyric.
"I like going with just guitar, bass and drums, and vocals. It's more of a challenge, and you haven't got to stay out of the way of people either. That's the kind of music I'm writing—big guitar parts and making them into songs.
"I think I'm more fluid than I used to be, just through the amount of work I've put into it. But I'm still pretty happy with what I did in the '70s; I think there's some good stuff there. In fact, my favorite album is from the '70s, and that's In City Dreams.
"When you've just finished an album, you're never really happy with it. But if you hear it twenty years later, you can see it for what it is. I think it's a beautiful piece of work."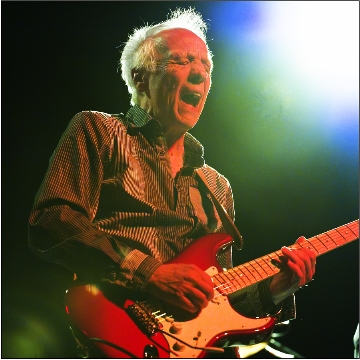 Robin Trower
The Norva
Saturday, June 25 – 7:30 pm
Tickets: $20.00
(757) 627-4547; www.thenorva.com