Al Petteway and Amy White make music that's been heard by millions of people. But most of those listeners probably don't know them by name. That's because their music is part of the soundtrack to the popular Ken Burns programs that air on PBS.
"We work with a label called Maggie's Music," Al Petteway told me in a recent telephone conversation from their home on a mountaintop near Asheville, NC, "and they're really good about sending stuff out to people like that. I think she sent him her entire catalog. When they were doing the Mark Twain special [in 2001], they ended up using some of my tunes. Somehow, that got us into this preferred stack so that whenever they're doing a new project, they listen to see if any of my stuff or what Amy and I have done, will fit. It's nice, because we haven't actually had to compose music, they just go through the CDs they have. Apparently when they are editing, they put it on and see what goes with the imagery, and whatever fits goes into one stack, and what doesn't goes into another. We're lucky that we've ended up in the good stack."
Their music was included in the National Parks series that was broadcast three years ago, and is featured in Burns' Dust Bowl documentary airing nationwide this month.
"We're thrilled that it's them," Amy White said, "and not some outfit that we're not fond of! These guys do quality stuff that's incredibly poignant and often incredibly timely. But before we ever learned about Ken Burns being interested in our music, we used to joke that we were in the wrong side of the business because we didn't have anyone recording our songs who was a big household name. It's interesting the way things turn out."
Things have been turning out very well for the married twosome since they first met 1994. Known primarily for their instrumental prowess, they have established themselves, individually and together, in the top tier of the acoustic music world. They'll be in Virginia Beach for a Tidewater Friends of Folk Music concert on Saturday, December 1st. Their new album, Home Sweet Home, is a departure from their previous work, spotlighting Amy's beautiful voice and thoughtful songwriting.
"I've always been an instrumentalist," she explained. "I didn't really sing that much. We would include a couple of songs on our albums, but we're primarily instrumentalists and composers. This album is actually all songs. It's the first time I've ever written a whole album of songs. It took me forty years! It's exciting and it's different; it's a big step out for us.
"When you get this many songs, they were just coming at me. I didn't want to ditch my muse! I had been shutting out songwriting for years because one that I'd written years ago had lyrics that were just so depressing that they didn't fit with what Al and I did. So I just stopped writing. I thought, if that's what I'm gonna write, then I can't write songs.
"But a bunch of songs came to me at once and it just felt right."
"The other big thing," Al added, "is it features her as the primary guitarist. I'm playing lead guitar and bass and backup stuff, but she is the primary instrumentalist and vocalist. So it's a little bit different from our normal thing where we're sharing the load equally."
The new recording with its vocal emphasis opens up new possibilities for live performances. But instrumental virtuosity remains the duo's hallmark.
"Al's always been famous for his solo guitar," Amy said, "so it's really fun to mix up our show. He'll do a couple of fun blues or beautiful Celtic fingerstyle melodies and then I'll do a couple of songs solo. Then we'll join and play together. When we play together, it's still our sound; it's just informed by some more words."
Al is, indeed, well known for his guitar playing. He is among the few independent label artists to have won a Grammy, in 2005 for his playing on the Pink Guitar tribute to Henry Mancini. And he's been pickin' for a long time:
"I came up playing guitar right around the time The Beatles were popular, so they were obviously a big influence. And my dad was really into Chet Atkins, so I listened to a lot of Chet Atkins when I was a young guitar player, ten or eleven years old. But I wanted to be a rock-n-roll guy—in high school, Eric Clapton and Jimi Hendrix and all those guys.
"I did fingerpick pretty early because my dad made a deal with me. He said if I learned how to play like Chet Atkins, he'd buy me a nice guitar. So I learned a couple of tunes off a Chet Atkins record and played them for my dad. True to his word, he took me down to a music store and got me a nice Gibson guitar. And I still remember those tunes; I can still play 'em."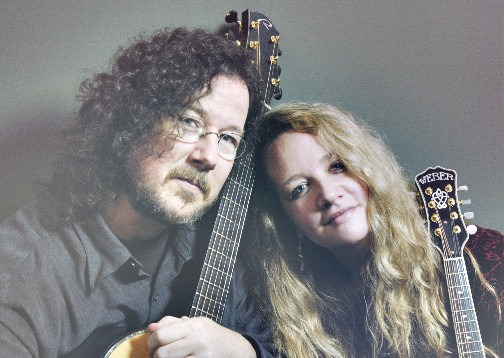 Al Petteway & Amy White
Saturday, December 1, 2012 @ 7:00 pm
Meyera E. Oberndorf Central Library
4100 Virginia Beach Blvd.
Virginia Beach, VA 23452
Tickets: $17.00
www.tffm.org; (757) 626-3655
copyright © 2012 Jim Newsom. All Rights Reserved.