Talk about Time Passages: It's been thirty five years since Al Stewart took his English folk-rock to the top of the pop charts with Year of the Cat. The song was a ubiquitous but unlikely hit, and the album gave the world a glimpse at Stewart's distinctive "history songs."
"I do because no one else does," he said of his lyrical subject matter when I called his California home last month. "There should be one folk-rock historical songwriter in the world and I've chosen to be it. I'm surprised it hasn't caught on because you can make a decent living at it! The problem is that there's so much research you have to do, read a few hundred if not thousands of books before you can become this. And most people don't want to put in that kind of effort. It's a genre of one at the moment."
Born in Scotland, Stewart grew up in England, migrating to London in the mid '60s at the age of nineteen.
"Really early, I had the same influence as everyone else in England," he recalled, "Lonnie Donegan, who influenced everybody. After him, the early guitar players were fascinating to me. I always liked lyrics so Chuck Berry and Eddie Cochran were very good at lyrics. And of course anything that Lieber and Stoller wrote was OK by me.
"Eventually, into Bob Dylan who was a great lyric writer but with a broader palette. Dylan expanded the whole thing into another dimension. And then I found myself living next door to Paul Simon and listening to him write songs, and I said 'this doesn't sound that difficult.' [laughter] I should give it a go!
"I started singing Paul Simon songs and he did me the very great favor of becoming hugely famous and moving back to America, thus leaving a void in London. I knew all of his songs by then, so I could call up folk clubs and offer my services for half of what Paul had been charging. And it got me off to a good start!"
By 1967, he had released his first album, Bed-Sitter Images, but though he was writing history-based songs, he didn't record any of them.
"I was also writing love songs," he said, "and I didn't record a historical song until my third album in 1970, Zero She Flies. It had a song called 'Manuscript.' In 1973, I decided that I'd had enough of these wretched love songs, and I made Past Present and Future. I wanted a whole album of 'Manuscript' because people kept asking for that."
That was the album that brought him his first notice in the US, with college radio DJs like me playing the nearly-ten minute long "Nostradamus" and lyrically packed songs with titles like "Warren Harding" and "Post World War Two Blues."
"There was this disc jockey in Philadelphia who said, 'I know how you can make it in America.' I was doing pretty well on the English folk scene, but that seemed to be a real challenge. So I said, 'How are we going to do this?' And he said, 'Lead guitar. You can write any type of lyrics you want, but you've got to put great guitar solos all over your record and they'll play it in the States.
"I thought the best guitar player in London at the time was Tim Renwick. So we called him into the studio and made an album called Modern Times, which is basically an album of his guitar solos with me doing lyrics around them. And it actually made the Top 30 in America and in England. But we needed to toughen up the lyrics, get some of the history back in, and we needed great production. So we called in Alan Parsons and we stirred all these elements together. It was a success. It was a nice progression from Past Present and Future to Modern Times and then into Year of the Cat. I think I was on a roll with those three albums.
"Time Passages was another hit, but I didn't like the record personally as much as Year of the Cat because I thought we'd veered too far over into the commercial. On the next album I backed off it completely and began to move away from the commercial side of things, or it began to move away from me, one or the other!"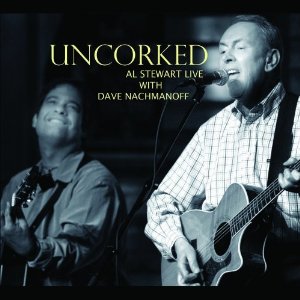 He's continued to record and tour, producing some of his best music over the last decade and a half. He comes to the Suffolk Center for Cultural Arts on September 30th for an acoustic concert with guitarist Dave Nachmanoff. Their recent live album, Uncorked, gives a tantalizing preview of what's in store:
"Although it was fun being a fifteen-minute popstar, because my songs put so much emphasis on the lyrics, when you perform them with a band, the lyrics very often can get lost—especially if you're in an echoey hall with a bad sound system! So it seems to me that the best way to convey my songs is on a couple of acoustic guitars."
Considering his emphasis on words, you'd assume that's where he starts when he's writing. Not necessarily.
"All those records from the most successful period were done in the same way," he said. "I went in and recorded all the music before I had any words. I would take the tapes back home and say 'what does this suggest to me?' Then I'd write two, three or maybe four sets of lyrics. I could pick and choose. I have alternate lyrics to a whole bunch of my songs and they're radically different.
"I've never had writer's block. The only two talents I've ever had in life are that I can rhyme virtually anything and I can read a wine list. And these are the only two things you need to be a touring folk musician!"
Al Stewart
Suffolk Center for Cultural Arts
Friday, September 30 – 8:00 pm
Tickets: $35.00-45.00
www.suffolkcenter.org; (757)923-2900
copyright © 2011 Jim Newsom. All Rights Reserved.