"Remember this is just a football game, no matter who wins or loses. An unspeakable tragedy, confirmed to us by ABC News in New York City: John Lennon, outside of his apartment building on the West Side of New York City, the most famous, perhaps, of all of The Beatles, shot twice in the back, rushed to Roosevelt Hospital, dead on arrival."
--Howard Cosell, Monday Night Football, 12/8/1980

"I cried."

Thom Vourlas, co-owner of the Naro Cinema, speaks for many when he remembers the moment he learned that John Lennon had been assassinated.

That's what I did. I cried too. A friend of mine called and said, "Turn on the TV. John Lennon has been shot." It was surreal. Barely a month after Ronald Reagan's election as President of the United States, John Lennon was killed. To me, it was all of a piece. I felt numb for days.

"I was in Atlanta with the Joe band," musician and composer B. J. Leiderman recalls. "We were watching Monday Night Football in my condo, having a couple of beers and watching the game. It was a room full of musicians whose basic reason for being together at that moment was something to do with John. The whole room just suddenly turned to shit. We all walked around like zombies for a while.

"Right away I remember thinking this is one more sign of how screwed up this planet is—that he was the kind of man that could be shot."

"We put up on the marquee: John Ono Lennon 1940-1980," Vourlas says. "The next day, we were working on the schedule for January-February 1981 and we had to call UA Classics to book a film. The guy we booked from said he had been up at the Dakota after hearing the news at midnight and there were a lot of people hanging around with candles. And it was really disgusting to him because people were calling him, trying to book How I Won the War [a film in which Lennon had a starring role]. That was Tuesday, and the whole week was kind of solemn. On Sunday afternoon Yoko had her ten minutes of silence to remember him."

Both Vourlas and Leiderman were Beatlemaniacs from the get-go. Like a lot of baby boomers, the choices they have made and their outlook on life was shaped in countless ways by John Lennon and his bandmates.

"The Beatles were a life changer for me," Leiderman says. "They are the reason I play music; they are the reason I write music. I guess it's not a coincidence that I sound like John when I sing."

A case can be made that the '60s really began on February 9, 1964, when The Beatles first appeared on the Ed Sullivan Show, and ended on December 8, 1980, with John Lennon's death. Both events were preceded by traumatic political events: The assassination of President John F. Kennedy on November 22, 1963; the election of President Ronald Reagan on November 4, 1980.

"It really all happened with me in October of 1963," Thom Vourlas remembers. "We were coming back from a Boy Scout trip and we had this big accident. At Bowers Hill, we were caravaning back home from Edenton, North Carolina and a drunk swerved over into our lane on Route 58. The first car swerved out of the way. And the next car was the Gretes car—Mrs. Gretes was driving with her son in front. She didn't have a chance. We were all just going along, six cars, and all of this happens in front of me—I'm in the last car; I'm in the only car other than the first car that wasn't touched.

"Mrs. Gretes and her son were both killed. Another guy was critically injured and we thought he wouldn't live, but he did and he's still around. But that whole time was very difficult for our community. We were supposed to have the Bazaar, which was the forerunner of the Greek Festival, the following week. But we had to postpone it because of this. It was such a tragedy.

"The first day of the Bazaar was November 22nd. So that whole period right there—I was pretty much an innocent kid before that, but afterwards I was no longer that innocent kid.

"A few weeks later I was watching Jack Paar on a Friday night and he had a clip of The Beatles in England. It didn't really register that much. But then you started hearing stuff. Capitol rush-released 'I Want to Hold Your Hand'—it was not supposed to come out until late January, but they started playing it, if not Christmas Day, right around that time. I got a drafting board for Christmas and I would sit out in our den with a transistor radio and do my stuff, and I remember about every hour the DJ on WNOR would say, 'In the next hour, you're gonna be Beatled.' They would play 'I Want to Hold Your Hand.' And I had never really heard anything like that before. None of us had."

Musician and attorney Chip Vogan offers this perspective: "I think The Beatles are to rock music as Bach is to classical music. Just staggeringly prolific. The variety and complexity of what they did boggles the mind.

"It's not like they borrowed a lot of these melodies. These melodies are all fresh. You don't see evidence of other composers or other songwriters in their music at all. You have to wonder about the creative process. Did these melodies just drop in their brains full form? It was a gift."

When the Fab Four hit, Vogan and his folk quartet, The Coachmen, bought Beatle wigs and added "I Want to Hold Your Hand" and "I Saw Her Standing There" to their repertoire. And he actually saw The Beatles live in concert in 1966 at the Olympia in Detroit.

"Just the sound," he replies when asked what first grabbed him. "For me, harmony is what I listen to first. So I don't pay a lot of attention to solo stuff. I want to hear the blend and the harmony. I don't even listen to lyrics at first.

"I always liked the way that they were humble about their success. They didn't strut and carry on like rock people have done in recent times. It was a lark, a big party, an unexpected, wonderful career surprise for them and they continued on with this flippant attitude. But despite that, they weren't distracted from incredible creativity."

Vourlas has similar thoughts: "To think they were doing all of this, yet they were touring and doing movies and doing publicity. They didn't have time to do anything, but somehow they managed to make this great music."

The question of "who is your favorite Beatle" is a parlor game that began with the band's initial popularity in England and spread to these shores upon their arrival. I remember that my answer to that question changed daily if not more frequently. I couldn't make up my mind and wasn't sure I needed to.

"That's hard to say," Vourlas agrees. "Back in those days, they were all kinda equal. I didn't distinguish. People ask even now, 'what's your favorite Beatles song?' I can't really say. I felt close to all of them, as most of us did.

"They are 'John, Paul, George and Ringo' in that order; it's just the way you say it. But I don't really think…even last night when I was listening to the red album. 'In My Life' came on and out of your left ear you hear Ringo's drumming. It was very innovative drumming for that song because he does a high hat thing; it's a weird kind of drumming that's very effective. You took drumming for granted back then."

"The Beatles were my guy as a kid," Leiderman says. "I didn't know enough to tell them apart. It's not that I didn't know them as John, Paul, George and Ringo; it's just that I was more interested in the music as the music than in the hype. It's still the music with me, because that's the reason for everything. It all came in a nice, neat package with The Beatles—music and performance and mania and them breaking new ground. They were the first to do a ton of new things and everybody else just simply followed."

Thirty years after his tragic death at the age of 40, how do these unrepentant Beatlemaniacs assess John Lennon's impact on them and their world?

"It's immeasurable really," Thom Vourlas says. "What made us the golden generation for that—I always say I was born in the perfect time, 1950. It's right in the middle of the century, nice and even and round. Meet the Beatles comes out, I'm about to turn fourteen. Sgt Pepper comes out and I'm coming out of my junior year. So as they progressed, I was also growing."

"You can't separate John and Paul," B. J. Leiderman says, "at least in the early years. They pushed each other to each other's limits. That competition between them was, I think, the critical factor in their success as songwriters and as performers. They wanted to outdo each other onstage; they each wanted to be noticed more than the other; they wanted the girls more than the other. And that was one of the driving factors in their songwriting. However, it was John who first had the balls to step out and take chances with that band on all levels—in songwriting, in his performance, in his look.

"John came to the realization that there is nothing greater on this planet than the truth. The 'Beatles bigger than Jesus' interview was the first truth that ever came out. They all were thinking that, but 'good lord, he's actually said it!' And John started putting more truth in his songs.

"When you get down to it, you have to have truth at the top of the list, even before love. Because without truth, you can't really have love. He did say it at the end: 'Give me some truth.'"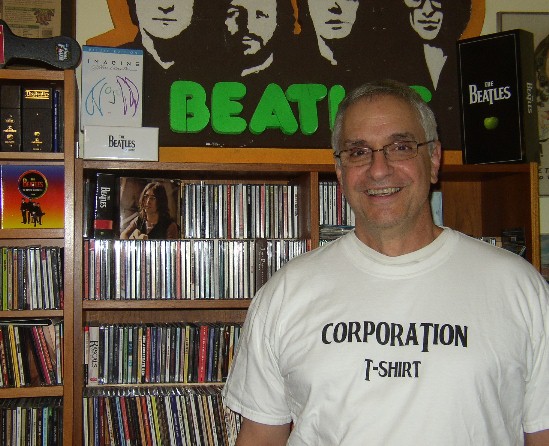 copyright © 2010 Jim Newsom. All Rights Reserved. Used by Permission.