Allen Toussaint was a teenager in New Orleans at the birth of rock'n'roll, when local R&B performers like Fats Domino, Lloyd Price, Clarence "Frogman" Henry, Huey "Piano" Smith and Frankie Ford were laying the music's foundation.
"When I was thirteen," he recalled in a recent telephone conversation, "we formed a band called The Flamingoes, some neighborhood kids. And Earl King, who had made a couple of hits—Huey Smith was his pianist. They were going on a gig and Huey Smith could not make it because he had taken ill. The saxophonist, Cat Man, who knew that I could play all the songs on the radio, called me to take Huey Smith's place. That one gig gave me the right of passage from the teenage world to the adult world. I was seventeen.
"I began playing in the studio. I was called in to play on several recordings because I had listened to so much of the radio I knew the calls of the day. That was an important time for me also. It developed some interesting chops. Sometimes the artist wouldn't have but one song and they needed another one, and they would take a break and I would write a song, and we'd come back a half hour later and record it. Things like that got me going."
Allen Toussaint has been going ever since. His contributions to the musical soundtrack of the last fifty years are voluminous as songwriter, producer and performer. He'll bring his extensive catalog with him to the American Theatre on Friday, November 19th, for a concert billed as "New Orleans Nights" with trumpeter Nicholas Payton and the Joe Krown Trio.
Toussaint's songs (including "Mother-in-Law," "Yes We Can Can," "Sneakin' Sally through the Alley," "Southern Nights") and the work he has done with performers like Paul Simon, Little Feat, Elvis Costello, Dr. John, Labelle and Paul McCartney, have always had a funky freshness rooted in the streets of his hometown, yet with a unique identity. I asked where his music springs from.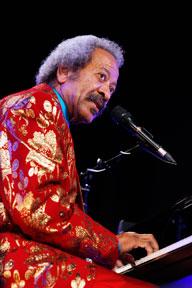 "I listened a lot to everything," he said, "because when I first started playing, I thought all pianists could play everything I heard on the radio. I thought all pianists could play that and I was the only one who couldn't yet. So I went after everything I heard at any level. I tried to learn everything I could all the time. I was always fascinated by everything else that was going on besides the piano—like the arrangements—so I dabbled in that as soon as I possibly could.

"Whatever I am, it's a reflection of all of those things as far as I'm concerned. It probably comes out differently because it comes out of this one person. But it must be a reflection of all of those things that I respected and loved and wanted to be a part of.

"Whatever I do, New Orleans feeds it."

His horn arrangement for The Band's "Life is a Carnival" on their 1971 album, Cahoots, is a particular favorite of mine.

"Robbie [Robertson] called me in to do that," he explained, "and an interesting thing happened. We met at the Gramercy Park Hotel in New York and they played the track that they had at that point. The way that intro started, it was like turning on the radio and catching something in the middle, and you don't even know where the 'one' is yet. When I first heard 'Life is a Carnival,' I knew that if I was to listen to that intro more than once, I would get to know it. So I wrote the intro even before I knew where the 'one' was just so I could have that surprise. It was like kissing a girl before you know her name."

He told me that many of the songs we now consider iconic were written quickly, often in a matter of minutes. The classic "Working in a Coal Mine" is a good example:

"Lee Dorsey was on the way to my office and I wrote that song while he was on the way. It was about three times faster in my head; it was more like Sister Rosetta Tharpe would have done, almost sanctified. That's how it began to come. But I knew better when I was writing it so I slowed it down to a pace where I thought would be the kind of groove that Lee Dorsey lives in well. When he got to the office, I tried it on him and it fit like a glove.

"However, that tune did not come off in the studio. He didn't do the second part as well as I thought he should have. So I scrapped that cut because we did other things that day which worked a lot better. But my partner at the time, Marshall Sehorn, went in with an engineer and spliced the good parts of 'Working in a Coal Mine,' and called me in the next day to get my approval. I thought they did a good job, and it came out. The rest is history. The spliced version is what's out there, and that's what did it. I had thrown it in the trash can as far as I was concerned."

New Orleans Nights:
Allen Toussaint, Nicholas Payton & the Joe Krown Trio
The American Theatre
Friday, November 19 – 8:00 pm
Tickets: $25.00 - 30.00
(757) 722-2787; www.hamptonarts.net

copyright © 2010 Jim Newsom. All Rights Reserved.