"Reports of my death have been greatly exaggerated."
Gordon Lightfoot quoted Mark Twain when I asked how he felt when he heard the rumors circulating through cyberspace that he had died in February.
"I was in my car when I heard it on the car radio," he told me in a recent telephone conversation. "I was driving down by Mount Pleasant Cemetery—I was driving through a cemetery when I first heard it! I stepped on the gas and I made it right into my office because that's where I was heading. First I called the station and then I called my kids. I actually had to go next door to do it because my phone was completely jammed with people calling in."
Lightfoot, who comes to Portsmouth's nTelos Pavilion Saturday, June 26th, has had some real health issues in the last decade.
"I had a burst artery," he said, "and it laid me out for two years. In my stomach, off the aorta; it was an aneurysm, what they call a popper. I actually remember when it let go. I was doing a show up in my home town, Orillia [Ontario], and I started feeling really crappy right from that moment. By the next morning, I was in pretty bad shape.
"There were three separate sets of operations. The first time I was in for three and a half months; the second time I was in for nine weeks; and the third time I was in for three weeks. I worked on an album. I had some basic tracks available and I got the boys in orchestrating the tracks. They worked on that for fourteen months and I was listening to it while they were doing it. They would burn me off a CD so I could hear the parts."
That album—Harmony, released in 2004—may end up being Lightfoot's last release of new material.
"I enjoyed [writing songs] a great deal" he explained, "but it caused so much emotional trauma while I was doing it. You would have to do it because you were under contract and you had to do it. Another reason would be because you had a payroll that you had to meet. You used to have to lock yourself away and isolate yourself away from people and think of nothing else. It got to the point where it would take three or four years for me to make one of these things. And it was causing marriages to fail. A principal issue in the failure of both of my marriages was that I was too busy writing songs to pay enough attention to my family.
"So after my contract [with Warner/Reprise] was all finished by 1998, I figured I'd make one more for fun—which is what I did—and then we'll just do shows. I don't have to worry about that any more."
Some of his best known songs emerged from personal turmoil. He first made a mark as a songwriter in the mid '60s with one:
"Peter, Paul & Mary had a huge hit with 'For Loving Me.' It got my career started. They did it tongue-in-cheek and yet it was the most chauvinistic song that I believe I ever wrote. I never wrote another one like it. My marriage was breaking up at that point."
"If You Could Read My Mind" was his breakthrough as a recording artist, topping the charts in 1971:
"I was going through a down in the roller coaster ride when I wrote that one. It was just one of those days. I was working in an empty house—I used to talk to realtors that I knew and say, 'Have you got an empty house that no one is interested in buying right now? Will you rent it to me for a month?' I'd take my own table and chair into the empty house and work. I was in a house like that when I wrote that song."
He got a beautiful song out of his personal sadness, and for the next six years rode high in the world of pop music with "Sundown," "Carefree Highway" and "The Wreck of the Edmund Fitzgerald." But while his music brought happiness to listeners, his was not a very happy life.
"I drank my way through that whole period," he said. "I was out there, I was young. They thought I was getting out of control by 1980. The record company actually got mad at me. It was time for me to clean up my act. I came to the realization that I was doing irrational things. It was going to ruin my career; it was going to continue to ruin my personal life. By this time my second marriage was going down the tubes."
He stopped drinking in 1982, and sounds content today at age 71.
"I certainly can't yodel any more," he laughed. "I got the voice all right; it's more in the midrange.
"We play about 26 tunes. It lasts for two hours. We start right on time. We take a 20 minute intermission. And it just goes by like wildfire."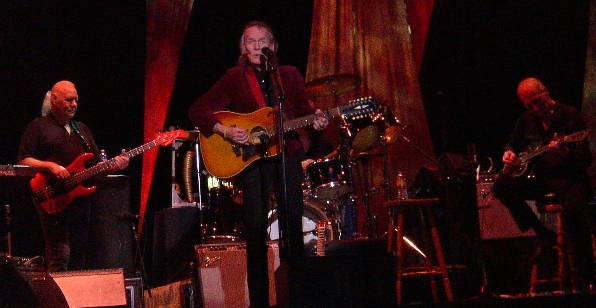 Gordon Lightfoot
Saturday, June 26 – 8:00 pm
nTelos Wireless Pavilion
tickets: $29.75 – 59.75
393-8181; www.pavilionconcerts.com
copyright © 2010 Jim Newsom. All Rights Reserved. Used by Permission.