Valleys of Neptune
Jimi Hendrix
Experience Hendrix/Legacy
Jimi Hendrix released just three studio albums in his lifetime—Are You Experienced and Axis: Bold as Love in 1967; Electric Ladyland in 1968. But he spent countless hours in the recording studio over the last two years of his life (he died on September 18, 1970) jamming, experimenting, creating, reimagining and searching for new places to take his music. The resulting reels of tape have been inspected, dissected, selected, reinjected and plundered for various posthumous record and CD issues and reissues for the last forty years.
Consequently, it's amazing that there could be unreleased material of any quality left for a "new" Jimi Hendrix album. But Valleys of Neptune, the first disc being put out under a new joint venture between Experience Hendrix LLC, the family's company, and Sony Legacy Recordings, is just that.
Valleys of Neptune is made up primarily of tracks recorded in early 1969, mostly with the original Jimi Hendrix Experience lineup of Noel Redding on bass and Mitch Mitchell on drums. Five of the album's twelve cuts come from a two-day burst of activity in London's Olympic studios in February of that year:
An instrumental version of Cream's "Sunshine of Your Love" is a knockout, nearly seven minutes of blazing electric guitar magnificence, single note runs and bent string screams, wah-wah wisdom and crunchy chordalities tempered with a midstream chunk-a-chunk rhythmic ride.
"Lover Man" is a rockin' blues based on B. B. King's "Rock Me Baby; "Crying Blue Rain" is one of those understated, spacey slow blues numbers Hendrix used for sonic relief from his trademark blistering blasts, remaining relatively restrained and contained even as it picks up tempo towards the end.
"Fire" and "Red House" are well known to Hendrix devotees, but the versions laid down at Olympic offer updates on the classic takes—"Fire" cooks with a fuller flame than the iconic Are You Experienced arrangement and "Red House" stretches out with a subtle power more potent in its quietly expansive way than the well known rendition first packaged in the US on the Smash Hits LP.
"Hear My Train a-Comin'" got bowdlerized with overdubs for release in the mid '70s, so it's a revelation to hear the real thing, recorded live in the studio in April '69, another blast of the blues extended for seven-and-a-half intense minutes. You have to wonder why it was ever messed with in the first place—this is near perfection as is.
"Lullaby for the Summer" is built around the distinctive riff that would ultimately emerge as "Ezy Rider" on the first album put out after his death, Cry of Love, presented here as an instrumental jam. Another lick that would surface on that record in a slightly altered form is "Lullaby for Summer," more angular here than in its later incarnation as "Night Bird Flying."
Hendrix army buddy Billy Cox replaced Redding on bass for the rest of the recording sessions that spring. Together they renew "Stone Free" and work up a smokin' run through Elmore James' "Bleeding Heart."
The song "Valleys of Neptune" took Hendrix a while to refine, having been started in those February '69 sessions and not completed until the summer of 1970. Filled with outer space-infused lyrics atop wicked guitaring, it would have fit comfortably onto Cry of Love, and includes many of the aural components that made that album so satisfying. The lone piece with no link to '69 is "Mr. Bad Luck," recorded during sessions for Axis in 1967.
I am always skeptical when a new album is released by a long-dead artist. Fortunately, Valleys of Neptune is a pleasant surprise. Jimi Hendrix's guitar prowess is amply on display, the CD stands on its own as a well crafted document, "Sunshine of Your Love" is irresistibly fresh, "Red House" is sublime and "Hear My Train a-Comin'" is definitive.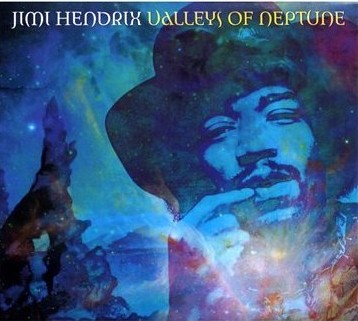 copyright © 2010 Jim Newsom. All Rights Reserved. Used by Permission.