Elvis 75: Good Rockin' Tonight
Elvis Presley
RCA/Legacy
If you weren't around in the mid-to-late '50s, you may be excused if you don't get Elvis Presley. Since his death in 1977 at age 42, a plethora of Elvis impersonators has emphasized his later years as an overweight Vegas has-been in a silly jumpsuit. The kitschy "Viva Las Vegas" has been transformed into the even kitschier "Viva Viagra." His unique singing style has been mimicked and satirized, and his daughter married briefly into the Michael Jackson circus.
So when the whole world took a one-day respite last month to celebrate the 75th anniversary of his birth, it is understandable if the last generation or two wondered what the big deal was all about. The good folks at RCA/Legacy provide the answer with a 4-CD box set called Elvis 75: Good Rockin' Tonight.
The hits are here, from the chart-topping "Heartbreak Hotel," "Hound Dog" and "Love Me Tender" back in 1956, through "Return to Sender," "Can't Help Falling in Love" and "Good Luck Charm" in the early '60s, the comeback days of "Suspicious Minds" and "In the Ghetto" and '70s favorites "Burning Love" and "Always on My Mind."
With thirty number ones and a passel of others that made the Top 20, a large chunk of this set's chronologically arranged 100-song lineup will be familiar to everyone. You can't help but strap on the air guitar for "Jailhouse Rock" and "All Shook Up," or bop along with the Jordanaires' rhythmic backing vocals on "Teddy Bear" and "Don't Be Cruel." There are few among us who can resist "ooh-oohing" to "Blue Christmas" or crooning with "Are You Lonesome Tonight."
But much of the fun found among the treasures comes from new discoveries and reminders of long forgotten gems mixed in with the iconic pop hits. The saxophone-driven blues swing of "Such a Night" is irresistible; "Wear My Ring Around Your Neck" is a goofy classic; "One Night" is a down-n-dirty slice of gritty blues; "(Marie's the Name) His Latest Flame" is one of those bouncy little songs you recognize when you hear it, but you'd never know it by name; "Doin' the Best I Can" is a surprisingly effective ballad from the film G. I. Blues.
Elvis '75 begins at the beginning with "My Happiness," his first recording at Sam Phillips' Sun Studios, a birthday present for his mother after he saw a "record yourself" ad in the paper in 1953. It ends after the end, with a 2002 remix edit of "A Little Less Conversation" by a Dutch musician-producer that was used as a Nike commercial before becoming an international hit.
The meat of this collection, though, is the 36 tracks laid down from July, 1954, when Elvis first recorded with bassist Bill Black and guitarist Scotty Moore, until Presley's induction into the army in 1958. Listen to "That's All Right," "Good Rockin' Tonight," "Baby Let's Play House" and "Mystery Train" and you will hear the sound of rock-n-roll being invented. The power and excitement of these performances has not been diminished one bit by the passage of time or the introduction of louder instruments. With no drums—Black's slap bass provided the pulse and Moore's heavily reverbed guitar put the punch under the singer's uninhibited spontaneity—these guys fired a musical shot that is still being heard 'round the world.
It's not all rock of course. Elvis always had a place in his heart for sacred tunes like "How Great Thou Art" and "Peace in the Valley," and his films were populated with novelties like "Bossa Nova Baby" and "Adam and Evil." Even so, this box set delivers ample proof to back up the claim that Elvis Presley was the King of Rock and Roll. And it explains why the world stopped for a day last month to remember his birth three-quarters of a century earlier.
The king may dead but his music will never die: Long live the king!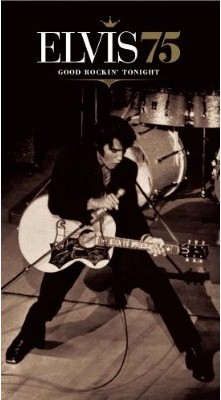 copyright © 2010 Jim Newsom. All Rights Reserved. Used by Permission.