Bob Dylan's visit to Harbor Park on July 25th with Willie Nelson and John Mellencamp provides local Bobliophiles with a fresh opportunity to debate the merits of various elements in his lengthy discography, reconsider favorites of the past and predict which time-worn songs will make it into the setlist. The kind folks in Sony's Legacy division juiced the conversation this spring with the reissue of some goodies from the early '70s.
When it came out in October, 1970, New Morning signaled just that—a new dawn for Dylan after his foray into country music with Nashville Skyline and his strange journey into the unknown on Self Portrait. Where Skyline floated on wings of pedal steel and Portrait was painted on a canvas stitched together with other people's songs, New Morning burst forth with renewed songwriting depth and musical integrity. "If Not For You" and "The Man in Me" are potent, grownup love songs; "Sign on the Window" evokes the weathered wisdom of a prairie poet twice the composer's age (29 at the time); "Day of the Locust" autobiographically details the day Dylan received an honorary degree from Princeton University that spring.
The album's title track bounces along joyously like an open air jalopy on a rutty dirt road; "If Dogs Run Free" is a jazz-inflected recitation straight out of a beatnik coffeehouse; "One More Weekend" is a slide-guitar driven blues rocker; "Father of Night" is a minute-and-a-half piano propelled prayer. As with the best of Dylan's work, New Morning bubbles with the fresh enthusiasm of under-rehearsal and his voice is strong and emotive.
One of the great live albums of the classic rock era, the double-CD Before the Flood captures Dylan on tour with The Band in the early months of 1974. This is rock and roll at its best—blazing, improvisational, inspired. The Band is at its peak, with rowdy riffter Robbie Robertson throwing off guitar licks like a man possessed and organ madman Garth Hudson embellishing every phrase with his unique wizardry. Dylan shouts more than sings, but stays truer to his lyrics and melodies as recorded than he ever would again in concert.
The first six songs hit touchstones from Dylan's first decade of recording, concluding with a downright spritely stroll through the normally dark "Ballad of a Thin Man." He takes a break for the last half of disc one, giving the stage over to the boys in The Band, allowing them to cover several of their best known songs, traveling through "Cripple Creek," past "The Night They Drove Old Dixie Down" and ending up in the spotlight filled with "Stage Fright."
When Dylan returns to kick off disc two, he stands alone with his acoustic guitar to race through an historic triumvirate: "Don't Think Twice," "Just Like a Woman" and the rhyming explosion of "It's Alright, Ma (I'm Only Bleeding)" with its timely "even the President of the United States sometimes must have to stand naked" generating rousing applause a few months before Nixon's resignation. After The Band runs through three more of its hits, Bob joins again to rock toward the finish line with "All Along the Watchtower," "Highway 61 Revisited" and "Rolling Stone," closing with the ever timely "Blowin' in the Wind." I suspect many in this year's Harbor Park crowd would be quite content if Flood's setlist served as the foundation for that night's.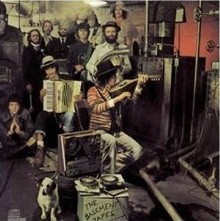 The third reissue out in time for this year's minor league ballpark tour is The Basement Tapes, another joint undertaking with The Band, an album that had achieved mythological status long before its official release in the summer of 1975. Recorded in the basement of a house nicknamed "Big Pink" in 1967 after Dylan recuperated from a motorcycle accident, many of the double disc's 24 songs had been bootlegged in the late '60s. However, the sound quality on this official release is remarkable considering the original source—a home tape recorder with no more than three mikes (sometimes just one), where the musicians laid it down live, playing the songs as they were written.
Dylan sings lead on sixteen songs, while the other eight are strictly The Band. The sessions are loose, the songwriting is playful, the musicians are obviously having fun, but the music-making is plenty serious, trading licks, exchanging lines, finding harmonies. The material ranges from bluesy rock to country goofiness, old-timey to gospel, folkie ballad to heartfelt plaint. When this album first came out, I was astounded at its breadth, riveted by its unfolding pleasures. I still am.
Whether or not we'll hear anything from New Morning or The Basement Tapes at Harbor Park is a good question, and what sort of rearrangement the must-plays on Before the Flood will be put through is also subject to speculation. But all three of these reissues belong in every Dylan CD collection.
copyright © 2009 Jim Newsom. All Rights Reserved. Used by Permission.