"The impetus to play is something that comes from inside every person."
George Winston was explaining the driving force behind his music making.
He had called to talk about his recently released album, Love Will Come—The Music of Vince Guaraldi Vol. 2. But our conversation ranged far and wide, only briefly touching on the new CD, a beautifully constructed paean to the pianist and composer best known for his soundtracks to the first 16 Peanuts TV specials. It's the latest outing in a 30-year recording career in which Winston has carved out a niche for himself as a soulfully introspective solo pianist.
"I didn't enjoy it," he said of playing in bands in the late '60s, "but I didn't know I didn't enjoy it. I didn't know there was anything else. I really don't listen to anybody else and myself at the same time. It's like if you were talking, I wouldn't be talking; I'd be listening to you. I managed to get by because I knew the songs. But I realized I wasn't listening to a thing."
He played organ in those rock-n-roll days.
"I only listened to instrumentals growing up," he said. "I was not into singing except Ray Charles and Sam Cooke. I was particularly an organ freak. I'd get Vince Guaraldi, Tijuana Brass, but organ was really my interest.
"Vince Guaraldi really prepared me for that because his Charlie Brown Christmas record that I got in late '65 was the first record I ever heard that was like one song. He didn't propel me to play, but after I heard the first Charlie Brown Christmas episode the first year it was broadcast I went and got the record the next day. But I was still just an organ freak as a listener. When I got The Doors, I had to get an organ and play in a band."
His rock career was short-lived:
"Something was never quite right. Then I heard Fats Waller and I went, 'Oh yeh! All by myself, that's where I belong.'"
Like many, when I first heard his music in the early '80s, I found it appealing but had no idea what to call it. Pre-existing labels didn't seem to fit.
"That is a way of playing that I came up with in '71," he told me. "When I switched from organ to piano 'cause I heard Fats Waller, I was working on the stride stuff. I wanted something complimentary, so it really came not from the stride, but in reaction to the stride. I wanted something simple and melodic, so I called it 'folk piano.' It's been called a whole slew of erroneous labels, but it's just 'folk piano.'
"I multi-task on everything else, but with music I don't. For me, it's playing one instrument and that's it. When arranging a song, I think only in terms of playing by myself. I don't know why, but that's just what it is."
He has given a great deal of thought to his musical antecedents, but listeners who came to know him through his Windham Hill recordings in the 1980s and '90s may have been shocked when he did Night Divides the Day: The Music of the Doors in 2002. They'd also be surprised to learn that it is those Crescent City piano men who have lit his fire the most.
"The best known New Orleans pianist is Doctor John," he said, "then probably Professor Longhair, then Henry Butler. But when you say New Orleans pianists, you're giving the wiggle room. New Orleans is such a gumbo of cultures. There's the older traditional jazz and there's the newer R&B, but they're completely intertwined like colors in a rainbow; it's all one thing.
"Jazz is definitely separate eras. There's hot jazz, then the swing era, then be-bop. Dizzy Gillespie and Louis Armstrong were like centuries apart in the type of sound they had. Jazz has got more of a charge on it. Jazz was outlaw music and then it became classical music. It's got more controversy to it, whereas New Orleans music is just New Orleans music.
"The first New Orleans pianist was Louis Gottschalk in the '40s…the 1840s! He combined influences from the Caribbean, Afro-American, European, just like people do now."
At sixty-one, George Winston continues to combine a passel of influences to create a style of music all his own. I asked him if he'd succeeded beyond his biggest dreams.
"I didn't really think about it," he replied. "The thing for me is to just have the music and whatever happens, happens. I'm really lucky—I'm doing everything I wanted to do. It's pretty amazing. I'm doing solo guitar shows, solo harmonica shows, solo piano dances with the R&B stuff. It's like one long medley that goes two-and-a-half or three hours. The Doors album came out of that; I was doing Doors songs at the dances and there were so many, I realized this is kind of an album. The theme is a single composer. The only three composers that I've tried all of their songs have been Vince Guaraldi, The Doors and Professor Longhair. They don't all work for me as solo piano pieces, but those are the three that I've tried.
"I'm gonna do a Volume 2 of The Doors next. I don't even know what; we'll just have to see how it coalesces over time. It finally settles but it could take years. My main emphasis is live playing, so I don't really think about records. I sort of let them coalesce and I do one every once in a while."
Love Will Come: The Music of Vince Guaraldi Volume 2
George Winston
RCA Victor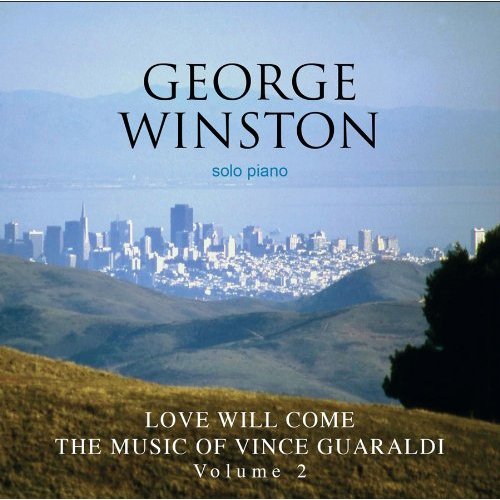 copyright © 2010 Jim Newsom. All Rights Reserved.