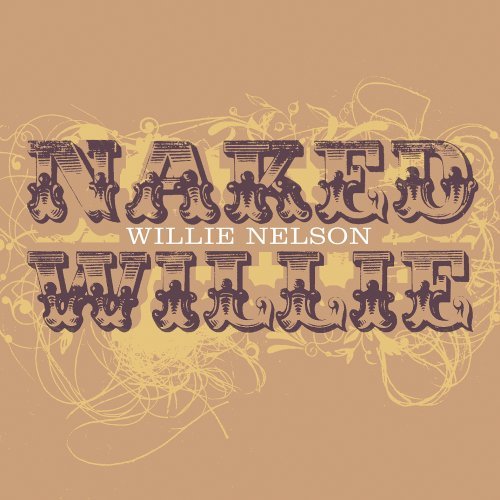 Naked Willie
Willie Nelson
RCA Nashville/Legacy
Willie Nelson's new recording with western swing band Asleep at the Wheel called Willie and the Wheel has been getting a lot of notice since its release last month. And it is a lot of fun.
But Willie's got another new CD that is just as exciting and even better in its own way. Naked Willie takes songs he recorded from 1966-70, strips them down, and re-presents them in a way that makes them sound new all over again.
"I think the songs are so strong," Mickey Raphael said in a recent telephone conversation, "that they transcend the times and are relevant now."
Raphael is Willie's longtime harmonica player and musical sidekick. Naked Willie was his idea, and he spent hours going through old master tapes to find tracks to "un-produce."
"My whole idea," he said, "was if Willie went in the studio last week and cut these songs, that's what I wanted to bring out. Knowing him and how he works in the studio, he's very minimal; less is more. So I thought, we're not going to go in and recut these songs, but there's something there, the core band was brilliant musicians. If I take all the sweetening and orchestration away, we're still gonna have a real gem. What I wanted to do was uncover it."
Uncover it he did. The seventeen-cut disc stands on its own as a musical statement, capturing material both well known and little known, cutting to the core of Willie Nelson's music and presenting it the way he would have himself were he not confined by the strict commercial homogeneity of the old "Nashville Sound."
"I don't want to say anything negative about [legendary producer] Chet Atkins," Raphael said, "because the guy was brilliant. But I was just looking at it through another lens. Willie had no say in the production at that time; none of the artists did. My theory is that if Willie had been the producer or had some input, this is the way it might have sounded.
"He loves it, and he agrees that this is the way he would have done it."
Though the project has Nelson's stamp of approval, it was Raphael who came up with the concept and pulled it together with the help of engineer Tony Castle. He didn't even tell his boss what he was up to until he was underway.
"I always wanted to do it," he explained, "but I didn't really have any connections. When I saw that The Beatles took Let It Be and took all the strings off for Let It Be Naked, I thought I should do a Naked Willie. I knew a couple of guys in the A&R department at Legacy, so I called them. When they got the RCA catalog I said I'd like to go in there and listen to some of the multi-tracks of this old Willie stuff and strip some of it down. They said, 'Next time you're in town just come by and we'll see what we can come up with.'
"We took a couple of songs and kinda messed with them, and I pitched them the idea. They said 'go for it.' After I got into it, that's when I told Willie about it. I wanted him to know what I was doing and he was real excited about it. I didn't play it again until we were finished—I didn't push him, I just laid it on his desk and eventually he got around to listening to it."
How did he decide what to take off and what to keep from the original recordings?
"I wanted to keep all the basic tracks," he said, "and take any vocals or strings off. Some were overdubbed, but on a lot of them, they were all recording in the same room. So there's leakage everywhere, strings in every mike. There's one song, I think it's 'I Let My Mind Wander,' where you can hear some of it. But everything else we were able to clean up pretty much. We only had to play the tapes once to digitize it, then work with that."
Like a kid in a toy store, Raphael discovered lots of treasures as he rummaged through the tape vaults:
"I have a Pro Tools system at home and I was able to listen to Willie's voice by itself or to bring up the guitars and listen to what great part Chet was playing. It was so cool just to hear what they were doing.
"Like 'Lay My Burdens Down.' There's a 20-second guitar riff where Grady [Martin] is just playing; that was all covered up by voices. They were playing their asses off. Even the guitar part on 'Sunday Morning Coming Down,' that's Willie but you really can't hear on the original mixes.
"I'd never heard 'Just Stopped By' until we got to these tapes. There are some great songs that never got any airplay on the radio, but make a great collection to have.
"I went through about fifty to get these seventeen because there is so much leakage. It's really time-intensive. I budgeted two songs a day but I was only getting one done. It was a little deeper than I had originally planned."
The finished product was well worth the effort. Focusing primarily on Nelson's own concise songwriting, the setlist includes classics like "The Party's Over" and "Laying My Burdens Down," both sounding fresh and vibrant without the extra voices and orchestration that weighed the originals down. There is Willie's muscular take on Kristofferson's "Sunday Morning Coming Down," the poignant Vietnam era anti-war ballad "Jimmy's Road," the jauntily upbeat "Bring Me Sunshine." I knew "Happiness Lives Next Door," but couldn't remember the artist who had the hit (Dottie West). Like most of Willie's songs, I prefer his version.
Naked Willie was a labor of love for Mickey Raphael. He's been Willie's harmonica player since 1973, when they were brought together by University of Texas football coach Darrell Royal. At the time, Raphael didn't know much about Nelson or his music.
"Darrell Royal introduced me to Willie," he remembered. "He called me up to invite me over to his hotel room after one of the ballgames, said bring your harmonica. He'd heard me play in some little club or coffeehouse—I was playing with B. W. Stevenson at the time. I kinda knew who Willie was because B. W. was on RCA and somebody had given me one of Willie's records, so I had just been turned on to him a few months before.
"The coach had a bunch of his friends in the room, several musicians—Charlie Pride, Willie—and they'd pass the guitar around and take turns singing songs. If anyone was talking, the coach would shush 'em. I had my harmonicas and he'd play songs and I'd play along with him, but I didn't know what I was doing because I didn't know any of these songs! But I could hang in there.
"Willie was such a cool guy. He said 'if you ever hear of us playing anywhere, just come sit in with us.' So that was the original introduction.
"Then he would call me every once in a while and say 'we're having a little pickin' party, why don't you fly down.' And he'd buy me a ticket. He'd call me with three or four hours notice and I'd just hit the road and play with these guys."
It's been a great run since then. With Naked Willie, Raphael has paid his employer the ultimate tribute, creating a worthy addition to the Willie Nelson discography.
"I didn't listen to Willie when I went to work for him," he said. "I was into The Band and The Rolling Stones. But the first things I listened to were 'What Can You Do to Me Now' and 'I'm a Memory' and 'The Words Don't Fit the Picture.' That's the first stuff I ever heard of Willie so that's close to my heart. I loved those songs; that's why I wanted to get into this era."
copyright © 2009 Jim Newsom. All Rights Reserved. Used by Permission.