When Jazz on Granby impresario Blake Cullen was putting together a new season last winter, he asked Tommy Newsom to headline the final show of the year. Though Tommy had battled cancer for several years, he had just been given a clean bill of health by his doctor. He said yes to Cullen's request.
Sadly, the cancer returned with a vengeance shortly thereafter, and Tommy passed away on April 28, 2007.
Cullen decided to make this season's finale a "Tribute to Tommy Newsom," enlisting ODU's resident jazz master John Toomey to make it happen. Toomey's efforts will be on display Friday night at the Roper Performing Arts Center. He's put together a big band filled with some of the region's best players to perform a program that draws, in his words, from "the music that Tommy enjoyed playing and listening to, and tunes that the people who were used to hearing his style would recognize."
The star power for Friday night's show comes from special guest Chuck Redd, longtime percussionist and vibraphonist with Charlie Byrd. Byrd and Newsom had a friendship that stretched back to the 1940s, when Tommy was a student at the Norfolk division of William & Mary, now known as Old Dominion University, and Charlie was a recently returned World War II veteran who had served with the 7th Army in France.
"I feel very lucky to have encountered him several different times over my career," Redd told me in a recent conversation. "I played the Tonight Show with Charlie Byrd, Barney Kessel and Herb Ellis back in the mid-'80s. We went down to the NBC commissary there to have lunch—it was just Joe [Byrd] and Charlie and Tommy and I. You would never know that these guys had traveled the world as musicians or that Tommy Newsom was a household name. They were just three guys from Tidewater Virginia, catching up on old times and asking about old friends. It was so impressive to me that they were so down to earth."
Redd and Newsom worked together several times after that.
"In the mid-'90s," he said, "I did a recording with Ken Peplowski and Tommy in New York. We had a good time, a lot of laughs. And he just blew everybody away. I remember how beautifully he played, and how Ken, who can do pretty much anything he wants on the tenor, was knocked out with the musicality of Tommy's playing and how hard swingin' it was. We'd sit and listen to the playback and just smile at each other.
"He was very funny to be around, that dry wit that we all saw on The Tonight Show. When we were having that lunch at NBC, I couldn't think of much to say to him. I said, 'It's so funny the way you sometimes laugh at Johnny's jokes, but sometimes you don't.' He deadpanned, looked over at me and said, 'I laugh at them when they're funny.' That's when it occurred to me that he was just being himself. That persona that we all loved and that Johnny made fun of, he was just being Tommy."
In the last couple of years before his death, Tommy sat in with John Toomey's group on several occasions. He told me how much he enjoyed Toomey's playing, how John "got it" and could follow wherever the music led. Toomey has similar memories of Tommy.
"I remember specifically him calling 'Cottontail,'" he told me last week, "and when it got to the solo, I thought 'why does this sound familiar?' It was note-for-note the solo that Duke Ellington wrote! He had memorized the whole thing and played it perfectly, not just the notes, but the feel, the accents—everything was just nailed. I started interjecting the backup that would go against that solo. It was a nice inside moment and joke between us, but also a lot of fun musically.
"We played for the General Assembly up in Richmond in conjunction with something for Old Dominion University. I got to drive him up there for the gig, and I asked him to tell me the story of his life. It was just fascinating to listen to him. The thing that struck me most was how he presented it in such a humble way—like 'I was so lucky to be here' or 'I was so lucky to be hired for this' and 'here I was, me, sitting around all these fantastic musicians.' That's how he looked at his musical life—everyone else was a tremendous player and wasn't he somehow lucky to be involved with them.
"The thing that impressed me about Tommy was that humble spirit. I would ask him if he would consider being a guest artist or being part of a lecture series, and he'd go, 'Why would they want to hear me?'"
For John Toomey, playing with Tommy Newsom was also the chance to connect with a bygone era, the golden age of jazz:
"That feel that Tommy had, the rhythmic feel, the swing feel—there are very few players around any more that really have that, that have lived that and have that rhythm inside them. When he would start to play, it would just pull the band in a brand new direction and lock things in, in a whole different way. It was similar to sitting down and playing with a record that was recorded in the '40s with some of the great players. You can't find that nowadays."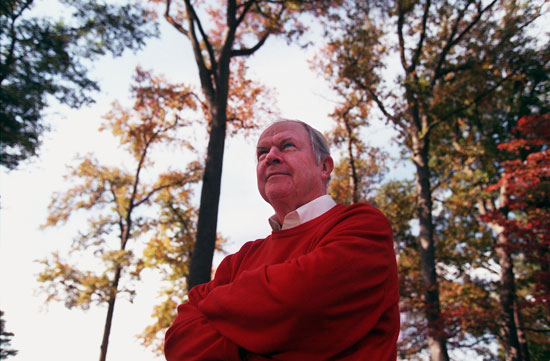 Tribute to Tommy Newsom
Friday, March 28 – 8:00 pm
Roper Performing Arts Center
623-4141; www.jazzongranby.com
copyright © 2008 Jim Newsom. All Rights Reserved. Used by Permission.