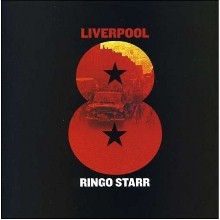 Ringo Starr
Liverpool 8
Capitol
Thirty five years ago, when Beatlemania was still fresh in the memories of record buyers, Ringo Starr topped the charts with "You're Sixteen," "Photograph" and "Oh My My" from an album simply entitled Ringo. He had a couple of more hits after that, but Ringo was indisputably the high point of the Fab Four drummer's solo career. In the last couple of decades, he's hit the road every so often to cheering crowds with his "All-Starr Band" but his occasional recordings have gone virtually unnoticed.
His just released CD, Liverpool 8, has been getting quite a bit of press however, and Capitol Records has put a big push behind it as "his first new album with Capitol/EMI since 1974." From the opening notes, it's obvious that Starr and "re-producer" Dave Stewart decided to aim backwards, painting the tunes with the same thick gloss that characterized his most popular '70s work. While the fat production overwhelms the simple, unpretentious material at times, it may well provide enough baby boomer familiarity to catch the ears of Ringo's natural constituency.
The title track kicks things off autobiographically, with aural references to Beatles studio tricks, symphonic orchestration and memories expressed straightforwardly: "In the USA, when we played Shea/We were number one, man it was fun/When I look back, it sure was cool/For those four boys from Liverpool." No, it's not great poetry, but when a "Born in the USA" guitar lick kicks in beneath a stadium full of fans shouting "Liverpool," it's also irresistible.
There's more than a touch of old-timeyness on "Harry's Song," evoking the music of his old buddy Harry Nilsson; "Pasodobles" gives a goofy nod to the music of Spain; "R U Ready" is a semi-gospel song that channels the singer's voice through a bullhorn over a country beat and plucked mandolin.
The lyrics never rise much above "Feel like I'm going under/my heart it beats like thunder/for love, for love, for love" and the melodies are rudimentary, but working within his vocal and compositional limitations has always been part of Ringo's charm. He is, after all, a nice guy—the easygoing, egoless Beatle who always seemed to enjoy just being along for the ride. Plus, how many albums do you come across these days where "love" appears in virtually every song?
Starr may have locked in to the tenor of the times with optimistic little pop songs like "Give It a Try," "If It's Love That You Want" and "Love Is." In this crucial election year, you could say he's the Barack Obama of rock: "You've got to love every breath you breathe/look at the sky and believe/Smile a little more if life goes by, with love in your eyes/Just give it a try."
Liverpool 8 is an unrepentant message of hope from the guy who laid down the backbeat for a generation that believed "All You Need is Love." It is a literal LOVE-fest. And there's nothing wrong with that.
copyright © 2008 Jim Newsom. All Rights Reserved. Used by Permission.