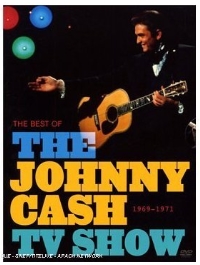 The Best of the Johnny Cash TV Show
Legacy DVD

In the pre-MTV, pre-CMT, pre-music video days, the only opportunities to see music on primetime television came as segments of variety shows like Ed Sullivan, the Smothers Brothers Comedy Hour and Red Skelton. True, there were brief runs for Hootenanny, Hullabaloo, Shindig! and Music Scene, but these shows were so bowdlerized by network execs' attempts to avoid controversy and pander to various constituencies that they lost their potential impact. And there was the matter of lip-synching.

Johnny Cash had different ideas when he was offered a slot hosting a summer replacement series on ABC in the summer of 1969. When The Johnny Cash Show premiered on June 7, his guests included Joni Mitchell and Bob Dylan. Both were making their primetime network debuts. It was especially momentous to have Dylan, the reclusive bard of the '60s, giving Cash, already a country music icon, countercultural credibility.

It was also the first network show produced in Nashville, recorded live at the Ryman Auditorium, then home of the Grand Ole Opry. And it was devoted pretty much entirely to music—live music. The program did so well in its summer slot that it was picked up for a regular season run.

The new double-DVD set, The Best of the Johnny Cash TV Show, features 65 performances from the program's 58-broadcast, two-year run. It is one of the best music-based DVD releases yet. The color, crispness and audio quality are impeccable. It truly was a musicians' show, with Johnny and his guests pulling off classic performances and magical one-off pairings, leaving behind mountains of memories from a golden age.

Highlights are many: James Taylor in his Mud Slide Slim persona, alone with just an acoustic guitar for "Sweet Baby James;" a bearded Pete Seeger decked out in flowered shirt trading lines with the Man in Black on "Worried Man Blues;" a teenaged-looking Tammy Wynette complete with bouffant hairdo, red cowgirl outfit and shiny silver boots singing "Stand By Your Man."

The performances have the excitement of first-take playing without a net. When Waylon Jennings flubs a note on "Only Daddy That'll Walk the Line," he and his band crack up before finishing out the song. Eric Clapton, Carl Perkins and Cash trade lines on Perkins' rockabilly classic, "Matchbox," with Johnny stepping on Slowhand's lyric. Louis Armstrong blows his horn rich and ripe while Cash sings Jimmie Rodgers' "Blue Yodel #9." Mini-skirted Linda Ronstadt finds a way to harmonize with him on "I Will Never Marry" while Joni Mitchell wears purple paisley for her duet on "Long Black Veil."

George Jones looks like a bobblehead doll singing a medley of his hits dressed in a powder blue western suit, while Glen Campbell dons a deep blue jumpsuit for "Wichita Lineman." Ray Charles turns "Ring of Fire" into a serious piece of the blues. The Everly Brothers sit around a poinsettia-bedecked holiday set with their father Ike for "That Silver Haired Daddy of Mine." The unrecognizably clean-shaven Hank Williams, Jr. (age 21) sings a medley of his dad's songs.

The outstanding list of guest performers may be the primary drawing card for this set, but Johnny Cash himself is more than just a beaming ringmaster, delivering numerous standout performances of material from his hefty catalog. It's an irresistible four hours of music that goes by much too quickly.

__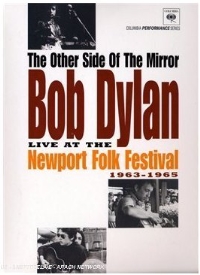 The Other Side of the Mirror:
Bob Dylan Live at the Newport Folk Festival 1963-1965
Legacy DVD

Bob Dylan has become something of a roadhog in his old age, but he was not so easy to find in live performance during his '60s heyday. Consequently, The Other Side of the Mirror: Live at the Newport Folk Festival is a genuine revelation. Over the course of its 83-minutes, Dylan goes from little boy to grown man, from shy folkie waif to leather-clad rock-n-roller.

It's an amazing transformation that encases the ever-evolving musical and social landscape of the time within its narrative. At an afternoon workshop at the 1963 festival, young Bob sings with requisite reverence about the plight of Minnesota copper miners in "North Country Blues," then joins girlfriend Joan Baez for his powerful "With God On Our Side." All six songs presented from that year's fest are "protest songs."

By the summer of '64, Dylan was moving away from obvious political issues and specific incidents to wordy flights of poetic fancy. He debuts "Mr. Tambourine Man," nearly a year before its release on record, with its jingle-jangle imagery of skipping reels of rhyme and dances beneath a diamond sky. He pulls out "It Ain't Me Babe" from the soon-to-be-issued Another Side album as a goofy duet with Baez when she calls him out to join her onstage.

But the most telling moment of the 1964 festival is Dylan's performance of his elliptically ethereal epic "Chimes of Freedom." It was literally a showstopper—when he finishes, the crowd goes wild. Though emcee Peter Yarrow tries to carry on, the audience won't let him, screaming for more and giving a raucous glimpse of the burgeoning youth culture just beginning to burst forth in all its rebellious glory.

The 1965 festival is the one that blew the lid off the once pious, clean-cut and well-behaved world of folk music. This is the concert where Bob "went electric," arousing the ire of some, firing up excitement in others. There are actually only two songs played with Al Kooper and the guys in the Butterfield Blues Band—"Maggie's Farm" and "Like a Rolling Stone"—but you can tell from the mix of cheers and boos lighting up the Newport night that things will never be the same.

Yarrow again doesn't know how to react, but this time he calls Bobby back out with his acoustic ax and Dylan obliges. Wrapping things up with "It's All Over Now, Baby Blue," he bids a final farewell to those that had originally embraced him, moving beyond category into uncharted territory. It's a poignant finale for a fascinating video document of the times when they were a-changin'.

__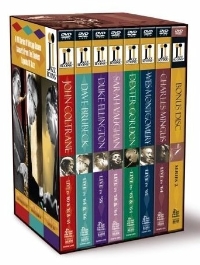 JAZZ ICONS: Dave Brubeck, John Coltrane, Duke Ellington, Dexter Gordon, Charles Mingus, Wes Montgomery, Sarah Vaughan
Naxos/Reelin' in the Years
As rare as TV footage of Bob Dylan is from the 1960s, video of the era's jazz greats has been just as hard to find. So when the first batch of Jazz Icons DVDs appeared last year, it was like the unearthing of King Tut's tomb. Who knew such riches lay in the vaults of European television stations? It's a sad testament that American network archives are bereft of such treasures.
This year's release includes seven new discs, each featuring an hour or more of performances by one of these giants of jazz. All are available separately or as part of an eight-disc box set that includes additional material by the featured artists.
Guitarists will revel in the upclose shots of Wes Montgomery in action in 1965, his right thumb plucking incredible single note runs and his left hand racing up and down the fretboard to produce his patented fat octave solos. Though she's in her mid-30s, Sarah Vaughan is still girlish in two shows from 1958; by the time of her disc's third set from 1964, she has matured into a deep-throated mistress of sophistication.
The Coltrane disc features shows from three different stages of the saxophonist's career—the first, in 1960, captures him with fellow members of Miles Davis' band on a German TV program in which Miles chose not to participate and closes with a once-in-a-lifetime tenor sax summit with Stan Getz. The '61 set opens with "My Favorite Things" and features multi-instrumental innovator Eric Dolphy adding adventurous textural shadings. Four years later, Coltrane's classic quartet blows away all boundaries of convention on a cold August night in Belgium.
The great Dave Brubeck Quartet is presented two years apart, 1964 and 1966, showing its many sides and revealing four totally unhip looking guys playing music as hip as anything in jazz. Paul Desmond's "dry martini" alto sax tone is sweet and melodic and Brubeck's own crunchy, punchy pianism remains unique and riveting. Two very different takes of "Take Five" seal the deal.
The Dexter Gordon DVD starts off like Round Midnight, the 1986 film he starred in as an aging jazzman, with the saxophonist walking down a late night street in Amersfoort, Holland, then entering a jazz club to give a master class in the art of improvisation. Two 1964 performances bookend one from a year earlier featuring pianist Kenny Drew. The music is magnificent.
Charles Mingus was a man possessed, and the two hours of music on his disc are powerful and uncompromising, full of the compositional motifs that consistently characterized his work. This is not cocktail jazz! The remarkable "Meditations on Integration" runs the harmonic, rhythmic and dynamic gamut in two different versions from 1964 concerts a week apart in Belgium and Sweden. Eric Dolphy takes his flute and bass clarinet to realms unimagined by conventional players.
Duke Ellington was the apotheosis of jazz—admired, respected and emulated by all who followed. He got a new lease on life with an incendiary performance at the 1956 Newport Jazz Festival. This series presents a show two years later in Amsterdam with the band at the peak of its form. Though there's no "A Train" to ride, the setlist draws from the complete songbook with treats from every era. It's an extraordinary video delight: music doesn't get any better than this.
copyright © 2007 Jim Newsom. All Rights Reserved.