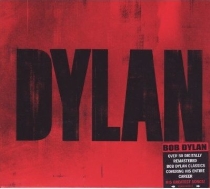 Dylan
Bob Dylan
Columbia/Legacy
It's been 45 years since Bob Dylan's first album appeared, a thirteen song collection of mostly old folksongs and a couple of originals that borrowed heavily from traditional sources. By the summer of 1963 and his second album, Freewheelin', he had become the golden child of folk music, transforming it while reinvigorating its possibilities. As the decade progressed, he joined The Beatles and The Rolling Stones as the ruling triumvirate of rock music. His influence on all who followed, including those two bands, is immeasurable and probably unfathomable to those too young to have experienced it first hand.
This new three-disc box set is the latest entry in the "Best of Dylan" genre. There have been a number of repackagings since the CD era began, most notably Biograph at the dawn of that era in 1985, but this one is different from the others—there are no rarities or unreleased cuts here, just 51 highlights culled off 33 different albums from throughout his career. It serves as a concise introduction to the man's music and a precise reminder of some of his best work.
The first disc is the most important, covering the bulk of the '60s and his most important period. "Blowin' in the Wind," "A Hard Rain's a-Gonna Fall," "The Times They Are a-Changin," "Mr. Tambourine Man," "Like a Rolling Stone"—these are the reasons Dylan is Dylan. Disc two has its share of goodies too, as he navigated the '70s: "Knockin' on Heaven's Door," "Forever Young," "Tangled Up in Blue," "Gotta Serve Somebody."
The final disc covers the last twenty years, when Bob's pertinence declined along with the strength of his output. But the songpicking process here may be the most important service this set performs—you get only the good stuff, without having to weed through the weak (of which there was plenty). As such, disc three helps provide a renewed appreciation for his ongoing songwriting abilities as the bard of the '60s traverses his 60s.
__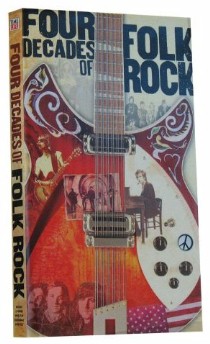 Four Decades of Folk Rock
Various Artists
Time/Life
It was the summer of 1965. The Byrds topped the charts with an electric version of "Mr. Tambourine Man;" Dylan strapped on an electric guitar at the Newport Folk Festival the week "Like a Rolling Stone" began to get radio airplay. Within a few months, Barry McGuire would hit #1 with the Dylan-soundalike "Eve of Destruction," The Turtles would harmonize and electrify "It Ain't Me Babe," folkies John Sebastian and Zal Yanovsky would ask "Do You Believe in Magic" and producer Tom Wilson would splice an electric guitar and a set of drums onto Simon & Garfunkel's previously ignored all-acoustic "The Sound of Silence." Folk-rock was off and running, fusing the joyous musical excitement of The Beatles with the lyrical exhilaration inspired by Dylan and his imitators. Even the Fab Four themselves got swept up in the wave as evidenced on Rubber Soul, released at the end of the year.
The folk-rock era officially ended sometime around the turn of the '70s with the coming of James Taylor and the singer-songwriters, but as this new four-disc set from Time-Life chronicles, the genre has never gone away. JT himself, Jackson Browne, Fleetwood Mac, Grateful Dead, REM, Steve Earle, Wilco, Lucinda Williams, Shawn Colvin, Indigo Girls—all are direct descendants of those pioneering folk-rockers. This 71-song set samples forty years worth of the music from those artists and others.
The song selection is stellar, from obvious choices like Traffic's "John Barleycorn," The Youngbloods' "Get Together," Don McLean's "American Pie" and Fleetwood Mac's "Gold Dust Woman" to lesser known treats by Pentangle, The Roches, Patty Griffin, John Hiatt and Lucinda Williams' version of her own "Passionate Kisses." Arranged chronologically, this collection is a delight from start to finish.
__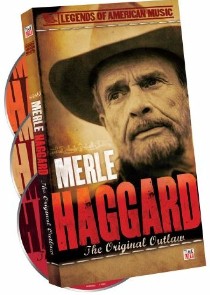 The Original Outlaw
Merle Haggard
Time/Life
The Bluegrass Sessions
Merle Haggard
McCoury Music
Merle Haggard emerged on the country music scene about the same time that folk-rock popped up over on the pop side. The triple-disc, 60-song set, The Original Outlaw, reveals a remarkable body of work that ranks with the finest produced in any genre over the last 40-some years.
All of Hag's big hits are here: "Mama Tried," "Workin' Man Blues," "Okie from Muskogee," "The Fightin' Side of Me," "If We Make It Through December," "I Think I'll Just Stay Here and Drink," "Big City," "Let's Chase Each Other Around the Room." There's his duet with Willie Nelson on "Pancho and Lefty" and with Janie Fricke on "A Place to Fall Apart," plus a slew of country chart-toppers that rockers and popsters won't be familiar with.
But here's the thing: even for those who originally disparaged "Okie" when it came out in 1969, Merle Haggard offers the honesty and straightforwardness of someone who has lived what he sings about. With the homogenization of country, rock and pop music, he's a rarity indeed.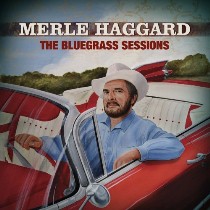 And lest you think his best days are behind him, The Bluegrass Sessions offers up ample evidence of his continued vitality. Recorded late last year at Ricky Skaggs' studio with help from Marty Stuart and an all-star cast of Nashville's finest acoustic players, this disc presents some new tunes like "Learning to Live with Myself" and "Runaway Momma" that fit snugly into the Hag songbook, fresh looks at "Big City" and "Holding Things Together," and an updated "Are the Good Times Really Over" called "What Happened?" ("Everything Wal-Mart all the time/no more mom and pop five and dimes…")
___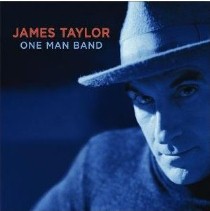 One Man Band
James Taylor
Hear Music
The new "best of" DVD from the old Johnny Cash TV show includes a clip of James Taylor performing "Sweet Baby James" alone with his acoustic guitar, in the round at Vanderbilt University. On this new CD/DVD set, Taylor says "that's how I started out, just the guitar and a handful of songs."
Anyone who's been to see JT in the last 25 years knows that his onstage entourage has grown considerably, including a full rock band plus horns, extra percussion and three or four vocalists. So the stripped down presentation on One Man Band is a real pleasure, one that brings out the intimate lyrical and musical potency of his songwriting much more effectively than his always-entertaining amphitheatre productions.
This set draws from shows recorded live at the recently restored Colonial Theatre in Pittsfield, Massachusetts, where Taylor now makes his home. It's a beautiful hall, and the upclose and personal nature of the layout enables him to relax and share stories of his life and the origins of his songs with an audience made up of friends and neighbors.
Despite the album's title, it is not truly a solo show; piano and organ wiz Larry Goldings, a young jazz giant who's been in the touring band for several years, adds effective but unobtrusive keyboard touches. And there's also a drum machine on two songs—not one of those modern digital babies, but a Rube Goldberg-inspired contraption with a real snare drum, cymbals, tambourine and "bigfoot" wooden feet pounding out the bass beat.
The setlist is filled with the songs you want to hear; few surprises, but that's all right. By getting back to basics, James Taylor takes some of his best loved material and gives it a fresh new life.
____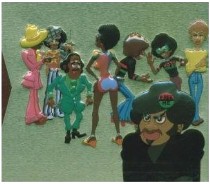 The Complete On the Corner Sessions
Miles Davis
Columbia/Legacy
With In a Silent Way and Bitches Brew, Miles Davis changed the shape of jazz to come, spurring fellow travelers like Chick Corea, Herbie Hancock, Joe Zawinul and Wayne Shorter into their most creative periods, and inspiring rockers, funksters and wannabe electric jazz fusioneers to fill the bulk of the '70s with adventurous musical explorations. By the time On the Corner was released in 1972, he had pretty much left any semblance of what used to be called jazz far behind, and had become the sorcerer of controlled electric mayhem, loosely directing a vast assemblage of players while giving them an enormous amount of space to go wherever their musical instincts took them.
This six-disc set is the eighth and final box in Columbia's eleven-year long project to document the trumpeter's lengthy association with the record label. The sessions chronicled here took place between 1972 and 1975, resulting not only in the original On the Corner, but also Get Up with It and Big Fun. About a third of the music here has never been issued before, and much of the rest was heard only in edited form on those three records.
When this stuff came out originally, many critics derided it. Listeners, myself included, weren't sure what to make of it. I played these records a lot at the time, over and over actually, but few of my college roommates and friends could figure out why. This is not conventionally structured music. But as the various jams unfold, fascinating features appear and recede, riffs repeat and expand, melodic ideas develop from simple seeds, sounds pop up from out in space—a bass clarinet here, electronic organ there, exotic percussion, hot guitar licks, quavery Fender Rhodes piano, wah-wah trumpet.
Miles takes things about as far out as he can here, but always there's a steady rhythm, a repetitive bassline, a hook of some kind holding the groove steady. It sounds as fresh and new now as it did 35 years ago.
copyright © 2007 Jim Newsom. All Rights Reserved.