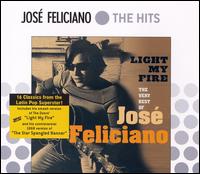 Jose Feliciano
Light My Fire: The Very Best
RCA/Legacy
Who: the original Latin superstar
Sounds like: Nuyorican soul
When Jose Feliciano's cover of "Light My Fire" hit the Top 40 airwaves in 1968, some young rockers dismissed it as easy listening. In fact, Feliciano brought soulfulness to the song that gave it a dimension of romance and sensuality not apparent in the drug-tinged trippiness of The Doors' original. And the incredible acoustic guitar solo in the middle was a mind blower. Feliciano went on to win Best New Artist and Best Pop Song Grammy awards and became an energetic mainstay on TV variety shows of the time. Though he never came close to matching that commercial success again, this new compilation reveals an artist of rare musicality whose interpretations of Beatles songs, "Hey Baby," "California Dreamin'" and "Hi-Heel Sneakers" were fresh and invigorating. His Chistmas classic "Felice Navidad" is not included, but his controversial-at-the-time "Star Spangled Banner" recorded at the '68 World Series is, along with the theme from "Chico and the Man." The arrangements are rich, the singing and guitar playing magnificent.
__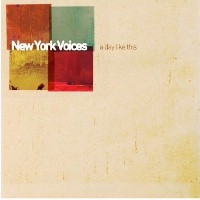 New York Voices
A Day Like This
MCG Jazz
Who: jazz vocal quartet nonpareil
Sounds like: a sunny day in the city
New York Voices have never had the individual star power of Manhattan Transfer, and may have come off as copycats when they first arrived on the scene nearly 20 years ago. But their recordings have been consistently intriguing and musically fulfilling, with rich vocal harmonies and impeccable jazz chops. A Day Like This continues in the vein they've mined so well, mixing thick, creamy takes on Stevie Wonder and Laura Nyro with explorations of Coltrane's "Moments Notice" and Ellington's "Love You Madly," standards like "Darn That Dream," "In the Wee Small Hours of the Morning" and "On a Clear Day," plus several originals. "Stoned Soul Picnic" has the fat a capella sound of Take 6, but on most of this album, the four voices are bathed in gorgeous instrumental arrangements ranging from piano trio to big band. Feel-good music doesn't feel any better than this.
__
Bobby Bare
Sings Lullabys, Legends and Lies
RCA Nashville/Legacy
Who: the original country music outlaw
Sounds like: there's a country-rock party goin' on
Shel Silverstein was a poet and author whose children's books Where the Sidewalk Ends, The Giving Tree and Light in the Attic are considered classics of the genre. He was also a first-rate songwriter whose prolific pen produced "The Unicorn," "Boy Named Sue" and "Cover of the Rolling Stone."
Bobby Bare had one of the strongest voices in country music in the '60s and '70s, with hits like "Detroit City," "500 Miles from Home," and "Please Don't Tell Me How the Story Ends." In 1973, he put together this concept album of Silverstein songs that turned out to be the biggest recording of his career. As is their custom, the folks at Legacy have reissued it in an expanded two-disc version.
The original LP was recorded live in the studio, with a loose, night-in-a-bar feel and fourteen stories that range from the goofiness of "She's My Ever Lovin' Machine" to the poignance of "Daddy What If." The number one country hit "Marie Lavaux" is here ("wheee…another man done gone!"); the legend of "The Wonderful Soup Stone" is simultaneously sad and uplifting; "Paul" fits the legend of Paul Bunyan into a catchy country tune; and the tale of "The Mermaid" rings both funny and true ("you're just gonna love the upper part/you're not gonna like the tail").
The bonus disc on this reissue pulls together sixteen Silverstein songs from other Bobby Bare LPs, including "Sylvia's Mother" and "Tequila Sheila." Both CDs showcase his appealing blend of country, rock and folk. The prevailing ambience is good-time party-time, but Silverstein's songs run the emotional gamut, always laced with wit and empathy. Bare inhabits them and makes them his own.
copyright © 2007 Jim Newsom. All Rights Reserved.