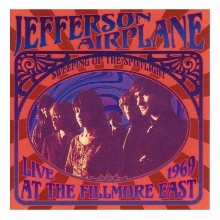 Jefferson Airplane
Sweeping Up the Spotlight
RCA/Legacy

Who: San Francisco's greatest rock band

Sounds like: the end of the '60s

In the golden age of rock, the most together bands on record were often sloppy and disjointed in live performance. Because the concert experience was so communally cathartic, and because audience and musicians shared similar mind-altering substances, few noticed at the time. But live album reissues don't lie (unless altered themselves) and once-sterling reputations sometimes have to be revised.

Jefferson Airplane's performance at Woodstock was, if truth be told, not one of their finest hours. With their free-wheeling jazz sensibilities, Grace Slick and company could be as ragged as anyone. So Sweeping Up the Spotlight is a treat, capturing the Airplane at its zenith, working the Fillmore East on the Friday and Saturday after Thanksgiving, 1969. Volunteers had just been released, and the catastrophe of Altamont was a week away, but here they are in all their glory, rockin' New York with everything they had.

Jorma Kaukonen is the star, his unique lead guitar work the most impressive, most musical aspect of the band's sound. His unassuming, low-key vocals on "Good Shepherd" and "Uncle Sam Blues" are a refreshing counterpoint to Marty Balin's shouting (and Slick and Paul Kantner's attempts to keep up) elsewhere. Balin was a beautiful ballad singer, but his voice never really lent itself well to hollering above a pounding rock band. Of course, these guys always had their own sense of harmony, even on record.

The setlist has a few surprises—a ten minute jam on Fred Neil's "The Other Side of This Life," Balin's "You Wear Your Dresses Too Short"—and classics from the band's catalog—"White Rabbit," "Crown of Creation," "Plastic Fantastic Lover," "Won't You Try/Saturday Afternoon." You'll hear the beginnings of Hot Tuna ("Come Back Baby") and the end of psychedelia ("The Ballad of You & Me & Pooneil"). It's messy, sure, but the energy, excitement and guitar pyrotechnics make this a quintessential document of the time from which it comes.

copyright © 2007 Jim Newsom. All Rights Reserved.