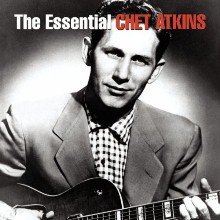 Chet Atkins
The Essential Chet Atkins
RCA Nashville/Legacy

Chet Atkins and Les Paul
Chester & Lester
RCA Nashville/Legacy

When I asked Vince Gill recently what had first attracted him to the guitar, he told me, "I wanted to be Chet Atkins as a little boy. Just listening to those records, I couldn't even fathom how he did all that."

He is not alone. The list of Chet Atkins-wannabes includes George Harrison, Mark Knopfler, Brian Setzer, Duane Eddy, Earl Klugh and thousands of others, known and unknown, who have come under the spell of his amazing guitaristics. Not flashy in the conventional sense, not loud and boisterous like so many rockers who followed him, Atkins was the consummate musician, a master of subtlety and nuance, lightning fast and harmonically rich. He was the ultimate guitarist's guitarist.

He was also a record business executive whose imprint was felt not just in Nashville, where he ran RCA Records for nearly thirty years, but throughout the industry for his production touches and genre-blending recordings. He and Decca's Owen Bradley literally saved country music from impending death after the arrival of rock-n-roll in the late '50s with their "Nashville Sound," smoothing out the music's hillbilly rawness and adding a touch of sophistication that attracted a new, larger audience.

Atkins died in 2001 at the age of 77, but his recorded legacy lives on. A new compilation, The Essential Chet Atkins, is a 40-song overview that gives just enough of a sampling to send you looking for more. His remarkable virtuosity is on display from the first track, "Guitar Blues (Pickin' the Blues)," a 1946 recording attributed to Chet Atkins and the All-Star Hillbillies that puts a country-blues sheen on a jazz setting, complete with a bit of Benny Goodman-like clarinet.

Atkins' theme song, "Country Gentleman," has a goofy charm in its melodic simplicity, while on his 1954 version of "Mr. Sandman," he literally plays guitar like ringin' a bell. "Get On with It" is a textbook lesson in his thumb-and-three-finger picking style; "Yakkety Axe" transfers Boots Randolph's classic "Yakkety Sax" to guitar. He plays "Take Five" alone, a difficult feat done with impeccable musicality.

In addition to instrumental recordings done under Atkins' own name, this set includes a tiny taste of his sideman work—Mother Maybelle and the Carter Sisters, with whom Atkins first came to Nashville, on the hilariously cornball "Root, Hog or Die;" an early Everly Brothers rockabilly side, "Should We Tell Him;" Eddy Arnold celebrating Dallas over Chet's trademark licks on "Big D;" Don Gibson's country standard, "Oh Lonesome Me."

There are also tracks from several latter day collaborations, including a decidedly Dire Straitsian duet with Knopfler, a slinky slice of funk with Jerry Reed and a balladic "It Had to be You" with jazz great Les Paul.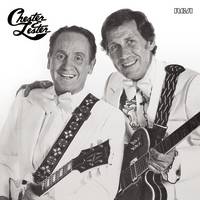 Chester & Lester, from which that track was culled, has also been reissued simultaneously with Essential in an expanded edition. Recorded in 1975 when Paul, best known to the rock generation as a guitar designer, was sixty years old and had been pretty much retired from active playing for the previous decade. Atkins, eleven years younger, had listened to Paul on the radio as a youngster and tried to figure out what he was doing, much as Vince Gill and others later did with Atkins.
When Chet coaxed Les into a Nashville studio, the resulting album captured the two musical giants sitting around playing standards, joking and having a good ole time, making it up as they went along and producing truly transcendent music. The guitar playing is simply delicious as they trade licks and tricks and goose one another with surprising turns of phrase, sometimes breaking into laughter in the middle of a song.
Chester & Lester is a gas. These guys did things with electric guitars that over-amplified hotshots could not even imagine. Here they give a master class in the art of guitar playing.
copyright © 2007 Jim Newsom. All Rights Reserved.