Peter Rowan called me at 9:30 the night before the Fourth of July from his cousin's house near Cape Cod.
"I'm watching the fireworks across Buzzards Bay," he said, "the grand finale of the fireworks at Marion. It's been a wild three-week run and I've got a couple of days off over my birthday."
A Yankee Doodle Dandy born on the Fourth of July himself, Rowan would celebrate his 65th birthday the next day. He's fit a lot of living and a lot of music into those 65 years, and he'll be at Chesapeake City Park Saturday night with the Peter Rowan and Tony Rice Quartet to headline the Todi Music Festival's Bluegrass at the Bagley concert. I first heard his music in 1969 when I bought an album by a band called Earth Opera, a group he led with mandolin master David Grisman.
"You're kidding!" he cried when I told him. "You're a part of the brotherhood, man!
"We weren't fully aware of what we were doing at the time, and consequently were not sure that we thought what we heard on that record was what we felt when we decided to play together. We believed in it at the time as a transcendent thing, and I think both David and I have had to buckle down since then to some practicalities. But at this point, I think maybe it already was transcendent. And if it didn't sell too many records, it doesn't matter. We were trying to make music that we thought was beautiful.
"I've actually heard, in odd moments late at night when somebody's given me an Earth Opera tape, I'll put it on and I'll be transported because I don't recognize it as anything to do with me. I'll just hear it as music and I'll go, what the heck were those guys into, man, I don't understand it but it's nice. Then I'll suddenly go, oh that's me!"
Earth Opera was one of those exploratory groups of the late '60s whose music was difficult to categorize. But Rowan and Grisman had come together from mutual backgrounds playing bluegrass. Rowan, in fact, had spent three years as one of Bill Monroe's Bluegrass Boys. The Boston-born singer/guitarist was the first vocalist born north of the Mason-Dixon Line to play with Monroe.
"Remember this," he replied when I asked how a Bostonian became a Bluegrass Boy, "after World War II, and through the '60s, the Boston Naval Yard was a huge disembarkation for the troops from Germany, and there was country music all over Boston. In fact, as a child, I listened to country music and bluegrass. As soon as I was old enough to go out, the first thing I went to was the square dances. So I was dancing to bluegrass music every weekend without even being aware of what it was. I think that's really my connection with Bill Monroe—he was a dancer before he was a performer.
"He came up and he needed a band. I was working as a paid musician for Jim Rooney and Bill Keith. Keith had already been with Monroe, and Ralph Rinzler put together this tour for Bill as a solo artist to be exposed to the college audience because he felt he and Doc Watson were ripe to have this audience. The first show was on Doc Watson's birthday at Jordan Hall in Boston, and I was hired to play guitar. My introduction to Bill Monroe was onstage, and he just laid it down strong and I understood right away. And he understood that I understood and said, 'you ought to come to Nashville; I can help you out.'
"So I went down to Nashville and I hung out there and lived in this little shack. I asked him if he wanted me and he said he was going to have to let this other guy go. I had never stopped to think that somebody was going to lose a job because of this ambitious and eager young guy from the north.
"When I went to work with Bill Monroe I got to see those first generation players—Mac Wiseman, the Osborne Brothers, the Stanley Brothers, Jim and Jesse McReynolds. The first bluegrass festival that Carlton Haney put on in Fincastle, Virginia, in '65 had every one of those bands. I was lucky—I got to be exposed to everybody from Roy Acuff to Minnie Pearl to Cousin Oswald, the old-time fiddlers on the Opry and all the bluegrass guys.
"One of my friends down in Nashville said, 'Pete, you're not really a yankee are ya?' I think I had the same kind of upbringing as a lot of people did, with the emphasis on a kind of decorum, a family heritage kind of thing."
After his stint with Monroe, he wanted to carry on in the same vein.
"I wrote to all the record companies in Nashville," he recalled, "and they didn't know who I was. I had these beautiful rejection notices: 'We appreciate your work with Bill Monroe, but right now we're not interested in any bluegrass music on our label.' Even Porter Wagoner listened to my stuff and he was encouraging; he said, 'You write some pretty smart tunes, boy, but you gotta remember that audience out there is pretty dumb.'"
Nonetheless, those tunes have done right well for Peter Rowan. After Earth Opera he spent a couple of years with the rock band, Seatrain, and recorded the classic Old & in the Way, the album that turned a lot of college-age baby boomers on to bluegrass, with Grisman and Jerry Garcia in 1973. New Riders of the Purple Sage had an underground hit with "Panama Red," and his songs have been covered by George Strait, John Denver, Marty Stuart, Ricky Skaggs, String Cheese Incident, Emmylou Harris and Ralph Stanley.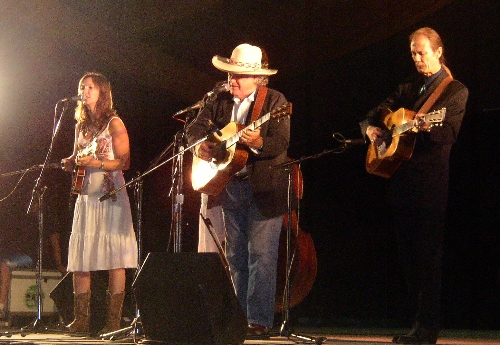 He himself has played and recorded a wide variety of music, always returning to his bluegrass roots. He comes to Chesapeake this weekend with acoustic guitar wizard Tony Rice. The two albums they've done together, You Were There for Me and Quartet, are superb, but Rowan says they are best heard live:
"The work I'm doing with Tony Rice is totally on another level. Here's this great improvising guitarist, and it just sparks me to try and push the limits of how to deliver a song. And yet you can't force it, you can't become too conscious or too conceptual about it. You've got to let it just be the flow; once you feel the flow, then you can go anywhere."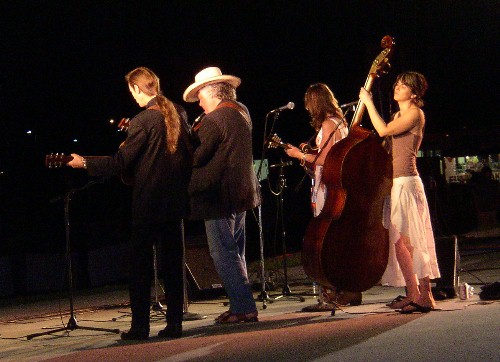 copyright © 2007 Jim Newsom. All Rights Reserved.