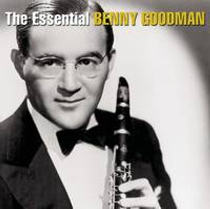 Benny Goodman
The Essential Benny Goodman
Columbia/Legacy
Maynard Ferguson
The Essential Maynard Ferguson
Columbia/Legacy
Spyro Gyra
Good to Go-Go
Heads Up
A constant in conversations I have with jazz musicians is the question, "Can jazz ever recapture a significant segment of the popular music audience?"
Though much of the rest of the world considers jazz to be the quintessential American art form, here at home it is often thought of as too esoteric, too difficult to understand, or simply ignored. As trumpeter Arturo Sandoval said to me last month, "God is not happy with what we're doing with jazz over here."
But once upon a time, jazz was America's popular music. Beginning in the Roaring '20s and rolling on through World War II, the music known as jazz topped the hit parade, filled clubs, ballrooms and theaters, and made up the soundtrack of the nation's life. The peak years of popularity were the "Swing Era," AKA the "Big Band Era." Most cultural historians date the official beginning of that era to August 21, 1935, when clarinetist Benny Goodman and his band pulled out all the stops at the Palomar Ballroom in L.A., igniting a musical fire that would burn for the next decade.
A new two-disc Legacy reissue, The Essential Benny Goodman, provides a surprisingly thorough overview of the King of Swing's music from that period. Divided into four subheadings of ten songs each—"Benny's Big Band Arrangers," "Benny Visits Tin Pan Alley," "Benny's Small Groups" and "Benny Live"—the set moves through signature songs like "Let's Dance," "King Porter Stomp," "Sing, Sing, Sing" and "Goody, Goody," covering vocals, instrumentals, big band workouts and trio, quartet and sextet outings.
There is a sampling from the legendary 1938 Carnegie Hall concert, airchecks from live radio broadcasts, and ample evidence of Goodman's remarkable technique, Teddy Wilson's inventive pianistics, Gene Krupa's poundingly percussive drumwork, Lionel Hampton's sparklingly cool vibes, Charlie Christian, Bunny Berrigan, Harry James, Peggy Lee and those superb big band arrangements. Though most of this music is seventy years old, listening to it is not merely a nostalgic trip to a less frantic time; it is an ear-opening, horn-blowing, jitterbug-inducing experience nonpareil.
The end of World War II brought with it the end of the Big Band Era. But, though it became economically unfeasible to keep a 16-piece orchestra on the road, the desire of musicians and listeners for a multi-horn sound never completely disappeared. One listen to The Beatles' Sgt. Pepper or the soulful '60s sounds of Memphis and Motown shows that brass and woodwinds didn't go away during the classic rock era. But they were no longer the lead voices.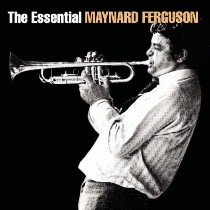 Along came Maynard Ferguson in 1970 with an album called M. F. Horn featuring a blazing 10-minute version of "MacArthur Park" that grabbed the attention of open-minded baby boomers whose receptiveness had been primed by hit records from Blood, Sweat & Tears and Chicago. Ferguson was a "screamer," a trumpeter who reveled in the high end of the instrument's register. His technique astounded high school band players, but it was the musicality of his groups and his brassy takes on pop tunes that catapulted him beyond the jazz bins and onto the turntables of young rock connoisseurs.
The Essential Maynard Ferguson is a double-disc set that revolves around Ferguson's best known '70s work—high flyin' takes on then-current fusion masterworks "Chameleon" and "Birdland," the Top Ten smash "Gonna Fly Now" (the theme from Rocky) and Chick Corea's "The Cheshire Cat Walk." But most intriguing for those already familiar with such crossover classics is the stuff from the '50s and early '60s that was more in keeping with traditional large band jazz blowing sessions. The set concludes with three latter-day cuts from the '90s that show Ferguson never lost a step himself while continuing to attract first-rate band members to play a book of topnotch arrangements.
While Maynard Ferguson found an audience by playing jazzy versions of popular songs and Benny Goodman came along at a time in which pop and jazz were synonymous, Jay Beckenstein and Spyro Gyra have sustained a 30-year career by marrying jazz sensibilities to various currents running over, under and through the musical mainstream. Their latest, Good to Go-Go, takes the band's funkified approach up another notch from last year's Grammy nominated Wrapped in a Dream, one of my Top Ten picks of 2006.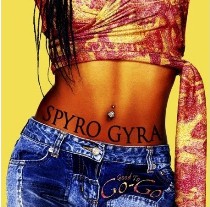 The opening track, "Simple Pleasures," kicks the disc off with a prototypical go-go beat and a memorable melody coated in standard Spyro colorings; mmm, that Fender Rhodes setting on the piano solo! "Jam Up" is built on a Sting/Police bass line, has new drummer Bonny B vocalizing in his best Jamaican rap patois, and features steel pan man Andy Narell. A violin pops in out of nowhere on "The Left Bank," "Funkyard Dog" lives up to its name, guitarist Julio Fernandez lays down a never-ending groove on "Wassup!" and "Easy Street" slips seamlessly over to the smooth side. Narell reappears to Caribbeanize "Island Time," and "Newroses" has a decided Modesky, Martin & Woods organ jam band thing going on.
Good to Go-Go reinvigorates contemporary jazz with few bows to blatant commercialization, yet it should be Spryo Gyra's most successful outing in many a year. It's a funk-filled festival of percussive pulsations, sizzling saxophonics and graceful grooves. If it is possible to reconnect jazz with a broader audience, Spyro Gyra's blend of optimistic musicality, melodic poppiness and world beat influences may well provide the template.
copyright © 2007 Jim Newsom. All Rights Reserved.