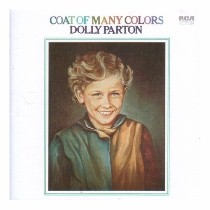 Dolly Parton
Coat of Many Colors
RCA Nashville/Legacy
Dolly Parton
My Tennessee Mountain Home
RCA Nashville/Legacy
Dolly Parton
Jolene
RCA Nashville/Legacy
Before she became a cartoon character, Dolly Parton was one heck of a country singer and songwriter. She first appeared on the Grand Ole Opry in 1959 at the age of 13, but she really began to achieve public prominence when she joined Porter Wagoner's regionally syndicated TV show in 1967. Her first major country hits were duets with Wagoner and they were named CMA Vocal Group of the Year in 1968.
Her first solo foray into the Top 10 came with a cover of Jimmie Rodgers' old "Mule Skinner Blues" in 1970. For the next decade and a half, she rode high on the country charts with a series of self-penned songs and albums. Three of her best were recently reissued by RCA Nashville/Legacy.
The first, Coat of Many Colors, was originally released in 1971. The title track became Dolly's theme song and also set forth the theme that would dominate much of her songwriting-growing up poor but still holding your head high. Songs like "A Better Place to Live," "She Never Met a Man (She Didn't Like)" and "Travelin' Man" may be obvious, but Dolly's heartfelt delivery makes them believable, as though she sings from experience. And who can resist lines like "Mama didn't allow me goin' courtin'/and I'd tell her lies that I reckon I oughtn't."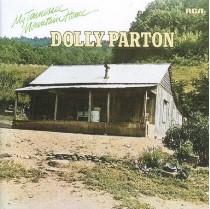 My Tennessee Mountain Home from 1973 is a full blown concept album that opens with Dolly reading a letter she wrote to her folks on June 2, 1964, when she first arrived in Nashville. The lonesome harmonica playing "No Place Like Home" in the background gives the monologue too much corn, but the rest of the disc is rootsy country-folk at its best. "In the Good Old Days (When Times Were Bad)" is a mournful waltz leavened by gorgeous string band accompaniment; "Old Black Kettle" cooks up a country breakfast of dobro, banjo, harmonica and guitar; the title track paints a vivid picture of Dolly's childhood on the edge of the Smokies.
"Dr. Robert F. Thomas" was a real person, a minister and physician, who traveled through the area, set up clinics, administered shots and delivered lots and lots of babies, including one Dolly Parton. The song that bears his name is a joyfully upbeat tribute. "Daddy's Working Boots" is a classic country remembrance of life in the rural south; "The Better Part of Life" conjures up a family reunion recalling "that ol' swimming hole" and "the time we all got drunk on homemade wine; while "Down on Music Row" is another unadorned slice of autobiography that takes the singer from Nashville newbie to hitmaking star in three short verses.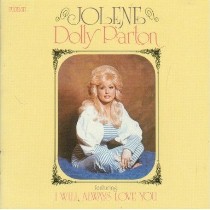 Jolene shot Dolly to country superstar status when it was released in 1974. The infectiously relentless title track, irresistible though it is, serves as the lyrical antonym to Loretta Lynn's "You Ain't Woman Enough," ironic considering what a tough businesswoman Dolly turned out to be. The other touchstone here is the original recording of "I Will Always Love You," a country number one at the time, and much more powerful in this understated rendition than in Whitney Houston's soulless, over-the-top take 18 years later.
"Early Morning Breeze" is a beaut, spare and tasteful folk with pedal steel trim (a slightly different arrangement from its initial appearance on Coat). Dolly sings the blues while "Living on Memories of You," wanders into "Happiest Girl in the USA" territory on "The Highlight of My Life," sits on the banks of the "River of Happiness" and discovers that it can be "Lonely Comin' Down" from a faded romance.
After Jolene, Dolly Parton began to turn herself into a brand. Within three years she was crossing over to the pop mainstream with the silly and frilly "Here You Come Again," and by the '80s, she was a movie star, television mainstay, country icon and theme park owning caricature of herself. But these three albums provide ample proof that she was, first and foremost, an affecting singer and plainspoken songwriter deeply rooted in her Tennessee Mountain Home.
copyright © 2007 Jim Newsom. All Rights Reserved.