Moby Grape
Listen My Friends!
Columbia/Legacy
"You almost had to be a genius to screw up as good as we did."
Jerry Miller was talking about his old band, Moby Grape, one of the greatest San Francisco bands that most people have never actually heard. The band name has passed into the mythical ethos of the Summer of Love, but even hardcore music fans of the classic rock era would be hard pressed to name the group's songs. Nonetheless, they did make a great first album that rivals Jefferson Airplane's Surrealistic Pillow as the definitive musical monument of that flowery Frisco summer before they collapsed under the weight of record company hype, great expectations and drug-induced craziness.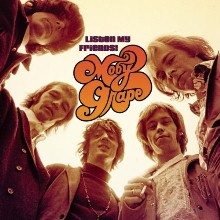 There's a new compilation just out from Columbia/Legacy called Listen My Friends! The Best of Moby Grape that kicks off what is shaping up as a reissue-filled celebration of the 40th anniversary of the Summer of Love. I called Miller at his home in Tacoma, Washington, where he grew up, to talk about those days and his band's role in them. He began with his mid '60s stint playing with Bobby Fuller ("I Fought the Law") in El Paso, Texas.
"When I came back from Texas," he remembered, "I hooked up with a band called The Frantics up here. We got a booking down at the Peppermint Tree in San Francisco, in North Beach. We went down there, unfortunately, on the very day they legalized topless. They didn't need bands anymore!
"We went down again to the Hunter's Inn and, on the way back, we just happened to stop at this little place in Belmont, California, and The Warlocks [who became the Grateful Dead] were playing there. Garcia said, 'You guys ain't going home; you can hang out with us.' So we ended up hanging out in this big old mansion, me and Don [Stevenson] and this guy Charlie from the Frantics. We heard Bob Mosley play at this little place called the Les Buffet. We were using B-3 organ bass and we decided to get a real bass player, and we really liked Mosley.
"Then we were playing the Dragon a Go Go up in Chinatown, but we broke up because we got a load of all the stuff that was going on at the Longshoremen's Hall, and the Avalon was just starting and the Fillmore. We were wearing uniforms and everything at the Dragon a Go Go, doing all the Top 40 stuff. So we said, no man, this would be way more fun if we could just get loose and play our own music."
The chance to do that came when Miller joined drummer Stevenson at an audition for a new band being formed by Mosley and guitarist Peter Lewis under the tutelage of fired Jefferson Airplane manager Matthew Katz, with original Airplane drummer Skip Spence on guitar.
"When we played together," Miller recalled, "we knew there was something special. Pete was doing his wonderful finger pickin' and that didn't interfere with my playing. I'd done a lot of playing with organ trios; I'd never played with more than one guitar. And then all of a sudden we had three guitars and they all blended because Skippy played that really basic chunka-chunka rhythm really good. And Peter would play this real pretty finger-pickin' thing, which left what I do naturally wide open. It was pretty magical."
Taking their name from the punchline of a goofy joke of the time, Moby Grape started playing at the Ark in Sausalito.
"Me and Don would catch the train to San Francisco," Miller said, "and then we'd walk over the Golden Gate all the way to Sausalito with the guitar and practice all night long. We put a lot of time into figuring out what we were doing. We had an audience for an after-hours show, and Buffalo Springfield, Janis, Quiksilver and the Dead would come by and we'd all play and practice at the heliport in Marin."
Shortly thereafter, the quintet was in the studio recording its self-titled debut album. It was a beaut, with hard-charging blues, harmonic country rock and a gentle touch of psychedelia.
Unfortunately, Columbia Records buried the album in a morass of publicity stunts (releasing five singles at once). Though they opened the Monterey Pop Festival, their set didn't make the movie. And when the band traveled east to record its sophomore outing, Spence literally flipped out.
"When we went to New York to do the second album," Miller said, "Skippy got with some people that led him pretty far astray with the drugs. He changed real radically then; when he met these people, he went from this nice hippie guy with a beard to a guy who looked like he shaved with a broad ax. All of a sudden he was wearing leather, and we didn't know what was going on. He completely lost his mind."
And he drove an ax into Miller's hotel room door:
"I wasn't there. It was at the Albert Hotel and when we came in and went up to my room, we noticed the door was all messed up. Then we got the report of what had happened. And they took Skippy off to Bellevue."
The new collection includes a generous sampling from the first album and surprisingly strong highlights from subsequent releases, making a potent case for Moby Grape's place in late '60s rock history. It's an invigorating memento of the days when "anything goes" was the mission statement of the music business.
copyright © 2007 Jim Newsom. All Rights Reserved.