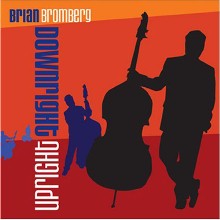 Brian Bromberg
Downright Upright
Artistry Music
Bob Mintzer Quartet
In the Moment
Art of Life
I've always been somewhat wary of albums fronted by bass players. Too many have turned out to be self-indulgent wank-offs instead of well conceived musical statements.
On his last album, Wood II, Brian Bromberg successfully walked the tightrope between solo pyrotechnics and tightly played piano trio jazz, resulting in one of last year's most memorable small group outings. He raises the bar even higher with his new release, Downright Upright.
This time around he's expanded the band to include horns and guitars, and not just some guys from the neighborhood—he's got contemporary jazz heavyweights including saxophonists Boney James and Kirk Whalum, trumpeter Rick Braun, and pianists George Duke and Jeff Lorber sitting in with him, along with drum god Vinnie Colaiuta and, on one track, guitar legend Lee Ritenour. It's an impressive lineup, but even more impressive is the music itself.
The set kicks off deep in the smokin' groove of Herbie Hancock's "Cantaloupe Island." It is tres cool to hear so-called smooth jazzers Braun, Whalum and Duke busting loose on this soul jazz classic. The '60s retro ambience continues on Zawinul's "Mercy, Mercy, Mercy" and Eddie Harris' "Cold Duck Time," both taken at mid-tempo, the latter led by Bromberg's piccolo bass (I'd swear it was an electric guitar played Wes Montgomery-style).
Bromberg's own compositions more than hold their own in this stellar company, with "Leisure Suit" straight out of '70s CTI, "Shag Carpet" a funk-infused showcase for standup bass that gives Boney and Braun the chance to prove their "real jazz" mettle, and "The Hacha Cha Cha" conjuring up memories of those Wayne Shorter/Freddie Hubbard Blue Note records from way back when.
The coolest cut, though, is "Chameleon," with Bromberg essaying the tune's trademark bass line on his 300-year old acoustic instrument, then taking another guitaristic run on the piccolo. Duke and saxman Gary Meeks cut loose, unleashing new dimensions to this two-chord funk/fusion standard.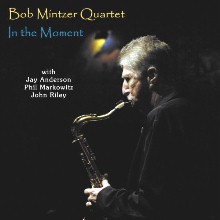 Yellowjacket saxman Bob Mintzer incorporates a well-known Eddie Harris tune into his latest side project, In the Moment. "Listen Here" is a highlight of this all-acoustic quartet affair, but unlike Bromberg's disc, this one is no paean to the soul jazz era. The opening track's title, "Straight Ahead," is probably an apt metaphor for the music herein, except that it's much more than a mere blowing session. And that's due primarily to Mintzer's compositional palette.
"Aha" has the unmistakable feel of the Jackets at their best (it first appeared on their Altered State CD) and "Play Pretty" would fit nicely into the band's oeuvre. "Simple Song" has an attractive melody and a sweet feel, and Mintzer breaks out his bass clarinet on "What's the Word" and "Blues," recalling Eric Dolphy in particular on the latter.
Mintzer's saxwork is stellar throughout, and he and his colleagues—bassist Jay Anderson, pianist Phil Markowitz and drummer John Riley—breathe new life into the well-worn "Time After Time" (the Julie Styne/Sammy Cahn standard, not the Cyndi Lauper hit). In the Moment has many fine moments. Recorded in one day, it is a relaxing, thoroughly enjoyable, beautifully produced and well crafted work.
copyright © 2007 Jim Newsom. All Rights Reserved.