EDITOR'S NOTE: Tommy Newsom died on Saturday, April 28, at his home in Portsmouth. As a remembrance, we reprint this article written by his nephew, Port Folio Weekly contributor Jim Newsom, originally published in these pages on April 22, 2003. The article has been edited slightly to bring it up to date.
Tommy Newsom was among the eight members of the initial class inducted into Norfolk's Legends of Music Walk of Fame. When I asked him how it felt to have his name on a star embedded in the Granby Street sidewalk, his reply was typical Tommy: "The first time I saw it, there was a piece of gum on it."
This low-key, good-natured self-deprecating humor was one of Tommy Newsom's trademarks during a 30-year career as lead saxophonist, arranger and assistant conductor with the Tonight Show band. It was what endeared him to national late night audiences and turned him into a TV celebrity.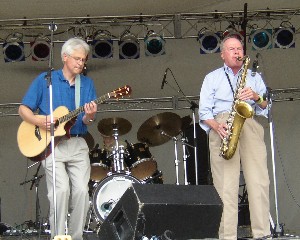 I've known Tommy my whole life. He's my uncle, my Daddy's little brother. When I was growing up in Suffolk in the '60s, all of our friends knew the guy on TV as "Uncle Tommy." When he was growing up in the small village of Cradock in old Norfolk County, his classmates knew he was an especially gifted young man and predicted great things for him. Musicians throughout the region talked about the young kid who could blow everyone away on saxophone. And he loved the instrument from the beginning.
"I used to go down to the beach with a little friend whose parents belonged to the Surf Club," he remembers. "The bands came in there, the Surf Club and the Cavalier. They would play afternoon tea dances around 4:00 o'clock. We could walk up there and just hear the band.
"For some reason, I liked the saxophone best. I used to go stare at them in the pawn shop---I was stalking saxophones!"
He got his very own horn for Christmas when he was eight years old, playing a melody he'd heard his mother play on piano the first day he had it in his hands.
"I picked out a tune on it, but I didn't realize that you have to combine fingers. Toy instruments you just pushed the key down. So I found a way to play part of the Hungarian Rhapsody by Brahms, and I could get all the notes but the top one."
He grew up in a house filled with music: "My mother played the piano and sang. Every Saturday the Opera was on. All of that goes in your ears…it's good for you.
"We were big Glenn Miller fans. Charlie Barnett was a favorite---he was a saxophone player. I liked Jimmy Dorsey because he was a saxophone player. There were a lot of radio broadcasts of big bands from wherever they were working, so you could hear a lot. I got exposed to Duke Ellington, who became my favorite for years. He had a saxophone player named Ben Webster who had a monster sound."
Formal training was limited ("The school band was two girls playing a piano, several violins, a trumpet, a clarinet or two, and I had a C-melody sax"), but he started playing gigs with older area musicians at the age of thirteen.
After graduating from Cradock High School in 1945, he went to the Norfolk division of William & Mary, a two-year junior college that later became Old Dominion University, playing in the band there with several excellent musicians who'd come home after serving in World War II. He remembers the time with great fondness, saying, "We had the best band I'd ever played in."
That was followed by four years at Peabody Conservatory in Baltimore, where he majored in Music Education.
"My first year at Peabody," he recalls, "I was gonna be a composition major. But my Daddy and I had a talk, and he said, 'Now, how do you plan to make a living?' So we decided that I ought to pursue this music education thing. It was called 'something to fall back on.'"
But he really learned about the life of a musician and the ways of the world from the city of Baltimore itself.
"I got my education there," he says. "I worked in strip joints, all the stuff on Baltimore Street. I played in this club for a girl that did a strip-tease underwater. She was in a Plexiglas tank. She would go in this circular pattern to get a breath of air, and as she came around, another piece of clothing would come off."
He graduated from Peabody in 1952, at the height of the Korean War. With his student deferment ended, he knew he was likely to be drafted into the army for that conflict.
"A friend of mine was in the band at Andrews Field outside of Washington. He said come on and audition for this. So I did. One thing led to another, and I ended up in the Airmen of Note, the dance band based at Bolling Field.
"It was tough duty," he laughs. "The first month we went to New York and played a TV show. We went all through Europe---England and Germany, across French Morocco, all the way to Saudi Arabia. It changed my life because the first saxophone player was so good; I said I gotta try this. I was gonna be a schoolteacher!"
After four years in the service, and a summer spent playing with friends in Hampton Roads, he headed for the big time, New York City. He still had a fall-back plan, studying for a Masters degree at Columbia University.
"I got on the train, took my sax and a suitcase, and went to New York. I knew one person up there, that sax player from the [Air Force] band."
He began hanging out at the musician's union office, and taking jobs with road bands led by folks like Les Elgart and Skitch Henderson.
"It paid almost nothing," he says, "twenty five bucks, maybe forty. I went all the way to New York, and my first job was to get in a car and ride to Clemson, South Carolina, for a college dance. While we were playing, my clothes were stolen out of the car."
He lived in a rooming house "with a bathroom down at the end of the hall, and a kitchen with a refrigerator where you'd put stuff with your name on it and hope that it remained."
He also began getting studio work, playing and writing music for commercials, recording with people like Chuckatuck native Charlie Byrd and Norfolk native Tommy Gwaltney, and was with the Vincent Lopez band for a couple of years. His big break came when he toured the Soviet Union and South America in 1961 and '62 with the Benny Goodman band. His time with Goodman upped his profile on the New York scene. In the summer of 1962, he got the call from NBC.
"They had a staff orchestra at that time," he recounts. "There were a lot of musical shows---Dinah Shore, Andy Williams. I'd been free-lancing around New York for six years. All of a sudden, getting a plum job like this…I had no idea it would go on. Nothing ever lasted that long."
But the Tonight Show did last that long, nearly 30 years until the spring of 1992 when Johnny Carson retired as host. Carson moved the show from New York to Los Angeles (or "beautiful downtown Burbank") in 1972. When he did, he took Tommy with him. By then Carson had nicknamed him "Mr. Excitement" for his basic brown and blue wardrobe, incorporated him into skits, jokes and dialogue, and turned him into a household name.
It was a great ride for Uncle Tommy, who retired from NBC at the same time Carson did. A few years later, he moved back home with his wife Pat, buying a place on the water in Portsmouth, the city that claims him as a native son, having annexed Cradock from Norfolk County (now Chesapeake) in the 1950s. In 1980, the city had a "Welcome Home Tommy Newsom" day, and in 2002 the city of Norfolk honored him as a Legend of Music.
Tommy was diagnosed with bladder cancer in 2004. His treatments were successful and his cancer went into remission for a while. He continued to write arrangements for a variety of performers and was once again playing gigs with some of his old friends. Unfortunately, a very aggressive cancer reappeared in his liver several weeks ago and spread quickly. He died at his Portsmouth home on Saturday, April 28, 2007. I will miss him very much.
copyright © 2007 Jim Newsom. All Rights Reserved.