Tony Joe White
Swamp Music: The Complete Monument Recordings
Rhino Handmade
I saw Tony Joe White on American Bandstand one Saturday afternoon in June, 1969, while visiting my grandparents in Wytheville, about eighty miles west of Roanoke in southwest Virginia. He played "Polk Salad Annie" that day, and his gruntin' mix of Creedence-like swampiness, low rumbling Louisiana-inflected voodoo vocal and "gators got your granny" lyric was so infectious that I went out that very day and bought his first album, Black and White, at the local Woolworth's.
"Polk Salad Annie" hit the Top 10 that summer, but its success turned out to be Tony Joe's only trip up to that part of the pop charts. In fact, if you look at Wikipedia's "List of 1960s one-hit wonders in the United States," you'll find the record listed there between "Pipeline" by The Chantays and "Popsicles and Icicles" by The Murmaids (a song written by future Bread head, David Gates).
But unlike most artists saddled with the "one-hit wonder" label, Tony Joe White had more going for him than his novelty hit. He was a true original whose born-on-the-bayou image was the real thing. And he wrote some mighty fine songs, including "Willie and Laura Mae Jones," a minor hit for Dusty Springfield, and "Rainy Night in Georgia," a chart-topping soul classic for Brook Benton.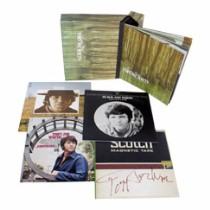 The folks at Rhino compiled this 83-song, four-CD numbered-edition set from White's three albums for Nashville's Monument label in '69 and '70, filling it with unreleased studio recordings, non-LP singles and his complete performance at the 1970 Isle of Wight festival. Swamp Music is a genre-crossing feast of blues, rock, country and soul that will be a revelation even to the most ardent of fans.
That first album I bought out in Wytheville kicks things off—the six songs from side one all original, but side two showing the record company was hedging its bets with five covers of then-current hits that Tony Joe had been doing live, a strange brew mixing the easy listening "Look of Love" and "Wichita Lineman" with the raw blues of "Scratch My Back" and Memphis R&B of "Who's Making Love." The dreamy yearning of "Aspen Colorado" offers an appealing contrast to the wah-wah whomper-stomper grit of "Whompt Out on You."
Disc two includes the original "Rainy Night in Georgia," a version not too different from Benton's later hit version, except that the singer sounds like he's literally about to break into tears at the memories the lyrics conjure up. "Roosevelt and Ira Lee" is cut from the same cloth as "Polk Salad," another character study based on real people back home in Louisiana, and "For Le Ann" is a beautiful ballad written for his wife.
Disc three is built around his third album, Tony Joe, a less orchestrated batch of songs that threw in a few more covers amidst a mostly original setlist, this time emphasizing the blues with a lengthy exposition on John Lee Hooker's "Boom Boom," a smokin' three minutes of Otis Redding's "Hard to Handle," and a sensually low-key rendition of Junior Walker's "What Does it Take."
For me, disc four is the most fascinating part of this box set. The first ten songs were recorded by White alone in a Paris studio with his guitar and harmonica, and capture him at what may well be his best, freed of any commercial considerations, running through some tunes of his own and others he just liked. His take on Dylan's "Hollis Brown" sounds more authentic than the original, and the solo "Chain of Fools" reinvents Aretha's high energy plaint into an intimate, personal confession.
In his club days, Tony Joe played as a two-piece, just him and a drummer. The last half of the final disc captures him in front of 600,000 people at the Isle of Wight fest in that setup. As he was about to go on alone, Jeff Beck's drummer Cozy Powell offered to join him onstage. The seven songs they played together were at times ragged, but always spirited and fiery. White's electric guitar style is rhythmic and full, making the absence of a bass player a moot point, and Powell's rock-solid percussive backing frees him to wail and moan like an electric guitar god. You don't even miss the horns on "Polk Salad Annie" as the duo smokes like a power trio stoked on greens from down on the bayou.
copyright © 2007 Jim Newsom. All Rights Reserved. Used by Permission.