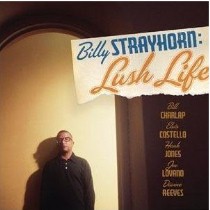 Various Artists
Billy Strayhorn: Lush Life
Blue Note
Duke Ellington said, "Billy Strayhorn was my right arm, my left arm, all the eyes in the back of my head, my brainwaves in his head, and his in mine." In fact, many of Ellington's best known songs, including his theme "Take the A Train," were actually composed by Strayhorn.
Tuesday night, the PBS series Independent Lens looks at Strayhorn the man with a film entitled "Billy Strayhorn: Lush Life." It airs at 10:00 locally on WHRO. The program will tell the story of the amazing 29-year relationship between the two men, Duke the dapper ladies' man and Stray the discrete but openly gay musician living privately in a decidedly homophobic time.
Two weeks ago, Blue Note Records released a CD billed as the soundtrack to the PBS presentation. But there are no Ellington performances here, no big band arrangements at all; the settings are all small group or solo. That threw me off the first time I listened to the disc, coloring the experience with off-putting surprise. Fortunately, I returned to the recording and began to appreciate the fifteen tracks without my original preconceptions.
Ironically, the solo piano pieces may be the most riveting. Bill Charlap is surely one of the finest of the current crop of jazz pianists, and he stamps the opening "Fantastic Rhythm" with a ragtime feel that is irresistible. He paints "Valse" in Gershwin tones, and joins with Hank Jones for a joyous two-piano romp through "Tonk" that is a standout. Jones tackles "Satin Doll" by himself, finding chordal substitutions and harmonic richness that delightfully freshen up the old warhorse.
Joe Lovano is the stray horn on this album, bringing his tenor sax in for four quartet tracks with Jones at the keyboard, sounding more vibrant than usual, egged on by the all star rhythm team of George Mraz and Paul Motian. He also joins Charlap to accompany Elvis Costello on a strange choice—a vocal version of Strayhorn's last composition, "Blood Count," featuring new lyrics from Elvis himself. Costello remains a question mark to me as a jazz singer, quite a contrast to his wife Diana Krall.
Most of the vocals here are handled by Dianne Reeves (coming to the Suffolk Center for Cultural Arts on May 1st). A jazz diva extraordinaire, Reeves shines on the beautiful ballad, "Day Dream" and floats effortlessly across the little known but powerfully attractive "The Flowers Die of Love." Her precise phrasing on the lyrics to "So This Is Love" and "My Little Brown Book" provides just the right touch to bring a deeper understanding to these memorable melodies.
Unfortunately, Reeves was not the best choice to sing "Lush Life." While the quiet guitar-and-voice setting is admirably unique, and Russell Malone is classy and tasteful in his accompaniment, she just doesn't seem to have much feel for living "a lush life in some small dive."
I'm still wondering how you can do a Strayhorn soundtrack without a horn section or a few more upbeat numbers, but as long as you accept this album on its own terms, it's a very rewarding listen.
copyright © 2007 Jim Newsom. All Rights Reserved. Used by Permission.