Santa didn't leave you enough music under the tree? Maybe you still have a few bucks left in your wallet or some room on one of the credit cards. If so, here are three worthwhile box sets you may have missed in the yearend crush:
The Clash
The Singles
Legacy
I never thought of The Clash as a singles band, but in the UK, they apparently issued nineteen singles and EPs. All are collected, along with a bunch of bonus tracks and promos, in this 19-disc, 66-song set.
Nineteen discs? Yep, that's the way they've put it together, in replica sleeves with the artwork from the original releases. It's an interesting gimmick, but for me, the question is always what's in the grooves. I remember picking up the band's first American release, Give 'Em Enough Rope, in January, 1979, and being blown away by the fiery guitar-driven power and righteous lyrical anger of songs like "Safe European Home," "English Civil War," and "Tommy Gun." It was a ferocious antidote to the faceless stadium rock and mindless disco of the time. For the next couple of years, they reclaimed rock and roll by bringing in large dollops of reggae, a touch or two of cocktail jazz, rude boy funk, Bo Diddley simplicity and a heaping helping of blazing three-chord electricity.
Many of the group's best songs are included here: "London's Calling," "(White Man) in Hammersmith Palais," "Clampdown," "Lost in the Supermarket," "This is Radio Clash," the semi-hit "Train in Vain" and the actual hits, "Rock the Casbah" and "Should I Stay or Should I Go." Joe Strummer's mushmouthed singing is still going to be a hard-to-acquire taste for many, but the range these guys covered in a very short time remains impressive. ­
­__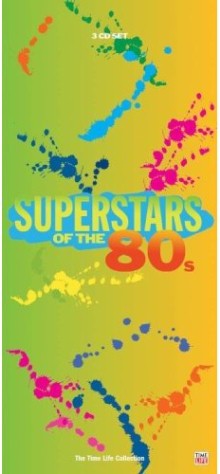 Various Artists
Superstars of the '80s
Time-Life
While The Clash was storming the barricades of corporate rock (even as they recorded for one of those mega-corporations), pop radio was becoming ever more unadventurous. After the debut of MTV in 1981, the music and musicianship became even less important, and the look and the video began to matter at least as much as the tunes themselves.
You'd be hard pressed to claim that the 1980s were a golden age for popular music, but this new three-disc set does at least give a glimpse at the good, the bad and the merely visual. An overabundance of pre-programmed fake drum tracks, synth bass and non-organic instrumentation wears thin within the first few cuts, but there are some gems amidst the monotony.
"Owner of a Lonely Heart" was a catchy resurrection for Yes, David Bowie's "Let's Dance" was a great soundtrack for doing just that, Huey Lewis and the News' hard charging "I Want a New Drug" is still irresistible, and the kalimba sounds on "Africa" raise that tune above the rest of Toto's inane catalog. The Stray Cats threatened to start a rockabilly revival with "Rock This Town" while Tina Turner put some soul back into the pop music stew with "What's Love Got to Do with It." And who can forget Boy George, George Michael, Mike + the Mechanics, the mechanical miniskirts of "Addicted to Love" or Loverboy busy working for the weekend?
But Starship's horrendous "We Built This City" undermined the legacy that its Jefferson-prefixed predecessors had built, "Centerfold" wrecked the J. Geils Band's integrity and pretty much broke up what had been one of the country's rockingest bands, Steve Winwood's blow-dried "Higher Love" cheapened his cache and David Lee Roth destroyed the Beach Boys' "California Girls." Did we really need a girl group singing "Venus" in unison, and what the hell is "Sussudio" about anyway?
Ah well, you can still have a retro blast listening to these 45 songs at a party, or belting 'em out as you commute down the "Freeway of Love" with Aretha in the passenger seat. Sometimes that's enough.
__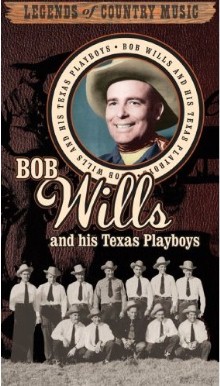 Bob Wills and His Texas Playboys
Legends of Country Music
Columbia/Legacy
While Louis Armstrong, Fats Waller and Benny Goodman were establishing the fundamentals of swing and big band jazz, a Texas fiddler named Bob Wills was creating his own hybrid called "western swing." By grafting a horn section onto a "hillbilly" band with guitars, banjo, steel guitar and fiddles, he built an ensemble that could play any of the era's pop tunes and dance favorites while putting together a catalog of originals that were among the best of their time and remain influential today.
This 4-CD set is the most comprehensive collection of Wills' music I've seen, a 105-track assemblage that runs from his first sessions in 1932 as the Fort Worth Doughboys through the Playboys' 1930s and '40s heyday right up to the leader's final sessions in 1973. A lot of ground is covered along the way, including the trademark "New San Antonio Rose" (as well as the original "San Antonio Rose"), "Take Me Back to Tulsa," "Stay a Little Longer" and "Bubbles in My Beer."
Wills and the boys left behind one of the most consistent bodies of work in any genre, laying the foundations for country music to come, from Hank Williams to Merle Haggard to George Strait. This box is the place to get baptized by immersion.
copyright © 2007 Jim Newsom. All Rights Reserved. Used by Permission.