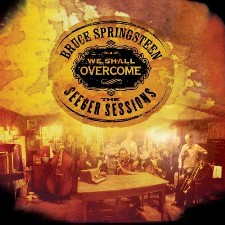 Bruce Springsteen
We Shall Overcome: The Seeger Sessions
Columbia
"I got a guitar during the hootenanny phase, in 1963."
That's Bruce Springsteen talking and, on his new album he steps back into that hootenanny phase, recasting a batch of old folk songs in organic, all natural settings for what is billed as a tribute to folk icon and social activist Pete Seeger. But We Shall Overcome: The Seeger Sessions is not exactly what one would expect from a tribute; in fact it is more of an "inspired by." Only a couple of the songs actually have writing or adaptation credits by Seeger himself. Instead, The Boss has built on the inspiration he found exploring Pete's records to create an album that is distinctly his own.
We Shall Overcome is a DualDisc release, with the full 13-track album on one side, playable in all CD players, and a DVD on the other. The DVD side includes the complete audio album plus a couple of bonus tracks in PCM stereo, as well as a 30-minute video that goes behind the scenes to witness several of the songs as they were recorded, plus off-the-cuff moments and words of wisdom from the man himself.
Listening to the music and watching the DVD, it's apparent that this was a labor of love for all involved. Though it's definitely in the folk tradition, this is not Peter, Paul & Mary or The Weavers. It's a large ensemble, fourteen musicians and singers strong. The thrill of discovery is apparent as the players make it up as they go along with Springsteen gently and humorously guiding the assemblage through its paces.
There are two violins, accordion, acoustic guitars, banjo, upright bass and drums set up in the living room and a three-man horn section plus occasional tuba out in the hallway. At least six folks contribute background vocals and Bruce's weathered voice has the combination of gravitas and good times that comes with age and experience. There's a rhythmic glee and artistic abandon running rampant through the proceedings. It's fresh, spontaneous, of the moment. It's loose but never sloppy; alive and real.
Springsteen himself sums it up nicely, sitting around with his musical posse listening to playbacks: "You don't get the sound of music being played; you get the sound of music being made…When you're fumbling around, that's the moment when opportunity and disaster are close at hand."
Listen to songs you sang in elementary school music class—"Old Dan Tucker," "John Henry," "Erie Canal," "Froggie Went a Courtin," "Shenandoah." There's an extraordinarily vibrant "O Mary Don't You Weep," the old spiritual that came to our attention as part of the soundtrack of the Civil Rights movement; a reverent reading of "Eyes on the Prize," another mainstay of that era, and a Mardi Gras take on "Jacob's Ladder." A rollickin' ride through "Jesse James" leads into "Mary McGrath," a powerful Irish anti-war ballad from 1815 ("with a too-ri-aa, fol-dd-dle-di-aa") whose final verse the singer updates: "All foreign wars I do proclaim live on blood and a mother's pain; I'd rather have my son as he used to be than the King of America and his whole Navy!"
"My Oklahoma Home" tells a Woody Guthrie-like story of the dust bowl and "We Shall Overcome" gets a sparkling new coat of paint, its lyrical pertinence a reminder that the struggle for justice is far from over. For me, the real find is "Pay Me My Money Down," a protest song of the African-American stevedores along the South Carolina and Georgia coasts that's all decked out in accordion-infused zydeco and brass band wrappings.
Over on the DVD bonus track side, "Buffalo Gals" is a treat for all of us who love It's a Wonderful Life, and Seeger's version of the old hymn, "How Can I Keep From Singing," brings things to a quiet close.
"There's something about those instruments," Springsteen says halfway through the video. "You could go out and play them in the yard…those true folk instruments, the ones that didn't have to be plugged in…They were meant for travel, they were meant to be transient and to move with people…they were meant to be played in homes, in bars, in union halls."
I have a feeling that We Shall Overcome: The Seeger Sessions may bring some of this music back into our homes, bars and what few union halls still remain. And if it causes listeners to check out the life and musical legacy of Pete Seeger, and perhaps even follow his example, then Bruce Springsteen will have accomplished something much more important than just selling a few records.
copyright © 2006 Port Folio Weekly. Used by Permission.