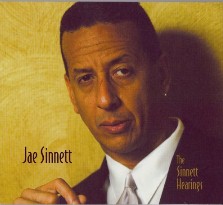 Jae Sinnett
The Sinnett Hearings
J-Nett
Jae Sinnett's eighth album is the best he has produced thus far. The addition of Phoebus native Steve Wilson's saxophones and Charlottesville jazzman John D'Earth's trumpet gives the songs the perfect coloration needed for full appreciation of the harmonic possibilities. Jae's writing is rich, reflecting his influences while building on their possibilities. And his regular trio-mates Allen Farnham and Terry Burrell have a long-time connection that is obvious in the way they work together.
The opening "Palpitations" is constructed on a repetitive bass and piano figure in 13/4 time. It's an odd time signature, but you don't have to count the beats to get caught up in the riff. The two-horn melody borrows from Wayne Shorter's 1960's Blue Note songbook, with its held-notes crescendoing into a wah-oo-wah diminution. It's clever and catchy.
In an interview for this magazine last fall, Jae told me the story of "Third Potato," telling about buying three potatoes at the grocery store, but finding only two when he got home. The third one appeared the next morning, and the lines of this composition conjure up images of a spud rolling around a kitchen counter, wacky but wily, hiding behind various appliances until it's ready to make its appearance.
"First Impression" marks 20-year old Justin Kauflin's recorded debut, and what an impression the young pianist makes in this trio setting. Sinnett has given his young protégé a well-equipped playground on which to romp, and Kauflin takes full advantage, roaming the keyboard with controlled abandon as he draws on the chordal complexities of McCoy Tyner and the mesmerizing melodic methodology of Bill Evans and Chick Corea.
"Bedrock" is named after the Flintstones' hometown, but with Allen Farnham's Fender Rhodes chords echoing Lonnie Liston Smith's cosmic '70s atmospherics, and a song structure and arrangement modeled on those employed by the Yellowjackets, the sound is anything but prehistoric. Wilson's soprano sax is the ideal vehicle for the robotic melody laid out over some breezy chord changes that he and Farnham maximize in their solos.
Looking at the song titles, I expected "What Elvin Left" would be a pounding, drum-heavy Coltrane-like workout a la "A Love Supreme." But with its mellow groove and cool school sax/trumpet harmonies, it's more Oliver Nelson than Trane…until Allen Farnham's piano solo erupts, incorporating all of McCoy Tyner's tricks, with fat left-hand chords underpinning the dense sheets of sound he pours out of his right. And though this nearly eleven minute piece is named for drum giant Elvin Jones, Sinnett has the good sense and taste not to throw in a superfluous drum solo.
"Seven Days" has the quintet cooking in 7/4 time, propelled by great horn lines, enhanced by Wilson's incredible sax workout and Farnham once again conjuring up comparisons with Tyner. "Side Stepping" is another lengthy piece with full, contemporary sounding harmonies over what is basically a waltz rhythm. On "Heading South," Farnham gives a master class in the art of jazz piano, providing ample supporting evidence to justify his inclusion on my short list of favorite present-day pianists.
The closing "Stick Figure" is another Yellowjackets knockoff, with Wilson's full-flowered soprano sax leading the group through a melodic maze, and Sinnett himself sounding like former YJ drummer William Kennedy with his crisp polyrhythmic pulse.
The Sinnett Hearings is a keeper, an all-original outing that holds up after repeated listenings. It's hard to believe these guys had only three gigs to rehearse before going into the studio, but is a measure of the individual talents and the strength of the compositions that it turned out so well.
copyright © 2006 Port Folio Weekly. Used by Permission.