The Virginia Arts Festival's Ruth Brown Blues Festival is heavy on old-timers. Besides the event's namesake, headliners include rock and roll founding father Bo Diddley and N'Orleans R&B hitmaker Clarence "Frogman" Henry. All three were chart toppers in the 1950s.
But aside from the excitement created by Brown's homecoming to her native Portsmouth, the most explosive fireworks Saturday night are likely to be generated by the baby of the lineup, Shemekia Copeland. Just 27 years old, she's one of the hottest performers the blues has produced in a long while. And she's the real thing.
The daughter of legendary Texas bluesman Johnny "Clyde" Copeland, Shemekia took up the family business at the age of 16 when she joined her father on tour after he was diagnosed with a heart condition. Within three years, she was making her recording debut for Alligator Records, Turn the Heat Up, and immediately began garnering rave reviews for her soulful style. Critics compared her to Etta James, Koko Taylor and Aretha Franklin.
She comes to Portsmouth this weekend after spending a couple of weeks performing in Spain, Portugal and France. And she arrives toting her most recent album, The Soul Truth, a Memphis soul sampler produced by Memphis soul stalwart Steve Cropper. Cropper has the creds, having been the guitarist on a zillion classic sessions for Stax Records, as a member of Booker T and the MGs, co-writer of "(Sittin' on the) Dock of the Bay" and "In the Midnight Hour," and later a high profile member of the Blues Brothers band.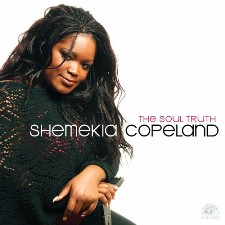 The Soul Truth has all the funk and grit of classic Stax sessions by Otis Redding, Sam & Dave, Eddie Floyd, Johnnie Taylor and Carla Thomas, but with that clean sheen characteristic of the Alligator catalog. A four-man horn section fattens up most of the tracks, and the rhythm section's groove is relentless.
"Breakin' Out" would have been a hit single in 1968. "Who Stole My Radio?" asks the plaintive question, where did all the soul music go ("Hey Mr. DJ…rip up that playlist!") with a subtle musical quotation from "Soul Man" in the bridge. The Rascals' Felix Cavaliere lends his distinctive organ stylings to three songs, and "In Crowd"/"Drift Away" man Dobie Gray joins Copeland for a duet on Lorrie Morgan's country hit, "Used."
This disc is what the southern side of soul music useta be. Ironically, though, Shemekia Copeland grew up in Harlem, and there's an urban sensibility weaving through the Mississippi River currents, reflected in lines like "I'm riding out my dreams on the uptown line." While she is, in many ways, carrying the torch ignited by Ruth Brown and her successors, she is also walking the tightrope between that classic sound and the music favored by her own generation.
"I want people who love hip-hop to know where it came from," she said in a Vibe magazine interview. "My music is rooted in blues, but it's different. I'm singing about my era. I'm here and I'm singing about now and not yesterday."
copyright © 2006 Port Folio Weekly. Used by Permission.