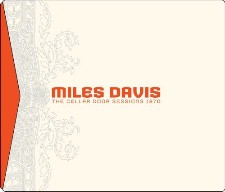 Miles Davis
The Cellar Door Sessions 1970
Columbia/Legacy
Miles Davis' Live-Evil was one of my favorite albums in the second semester of my sophomore year in college, the winter and spring of 1972. But be forewarned, it was one of those albums that could clear the room whenever I put it on. Just the album cover alone was enough to freak out many of my dorm mates, and that was probably part of the appeal.
About half of that double album came from live performances recorded at the Cellar Door in Washington, DC's Georgetown the week before Christmas, 1970. Thirty five years later, Christmas week brought this new six-disc set capturing much of that four-night stand, a series of performances that both encapsulated all that Miles had accomplished since he began inventing his version of the jazz-rock hybrid two years earlier, and expanded the form to its penultimate point of no return.
Because Live-Evil was a patchwork constructed by producer Teo Macero, who diced and spliced various sources to create the entries in Miles' catalog of the time, this set is instructive and illuminating in an important way---it captures Miles and band live, unedited, warts and all. Since each disc represents a different and complete one-hour set, there is a great deal of repetition in the setlists' titles. But, because this is improvisational music in its highest incarnation, and because Davis encouraged constant experimentation among his collaborators, each take is unique and compelling. We can hear the sound of the sorcerer in his lab, stirring the ingredients and watching them blend in zesty new combinations each time out.
Miles is heard both on unaltered trumpet and electrified through a wah-wah pedal. Keith Jarrett, who swore he'd never play electric keyboards again once he left this band, sounds positively inspired by the chance to work out on Fender Rhodes and organ. Saxophonist Gary Bartz channels sounds from somewhere out in the stratosphere in his solos, wild and wooly yet building from a foundation of thoughtfully constructed lines. Bassist Michael Henderson lays down the funk with warmth and precision, working in tandem with drummer Jack DeJohnette and percussion wizard Airto Moreira. When electric guitarist extraordinaire John McLaughlin joins the band on Saturday night (discs 5 and 6) with no rehearsal, he jacks the proceedings up to a whole new level. Wow!
Like all of Miles' music of this era, this is not easy listening. Those looking for typical jazz forms will be flummoxed by the open arrangements the band employs. But for a glimpse of that magic moment in music when jazz, rock, funk, blues and soul came together under the master maestro's baton, The Cellar Door Sessions provide an intense and satisfying peek.
copyright © 2006 Port Folio Weekly. Used by Permission.