Lou Rawls with Les McCann Ltd.
Stormy Monday
Blue Note
Lou Rawls had one of the greatest voices in late 20th century popular music. When he was here five years ago to tape a WHRO-produced PBS special with Petula Clark at Chrysler Hall, he still had the goods---the distinctive smoky-smooth baritone voice that graced hits like "Love is a Hurtin' Thing" and "You'll Never Find Another Love Like Mine," and gave those Garfield specials a touch of class, was in fine shape.
Three years later, though, he was diagnosed with lung cancer (he had smoked in his younger days) and last spring, brain cancer. When he died on January 6th at the age of 70 (or 72; his year of birth is listed differently in different places), he left behind a rich legacy of jazz, soul, blues, gospel and R&B deserving of rediscovery by those who may only know the hits, the beer commercials and the cat cartoons.
His passing was particularly poignant to me because I've been reading a fascinating new biography of Sam Cooke called Dream Boogie, by Peter Guralnick, in which Rawls plays a prominent role. I didn't know that Cooke and Rawls had been close friends growing up in Chicago, and that Lou actually took Sam's place in the teenage gospel group, the Highway QCs, after Cooke left to join the Soul Stirrers in 1950. They remained friends, surviving an automobile accident together near Marion, Arkansas, while traveling between gigs in St. Louis and Greenville, Mississippi, in November 1958. Though Cooke had only minor injuries, the driver was killed and Rawls was left in a coma that lasted a week. It took him three months to regain his memory and a year to fully recover.
In 1962, he began recording as a soloist in his own right. He'd been doing background vocals on his friend's records---his is the voice heard in duet with Cooke on "Bring it on Home to Me," both in harmony and in the "yeah – yeah" call and response sections of the refrain. But late on a cold January night that year, he entered the Capitol Records studio in LA with pianist Les McCann's jazz trio and laid down the tracks for his first album.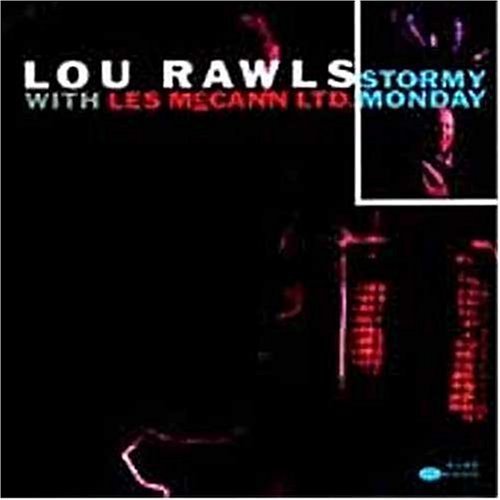 Released as Stormy Monday, it is one of my favorite jazz vocal records of all time. Hearing Rawls in such a sparse, unadorned setting is a revelation as he wraps his golden voice around the familiar words of a batch of bluesy standards. From the swinging title track and "Sweet Lover" to the blustery "I'd Rather Drink Muddy Water" and the soft balladry of "Lost and Lookin'" and "Willow Weep for Me," he takes these well worn chestnuts and gives them new life. It's an impressive performance. His "God Bless the Child" is the definitive version of Billie Holiday's most famous song.
Lou Rawls would go on to become an award winning, chart topping singer during the golden era of '60s and '70s soul music. He would cover many musical bases during his 40-year solo career---his last CD was called Rawls Sings Sinatra. But for a full appreciation of his vocal magic in its prime, Stormy Monday is a must-have.
---