Kathleen Grace
Sunrise
Kathleengrace.com
Krista Detor
Mudshow
Tightrope Records
If you work in sales, referrals are a crucial element in expanding your customer base and growing your business. You depend on friends, colleagues and existing customers to recommend your services or products to others, and to suggest potential clients to you who might be interested in what you have to offer.
It's a similar situation for those of us still engaged in discovering new music and growing our record collections. A referral from a friend or a musician we admire can lead us to an artist or an album we might otherwise never hear. I've been introduced to some of my favorite performers and recordings this way.
Several months ago I got an e-mail from Kathleen Grace, a Los Angeles-based jazz singer, asking if she could send me a copy of her soon-to-be-released CD, Sunrise. She said she had been referred by her vocal mentor at the University of Southern California, Tierney Sutton. Tierney, you'll recall, was the hit of the Port Folio Weekly series at last year's Virginia Arts Festival, and has been a favorite of mine since I first heard her six years ago.
Needless to say, with that imprimatur I was open to hearing Kathleen Grace. What struck me at first was how similar her style and jazz sensibilities are to Tierney's. Like her mentor, Grace personalizes a song with subtlety and nuance, intimately enveloping each song with her classically trained three-octave voice. She never feels the need to show off for the sake of showing off, choosing instead to get inside each song and find both the meaning of the lyric and the improvisational possibilities inherent in the melody.
Most of the disc's setlist is made up of time tested jazz vocal standards, but her reinvention of Paul McCartney's "Blackbird" gently but effectively makes the case for its inclusion in the jazz repertoire. She finds a way to freshen up "The Lady is a Tramp" by outfitting it in a Latin poncho, while emulating her teacher with a sprightly ride through "But Not for Me."
The Sutton influence is most evident on "Softly as in a Morning Sunrise," with many of the same vocal accoutrements in evidence. However, where Tierney turned the song into a jammin' racehorse workout on I'm with the Band, Kathleen and her trio of sidemen keep it slow and sensual. Her take on "The Summer Knows" is as beautiful as a song can be, while her arrangement of "I've Got the World on a String" runs through a mixture of tempos and stylistic references, giving the boys in the band some room to stretch.
There are several surprises---a deliciously funky "Cool" pulled from West Side Story, an atmospheric glide through Mandel and Mercer's "Emily," and some supple scatting that decorates her lyrical interpretation of Wayne Shorter's "Armageddon." Bob Dorough's lesser known "Small Day Tomorrow" is a downbeat delight. Sunrise is one of those albums that gets better and better with each listen. Kathleen Grace is my pick for Best New Jazz Artist of 2005.
- - -
Local songstress Sonya Lorelle was another of last year's discoveries. Not only is she a fine singer, songwriter and pianist in her own right, she's also doing her part to help build a music scene here in the Seven Cities by hosting a monthly music showcase she calls the "On the Way Music Series" at Granby North Restaurant in Ocean View. Each concert there is built around an out-of-town performer whom Sonya has befriended or learned about in her musical travels, with three or four local musicians also doing half-hour sets to fill out the bill. It's her way of being a referral source for both players and listeners.
I played a solo set at her December show and met an intriguing singer/songwriter from Bloomington, Indiana named Krista Detor. While her voice wouldn't be described as "pretty" in a conventional sense, it is nonetheless captivating in its lowkey simplicity, and her piano work is deep and rich in its drone-like chordality. With the acoustic guitar accompaniment and vocal harmonies of her musical/life/traveling partner, David Weber, she held the attention of a packed room for an hour with her own compositions.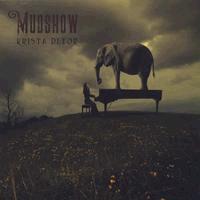 Her second album, Mudshow, is filled with the melancholia an easterner imagines rising from the windswept plains of America's midsection. Using musical repetition like a folkie Philip Glass, she delivers her lyrical poetry with mesmerizing melodies and rootsy acoustic accompaniment.
"Abigayle's Song" paints a perceptive picture of small town life, lamenting in its chorus, "I know the names of the unfaithful husbands and who leaves my neighbor's backdoor/I know just about everything that there is/But I don't want to know what I know anymore." "Dancing in a Minefield" is a circular waltz adorned simply with mournful dobro and disembodied accordion. The solo piano "I'm Still Here" is both gorgeous and sad in its sparse depiction of loneliness and old age.
The title of the album and its opening track come from Weber's experiences as a performer in a traveling circus. A "mudshow" is what the insiders call those carney-like second tier circuses that pitch a tent in a field for a weekend, then move on to the next town. Weber spent three years as the catcher in a trapeze act, and whether the song is literally true or not, it's a riveting story told atop a rolling piano figure.
Songs like "A Red Bowl" and "The Ghosts of Peach Street" have the same poetic poignancy as Lucinda Williams at her best, but it's the pointed songwriting and lazy vocal style of Leonard Cohen that come to mind most readily. In "Steal Me a Car," ("don't have to be much, just something with a stereo") the narrator is the prototypical hometown dreamer longing for more.
With Mudshow, Krista Detor conjures up a mythical version of the heartland with its cloudy skies, endless plains and lonely people trapped in lives not of their choosing in small towns they'd just as soon escape.
copyright © 2006 Port Folio Weekly. Used by Permission.