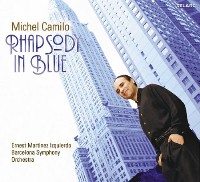 Michel Camilo
Rhapsody in Blue
Telarc
Who: Caribbean piano wiz with symphony orchestra
Sounds like: the way Gershwin meant it to be played
Is it any good? My first thought was, "Who needs another version of Rhapsody in Blue?" A couple of listens to this CD provide the answer, giving all the explanation needed to justify Camilo's dive into Gershwin's symphonic repertoire. Though I've thought of the Dominican native as primarily a fiery Latin-derived player in the past, here we get an aural glimpse at the classical chops he developed studying for thirteen years at the National Conservatory on his native island. On this disc, his piano fronts the Barcelona Symphony Orchestra, not only on Rhapsody, but also on Gershwin's Concerto in F. He closes the set with a solo reading of Gershwin's beautifully melancholic Prelude No. 2. What propels this recording above the many other available takes on these pieces is Camilo's jazz sensibilities. We're used to hearing them played by a non-improvising classical pianist, but here we get the real thing—Gershwin's jazz-inspired work played by a real jazzman. It's a perfect musical marriage.
__________________________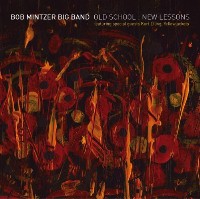 Bob Mintzer Big Band
Old School: New Lessons
MCG Jazz
Who: Yellowjackets saxman
Sounds like: modern cool
Is it any good? Though he's best known for his work with the Yellowjackets, Bob Mintzer was producing superb big band recordings long before joining that quartet. His writing for larger ensembles has always knocked me out, and this disc, culled from two live concerts at Pittsburgh's Manchester Craftsman's Guild Hall, ranks with his best. His regular bandmates join him on two numbers—the Latin funk of "Mofongo" and mellow groovin' "Mosaic"—and vocalist extraordinaire Kurt Elling steps in for two Coltrane-connected tunes—a surprising sprite of an arrangement on "My One and Only Love" that bears no resemblance whatsoever to Johnny Hartman's read, and the potent "Resolution" section of A Love Supreme complete with the singer's original lyrics. The big band brings an expansive new depth to YJ classic "Runferyerlife," and adds richness to the other Mintzer originals we recognize from the Jacket discography. The saxophonist himself delivers some of the set's best solos, but the whole aggregation wails, moans and exalts ferociously.
__________________________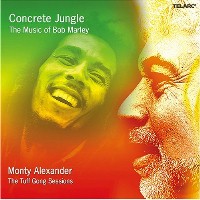 Monty Alexander
Concrete Jungle:
The Music of Bob Marley
Telarc
Who: Jamaica-born jazz pianist
Sounds like: A jazz-reggae summit
Is it any good? If anyone is entitled to reinterpret Bob Marley's music, it's fellow Kingstonian Monty Alexander. For this, his second outright tribute to the reggae king (the first being 1999's Stir It Up), Alexander went down to the studio where he himself first recorded at the age of fifteen, the same studio that Marley bought near the end of his own life and rechristened Tuff Gong, and with the help of a batch of locals and N'Orleans trombonist Delfeayo Marsalis, locked into a steady pulse on this set of Marley compositions. It's an attractive undertaking, smoothing out the rough edges of the composer's rebel spirit while deconstructing the simple but irresistible melodies. Marsalis marches "Simmer Down" through the French Quarter and the Rod Dennis Mento Band takes it loosely to the streetcorner on "Three Little Birds," but most of this CD is firmly rooted in mellow, groove-happy Trenchtown rock.