Daryl Hall & John Oates

Rock 'n Soul Part 1
RCA Legacy
Who: Blue-eyed soul kings of the late '70s
Sounds like: Philly soul meets arena rock
Is it any good? Daryl Hall and John Oates met while they were attending Temple University in their hometown of Philadelphia. Both were enamored of the soul music emanating from that city. I discovered them while doing college radio in 1973 with their second album Abandoned Luncheonette and its incomparable single, "She's Gone." Ironically, the song bombed on Top 40 radio (though it was a hit in a cover version by Tavares), and the commercial marketplace didn't really catch up with them until they switched record labels in 1976 and began a decade-long hit streak with "Sara Smile." This CD reissues their 1983 greatest hits album and adds a couple of extras, including the duo's take on "You've Lost that Loving Feeling." It's one great song after another---"Say it isn't So," "Rich Girl," "Kiss on My List," "You Make My Dreams" and more---great radio-friendly songs from the latter days of the classic rock and soul era.
__________________________
The Guess Who

The Best of the Guess Who
RCA Legacy
Who: Canadian hit machine
Sounds like: Well-crafted pop-rock
Is it any good? Sure it's good, but is it necessary? The Guess Who were a great singles band at the turn of the '70s, when FM album rock stations were taking over from AM Top 40 outlets. Led by the distinctive voice of Burton Cummings, the band had a six-year string of catchy tunes that were an essential part of the era's soundtrack. Here, the group's Best of album from 1971 gets the Legacy treatment, with three extra tracks. But the 1999 disc, Greatest Hits, still trumps it because it has post-'71 material like "Star Baby" and "Clap for the Wolfman" and the long version of "American Woman." (There's also a two-disc Anthology.) What the record company should do is add "Bus Rider," "Do You Miss Me Darlin" and "Broken" from this collection to the Greatest Hits confab, and release a definitive 21-track single CD that really could be called "Best" or "Greatest."
__________________________
Grant Geissman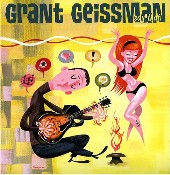 Say That!
Futurism Records
Who: Ace L. A. session guitarist
Sounds like: '60s Blue Note soul jazz
Is it any good? You don't know his name, but you know his signature---the guitar solo from Chuck Magione's 1978 smash hit, "Feels So Good." Since then, he's been a studio musician extraordinaire, musical explorer and occasional purveyor of smooth jazz. With Say That! he goes retro, resurrecting images of Horace Silver and Lee Morgan's soul jazz outings of the early '60s, and most especially conjuring up memories of Wes Montgomery (with and without Jimmy Smith.) There's also a touch of Brazil, a smattering of Yellowjackets-like contemporary jazz, and an expansion on "Theme from Two and a Half Men" which he co-wrote for the TV show. Borrowing Tierney Sutton's rhythm section (bassist Trey Henry and drummer Ray Brinker), Geissman is a helluva guitarist, electric and acoustic, and saxman Brian Scanlon is a perfect foil. Rich in variety, this is a great album for those who don't realize they like jazz, and for those who do.
__________________________
Ian Anderson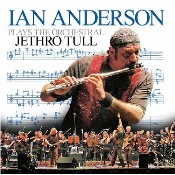 Plays the Orchestral Jethro Tull
ZYX Music
Who: Rock and Roll's most famous flautist
Sounds like: Classic rock goes classical
Is it any good? The first disc of this live double-CD set is more like an acoustic Jethro Tull concert than an orchestral outing and gathers much of its setlist from the Living in the Past/Aqualung era's slices of acoustic fluff (which hold up better than most of the better known, more pompous electric stuff). When the strings and woodwinds of the Frankfurt Neue Philharomonie Orchestra appear, they are tasteful and sympathetic, and the material benefits. After an unnecessary reading of Faure's "Pavane," Disc 2 delivers on the promise of the album title with an inspired ten-minute "Aqualung" driven down heretofore unimagined parkways by the rock band-augmented Philharmonic in all its might. Though the symphonic weight is superfluous on "My God," the previously ponderous "Budapest" is actually leavened by the string section. Traditional Tull setcloser "Locomotive Breath" is no worse the wear for the orchestral additive, with blazing electric guitar and frantic flute.
copyright © 2006 Jim Newsom. All Rights Reserved.