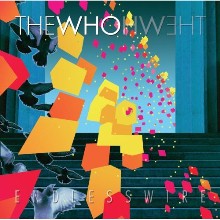 The Who
Endless Wire
Universal Republic
If the Rolling Stones were the "world's greatest rock-n-roll band," then The Who were certainly the greatest rock band. Pete Townshend's slashing guitar chords defined the essence of rock without the roll, taking the music beyond the blues grooves of its early days and adding an explosively percussive punch that paved the way for power chord metal as well as punk rock and its progeny.
It's been 24 years since the last album of new music was released under the Who moniker. And it's been even longer—1978's Who Are You—since the band issued anything of consequence. After drummer Keith Moon's death that September, Townshend seemed to lose his focus and Face Dances and It's Hard from the early '80s did not come close to the band's previous standards.
For the next twenty years, the remaining trio—Townshend, vocalist Roger Daltrey and bassist John Entwistle—toured once in a while and, around the turn of the century, began to act like an ongoing concern again. Unfortunately, Entwistle died shortly thereafter, in 2002. But Townshend and Daltrey, whose friction-filled relationship was the stuff of legend in the old days, found themselves coming together with the brotherly bond of longtime friends who've weathered many a mutual storm.
At last, we have a new album by The Who, one that is worthy of the band's name. Ironically, Endless Wire is the most un-band record in the group's history—Pete Townshend played all of the instruments on most of the tracks, including drums and programmed drums. But, the demos he prepared for the guys back in the day were mythical in their thoroughness; given modern technology, the band-like quality of the instrumental backing should come as no surprise.
Daltrey's voice is in fine form. It's deeper than it useta be, and he's lost a little on the upper end, but his instrument has held up much better than most screamers of his era. Townshend's songs recapture the glory days, with arrangements right out of his once-familiar bag of tricks.
The disc's opener, "Fragments," begins with a near-quote from Who's Next's "Baba O'Riley," a repetitive synth line over which Pete windmills a crunchy, air-guitar inducing chord sequence that leads into four minutes of classic Who, complete with rich vocal harmonies in counterpoint to Daltrey's vibrant, questioning wail: "Are we breathing out or breathing in?"
"A Man in a Purple Dress," an angry indictment of the judgmental aspects of organized religion, is one of several all acoustic tunes, reminiscent of The Who By Numbers; "Two Thousand Years," with Townshend on mandolin, violin and viola, sounds like a questioning prayer, the other side of the spiritual coin. "God Speaks of Marty Robbins" is a delicate piece sung beautifully by Townshend himself, and on "In the Ether," he affects a guttural Tom Waits growl to deliver one of his most arresting vocals ever.
"Mike Post Theme" is filled with the potent start/stop dynamics that characterized much of The Who's greatest work, "It's Not Enough" rocks hard over what sounds like a choir of hammered dulcimers, and "Black Widow's Eyes" recalls "Sister Disco" from Who Are You.
Much is being written about the mini-opera that fills up the second half of the CD. Titled "Wire & Glass," it consists of eight fragments and two fully realized songs in a suite more like side two of Abbey Road than "A Quick One" from The Who Sell Out. The plotline ostensibly follows the rise and fall of a teenaged rock band, but I think it's really Townshend's way of reflecting on his own band's career. "Mirror Door" is a rockin' celebration of music itself, tying together Howlin' Wolf, Link Wray, Beethoven and Doris Day.
If there's a radio format left that'll play new music from an old band, the extended version of "We Got a Hit" tacked on at the end of Endless Wire will prove prophetic—it's a hit-single-in-waiting that contains every element of the original quartet's classic sound, and it clocks in at 3:04, perfect for airplay. It's a delicious denouement for a tasty album, one that resurrects and revives the name and reputation of one of rock music's greatest bands.
And just to rub it in, there's a 5-song bonus DVD included, capturing Townshend, Daltrey and their current touring lineup (including Ringo's boy Zak on drums and Pete's little brother Simon on second guitar) live in Lyon, France, in July—further proof that these guys have no plans to spend their senior years rocking only in chairs.
copyright © 2006 Jim Newsom. All Rights Reserved.